Is your Mac running super slow due to the heating issues? Does your hands hurt to touch the Mac when you have been using it for long and it has heated to the max. If all of this worries you then you must take a look at this article. Here we emphasise on using the Mac CPU temperature monitor.
Now, other than keeping a check on the health of your Mac, these applications are also handy in finding out the benchmark of a newly purchased Mac. To begin with let's read about what the Mac temperature monitor apps are. 
What is a Mac Temperature Monitor
Most often when the Mac is running on its full potential, the CPU temperature is bound to increase and might harm the system. To keep a check on the hardware a temperature monitor app proves to be useful. It basically alerts a user every time the sensors pick up raising temperature and in turn helps keep the system running at optimum level.
Mac Temperature monitor also helps selecting the right utilities to perform when high temperature is alerted. Most CPU temperature monitor apps also control the fan speed to reduce the high temperature and keep the system healthy. 
Top 11 Mac Temperature Monitor Apps
1. CleanMyMac X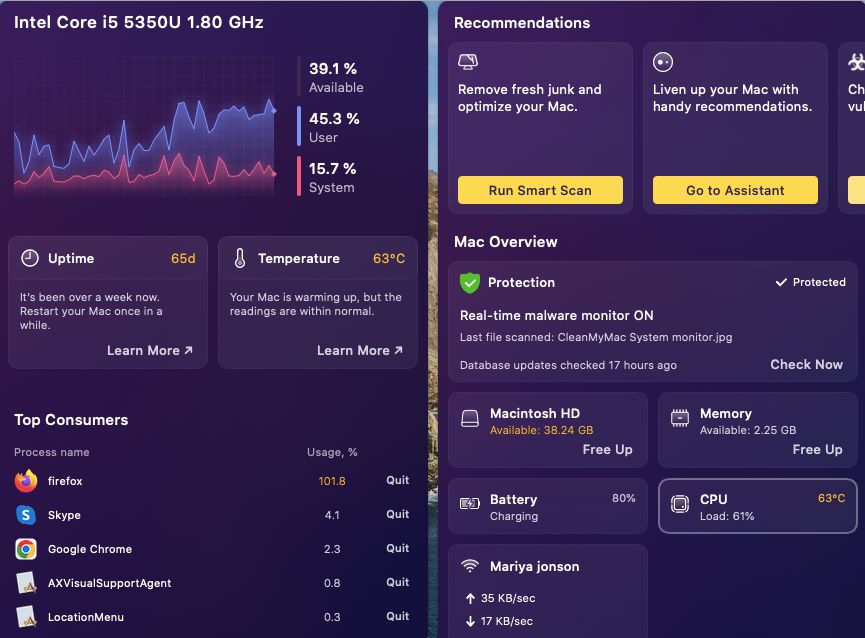 CleanMyMac X is a well known Mac optimisation tool which helps you clean and speed up Mac System by optimising memory, hard disk, apps, CPU and many more. Among all the system resource monitoring CleanMyMac does in real-time, it also displays CPU real-time temperature with other system vitals.
Each time the CPU temperature is above the permissible limit then it shows alerts and helps you fix the issue with various measures. As an added advantage it provides an extensive featured module to clean and speed up your Mac performance. 
Features – 
Complete Mac optimisation package tool. 

Displays alerts for higher CPU temperature.

View system vital status on desktop easily. 

Helps protect privacy and security.
2. TG Pro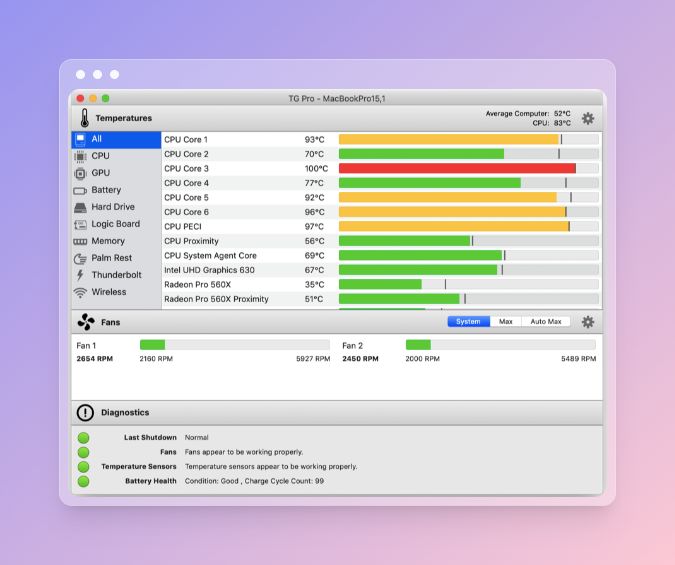 TG Pro is another best Mac temperature monitor app that displays very accurate and extensively detailed information. The app also keeps check on battery health and performs system diagnosis to help keep Mac at best performance. It's very clean user interface makes it an easy to use application.
TG Pro supports all versions of Mac and both Intel and M1 chips. Underline TG Pro basically is a system maintenance app which helps keep a check on all system hardware and other features with temperature tracking ability built in to it. 
Features –
Comprehensive diagnostic results.

Intuitive user interface.

Effectively monitors and controls temperature.

Supports all Mac versions.
Read Detailed Review – TG Pro Review
3. iStat Menus 6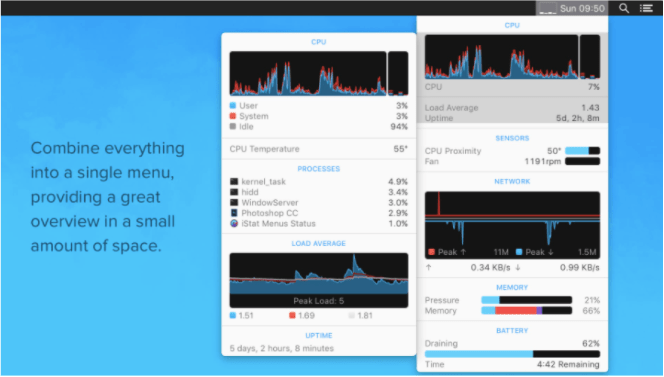 On top of the list for best Mac temperature monitor we have iStat Menus 6, one of the most popular and reliable Mac temperature monitors. While it has been continuously improved and updated regularly, with comprehensive great features it makes for great user experience.
All the information about Mac is displayed on the menu bar at the top, no need for a separate window. Best feature of iStat Menus is that it provides highly detailed and real time CPU status info. 
Features –
Extensively detailed CPU information.

Highly customizable theme and menu bar.

Abundance of system information.

Popular and trusty software.
Read Detailed Review – iStat Menus Review – iS iStat Menus Safe
4. XRG

XRG is one of the open source Mac temperature monitor apps which makes it free to use. It shows all the information about CPU and GPU, memory usage, battery status etc. Although it is a free Mac temperature monitor, XRG tries to be a fully functional system monitor with a clean interface for all types of users.
XRG stands for X Resource Graph with the goal to become a successful functional system monitor for Mac. The ability to perform complete system diagnosis makes it a great option for Mac users. 
Features –
Comprehensive diagnostic information.

Constantly being updated.

Open source & free to use.

Provides additional information.
5. Fanny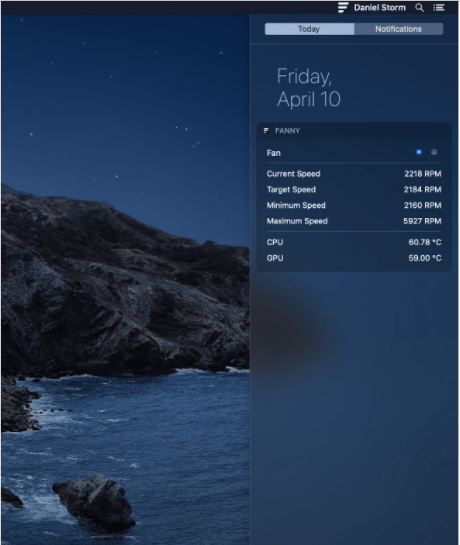 Among the list of Mac temperature monitor apps, Fanny is a dedicated app for Mac that serves the purpose efficiently. It can be used both as a menu bar app or free notification widget with an intuitive & compact design. Fanny doesn't hog the workspace and shows the relevant temperature without cluttering the screen.
Along with CPU temperature, Fanny also provides current speed, target speed, number of fans and more information of the system diagnosis. It is a free Mac temperature monitor app which helps the users.
Features –
Supports many themes.

Compact design.

Multi usage option.

Specific for temperature monitoring.
6. Monity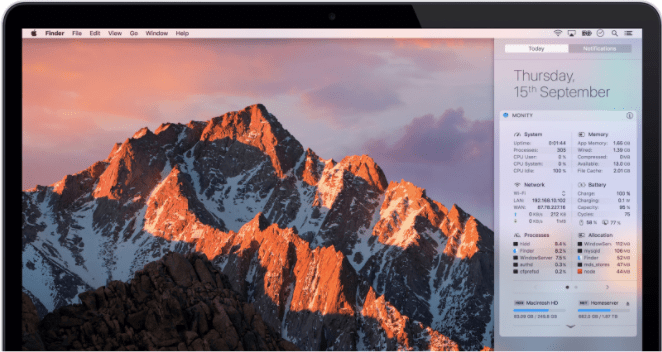 Monity is another Mac temperature monitor app down the list which keeps track of both network and system status. It is a lightweight application which keeps the menu organised, shows all status such as battery, network, memory and disk in a single glance.
Just click on the menu bar notification to view all the status at one go. Monity is a paid app for temperature monitoring and doesn't provide a free trial option. Since it offers so many features it's worth a try. 
Features –
Intuitive user navigation dashboard.

Comprehensive information about the system. 

Lightweight apps won't strain the system.

Great after support.
7. Temp Monitor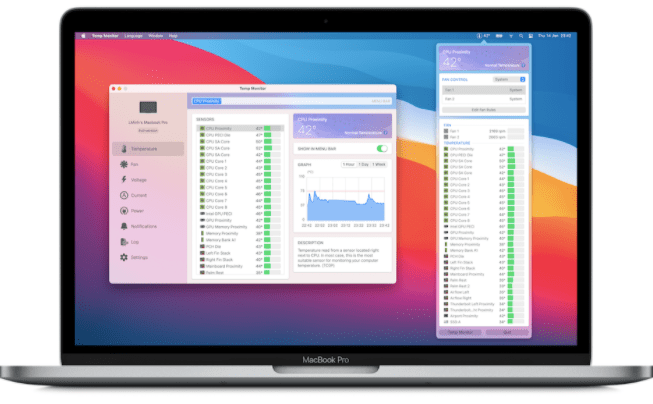 Down the list of Mac temperature monitor apps, Temp Monitor as name suggests does an excellent job of keeping track of temperature. It monitors all the processes and running apps on Mac, even displays all available sensors on the system.
Every time any sensor overheats, it alerts and also controls the fan speed of the Mac to keep the system running efficiently. This application also supports multiple languages for a better user experience. Due to its extensive feature list Temp Monitor is highly recommended as a Temperature monitor app. 
Features –
Tracks all sensors.

Shows alerts for high temp.

Extensive feature list.

Supports multi language.
8. CoconutBattery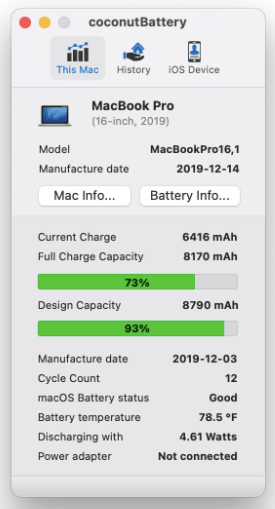 This app is not just a regular Mac temperature monitor app but much more than that. coconutBattery provides live information about Mac's battery, SSD, temperature. It also supports WiFi and iOS advanced view. All these extensive features like to keep Mac healthy can be used on this free Mac temperature monitor.
It's free version is more than enough to keep a check on the temperature of the Mac. But it's higher version is paid and provides an even more extensive feature list to aid Mac health. 
Features –
Provides live information.

Battery health notification.

Advanced viewer information of Mac.

Comprehensive system diagnostic. 
9. iStatistica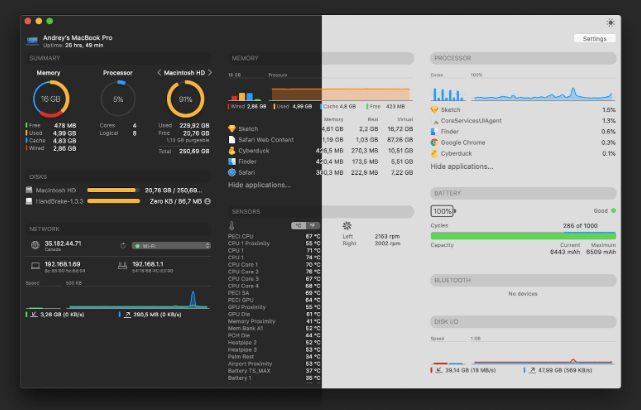 iStatistica by ImageTasks is also a great software in the list of Mac temperature monitor apps. It can easily inform you about the temperature of the Mac with its plugins installed along with the app.
The system monitoring app gives information on uptime, CPU usga, disk usage, network activity and battery health. You can also get the Menu bar monitors or access the Web dashboard for information on your Mac.
Features
Plugins supported for temperature monitoring.

Get web access and API.

Stay updated on overall health.
10. System Monitor Plus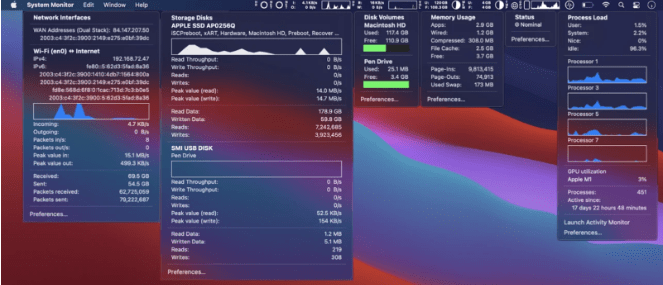 System Monitor by Marcel Bresink Software-Systeme is basically a Mac CPU monitor app.  You can find that on the App Store and then need to add the System Monitor Plus to it, the combined force will be able to check MacBook temperature.
The MacBook temperature monitor will also show you the top five processes on your Mac which are putting up the most load on your system.  
Features
Find out the revolution speeds of air blowers.

Works with Apple Silicon chips.

Comes as an add on for System Monitor.
11. MenuBar Stats 3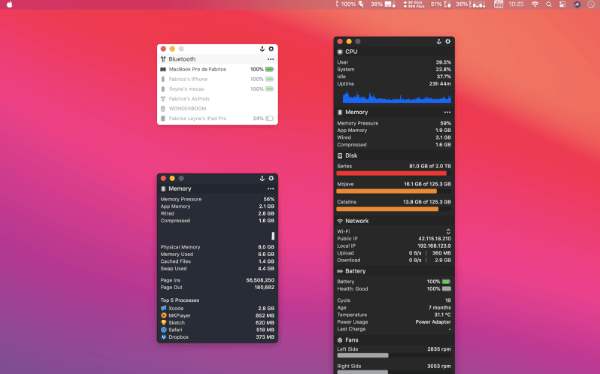 MenuBar Stats 3 is a good Mac temp monitor as it is completely retouched and gives you more statistics than before. It will give you a temperature monitor check along with the fan module.
Get information on the disk status, volume in Finder, memory monitoring, top 5 processes, CPU load average, battery health, network details and more.  
Features 
Dedicated Temperature and Fans module.

Notifications for low storage space.

Shows more info on the Menu bar.
Top 10 Apps To Check Mac Temperature 
| | | | | | | |
| --- | --- | --- | --- | --- | --- | --- |
| Product Name | Best For | Platform | Price | Free Trial | File Size | Latest Version |
| CleanMyMac | Monitor CPU Temperature real time status | macOS 10.12 or later | $34.95 | Yes | 210 MB | 4.11.5 |
| TG Pro | Very Powerful temperature monitoring app with diagnostics | macOS 10.12 or later | $9.99 | Yes | 12.5 MB | 2.71 |
| iStat Menus 6 | It will cover huge range of system monitor aspects | macOS 10.11 or later | $9.99 | No | 27.9 MB | 6.62 |
| XRG | Monitor temperature and other Mac activities | macOS 10.6 or later | $0 | Yes | 1.1 MB | 3.1 |
| Fanny | Simple widget with easy notifications | macOS 10.11 or later | $0 | Yes | NA | 2.3.0 |
| Monity | Advanced Mac monitoring widget | macOS 10.10 or later | $4.99 | No | 2.7 MB | 1.4.5 |
| Temp Monitor | Sends overheat alerts and fan controls | macOS 10.11 or later | $4.99 | Yes | 10 MB | 1.5.1 |
| coconutBattery | Additional info on battery age | macOS 10.12 or later | $9.95 | Yes | 13.3 MB | 3.9.7 |
| iStatistica | Overall system monitoring supporting plugins | macOS 10.10 or later | $5.99 | No | 10.2 MB | 5.1 |
| System Monitor Plus | Add on for System Monitor app | macOS 10.11 or later | Free with $4.99 System Monitor | Yes | 1.1 MB | 1.2 |
| MenuBar Stats 3 | Advanced system monitoring stats | macOS 10.14 or later | $4.99 | Yes | 16.9 MB | 3.8.6 |
Frequently asked questions 
Q1. How to Check CPU Temperature on Mac?
If you wish to check the CPU temperature on Mac manually, open Terminal and type the following command –
sudo powermetrics --samplers smc |grep -i "CPU die temperature"
Now press Enter and you will be able to see the CPU temperature of your Mac. Other than that you can take help from one of the best Mac temperature monitor apps. 
Q2. How To Monitor Temperatures On A Mac?
When you wish to monitor temperature on a Mac, give the applications a try. As they are available with multiple advanced features on an intuitive interface to make the work easy for the users.
Conclusion
In the end, we must tell you that you know the importance of a CPU temperature monitor for your system. There are multiple options for the users who are looking for simple to extensive reports on the temperature of Mac.
Pick the best fit for your Mac from the Mac Temperature Monitor apps from the software listed above. 
Also Read