Did your MacBook Pro screen goes black and unresponsive on you sometimes? It might be annoying when you are trying to work and the screen is unresponsive. It can also appear as the black screen right after you boot up your MacBook. This problem can be very frustrating if it constantly appears and hinders your work.
Therefore, it is important for you to learn how to fix this issue. This blog focuses on the different types of methods to curb the problem and find the reason behind the issue.
How To Fix MacBook Pro Screen Goes Black & Unresponsive
1. Check Brightness of Screen –
The brightness of the Mac can be the reason behind the sudden black screen encounters. There is a high possibility that you have Touch controls working towards changing the brightness and turning the screen black. It can happen and seem like an issue but can be fixed quickly.
Move the slider to any of the sides on the Touch control to adjust the brightness and you can get out of the black screen slowly. If this isn't the problem for you, move to the next solution. 
2. Reboot your MacBook 
This might look simple, but it is the first step in trying to fix the problems on all devices. Restarting the computer can help in eradicating the temporary glitches as the system boot checks for any such problems. 
3. Check Power Settings 
Power can be one of the reasons your MacBook Pro screen goes black and unresponsive suddenly. First of all, check the Power settings on your Mac. Follow the steps to learn how to do it – 
1. Open Apple Menu from the Top-left corner of your Mac.
2. Click on About this Mac> System Report.
3. Here select the Power from the left side.
4. Check the Cycle count and Condition and any messages for Battery deeming as Poor or Consider replacing your battery.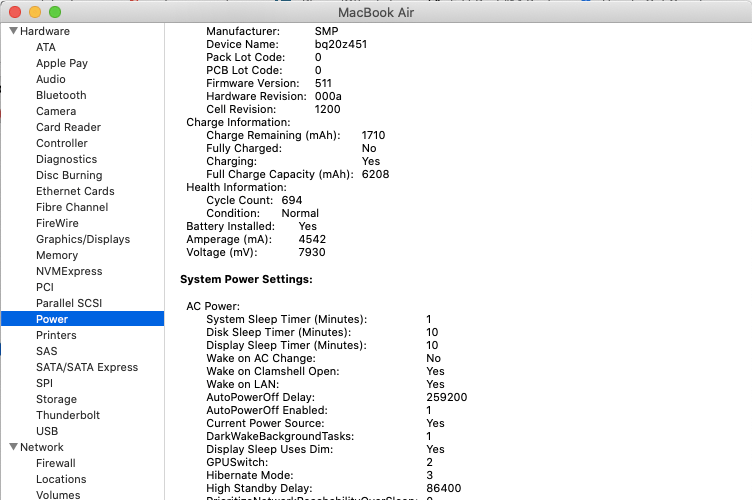 This will help you in understanding the problem as hardware can be a major factor in producing the black screen on Mac. 
4. Reset NVRAM/PRAM
The NVRAM or Non-volatile random access memory and PRAM or Parameter Random Access Memory can be the saviour in this problem. As they are responsible for archiving the system settings. Follow these steps to reset them to fix the MacBook pro screen goes black and unresponsive –
Turn off your MacBook.
Turn it and as you hear a chime sound quickly press "Command + Option + P + R" keys and keep holding them until another chime sound is heard.

Now release the keys and let it boot.
This process will help you reset the settings and hopefully fix your issues. Also note that this might erase any of your settings on Mac. So, check on System Preferences once you boot your MacBook.
5. Reset System Management Controller
SMC or System Management Controller is the control for different hardware functions on Mac.
It will help you give information on cooling fans, power supply, system performance, status light etc. It can fix the reason the MacBook Pro screen goes black and unresponsive.
To reset SMC follow these steps –
Turn off the MacBook.
Connect it to the power supply.
Press "Shift + Control + Option" keys and Power button at the same time. Hold it for 10 seconds until the MacBook turns on. 
These steps will reset the SMC on your Mac and fix the issue of black screen on boot. 
6. Keypress Sequence
If none of the above methods helped you till now, try out this hack which was used by a few Mac users. The specific key sequence can solve this issue if the MacBook pro screen goes black and unresponsive.
Follow these steps below –
With the black screen on MacBook, press the Power button light to turn it off. 
Here, you will see the Shutdown option's dialogue box. .
Now hit the S key which is a default shortcut for Sleep Mode.
Now hard press Power to shut down your MacBook.
After a few minutes, restart your MacBook and you can see the black screen problem is gone. 
7. Check for Disk Permissions
There can be issues which are resulting in a black or unresponsive screen on your Mac. To fix this issue and any other underlying problem due to the junk files or third party application, use a Mac cleaner.
MacBooster is one of the best Mac cleaning and optimising tools. You can quickly take care of all of its issues by going through its modules one by one. It can clean up 20 types of junk files, uninstall applications, manage login items, provide security and clean memory. 
The Disk Permission Fix tool can also easily help if the MacBook Pro screen goes black and unresponsive. As it might be due to a broken Disk permission that your MacBook keeps turning off the screen controls.
So, just download MacBooster and then go to the Performance Boost and click on Disk Permission Fix.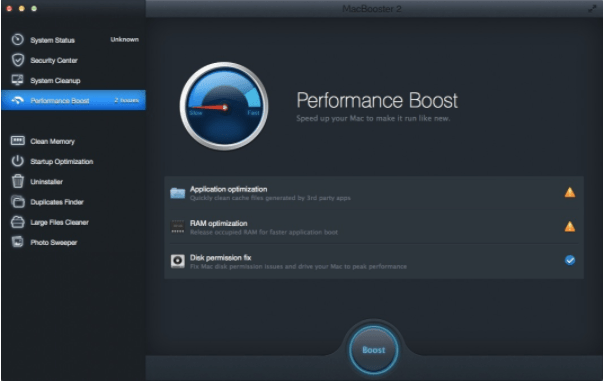 This is very much likely to help you sort major issues on your Mac and improve its performance. 
8. Remove peripherals – 
While you have any peripheral devices attached to your Mac, it can cause issues. The unresponsive screen is majorly caused when they are attached to an externally connected device and the system stops responding. Do check for any printer, trackpads, mouse, consoles etc and remove them safely from your Mac.
Try and use your Mac again for a while, see if the issues are fixed, if so, the device might have been the cause.
9. Check for Bugs –
There are security concerns involved when your device does not perform as per the norm and you have also tried to troubleshoot the basic errors. Then, it is time to check for any underlying bugs of app issues. Since we used MacBooster, in the previous step, we are going to take help from another of its modules to fix this issue.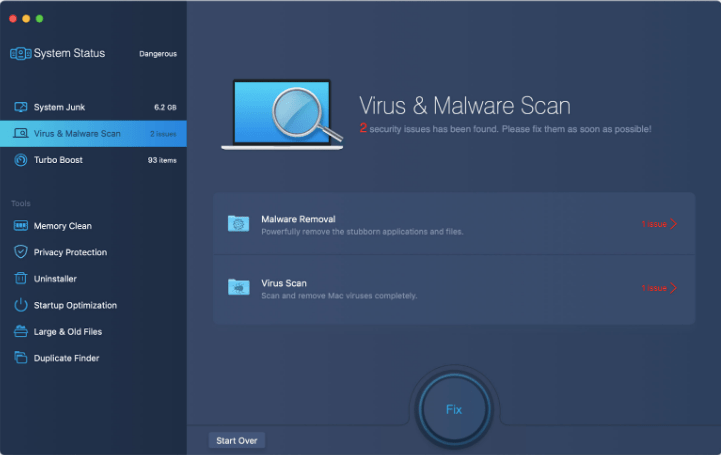 Go to the Security section and run the Virus & Malware Scan to find any hidden malicious application of the file. It will carefully run a scan and remove unwanted files which can hinder the normal functionality of your Mac. 
10. Reinstall macOS 
It might seem like too much, but sometimes, this is the last resort. So, get your macOS reinstalled on your MacBook. Always remember to backup your data before you begin the process.
The reinstallation will take a while but this will solve your problem.  As the MacBook Pro screen goes black and unresponsive could be due to interference from third party applications. 
Frequently asked questions
Q1. Why does my MacBook Pro screen suddenly go black?
If your MacBook Pro screen keeps turning black in the middle of the work, check the power supply, battery as it might be time to change the hardware. 
Q2. How do you fix an unresponsive screen on a Mac?
To fix the screen goes black and unresponsive on Mac, you can check its hardware, SMC, Disk and other settings. Try to restart the Mac after each process to make sure you see if the hacks worked.
Q3. How do I fix an unresponsive MacBook Pro?
If your MacBook pro screen goes black and unresponsive that can cause problems, therefore you must try and fix it with the mentioned methods. 
Q4. How do I stop my Mac screen from going black 2020?
To stop your Mac screen from going black, keep a check on your hardware and software. Keep checking the Power settings and also if any of the third party software is interfering with the system preferences. 
Conclusion
We understand that it can get very frustrating if the MacBook Pro screen goes black and unresponsive. Therefore, it is important to learn these hacks and apply them as and when needed. Remember to keep your Mac clutter free and uninstall any useless application.
Update the system and software timely to avoid any conflicts or security issues. In this problem as you can see there are multiple reasons behind the screen going unresponsive on Mac. But, resetting the SMC, PRAM and Key sequence helped in getting rid of the issue. 
Also Read