If you are here that's probably because you are moving forward in the direction to get MacCleaner Pro. The question that is holding back – Is MacCleaner Pro worth it? Well, there is nothing wrong with researching a product before investing in it. Therefore, we are here to help you with this MacCleaner Pro review.
It gives out all the details in a summarised form for you to decide whether this is the Mac cleaning utility for you or not.
What is MacCleaner Pro
MacCleaner Pro is one of the best Mac cleaners which can free up disk space accurately. It will speed up your Mac with one click and improve the performance immensely. It is equipped with several useful modules to help you eradicate the sluggish performance and slow speed of your Macintosh.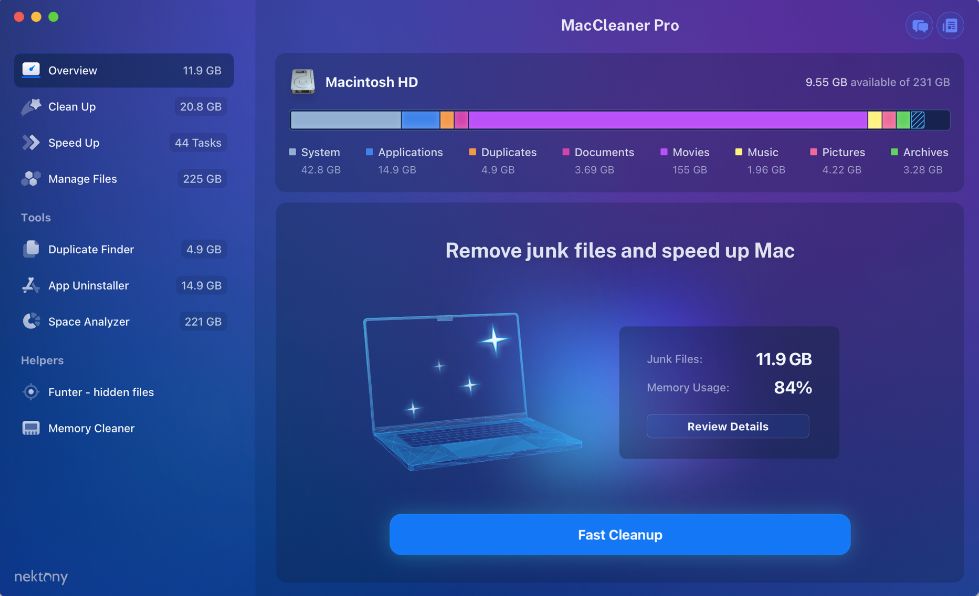 The clean up drive can make up ample space in the storage disk as it clears all of the useless data. It can also optimise the boot time by managing the startup programs on Mac. The unwanted downloads, screenshots, mail attachments and language files can be removed using MacCleaner Pro.   
1. Technical Specifications –
| | |
| --- | --- |
| Vendor | Nektony  |
| Current Version | 3 |
| Compatibility | macOS 10.11 and higher |
| Download link | Link |
| Price | Free, $44.95 |
| File Size | 173 MB |
2. Features –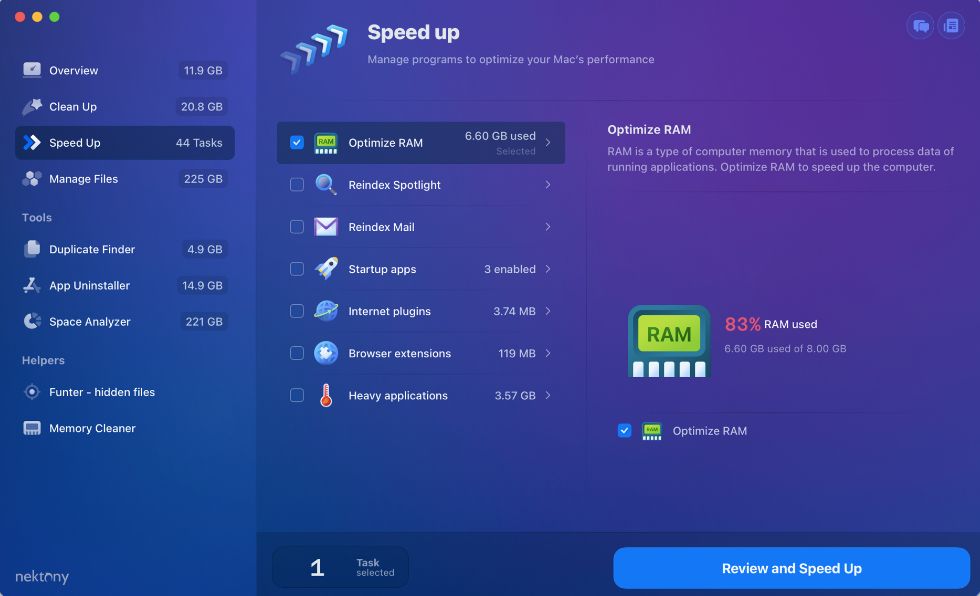 If you wish to give your Mac the due performance boost then you have the perfect feature to do so in the form of Speed up Mac. It will free up RAM and optimize storage space. It will also help you increase boot time with the Disable startup apps feature which can help you remove the unwanted login items. The Reindex Mail to fix the issues with the Mail app. 
Reindex Internet Plugins is a feature to help you manage the plugins from the tool. To fix the Spotlight search issues on your Mac is the Reindex Spotlight feature. Remove the unwanted and suspicious browser extensions with the Disable browser extensions tool.
Quit Heavy consumers will help you quickly get rid of the applications hogging the memory.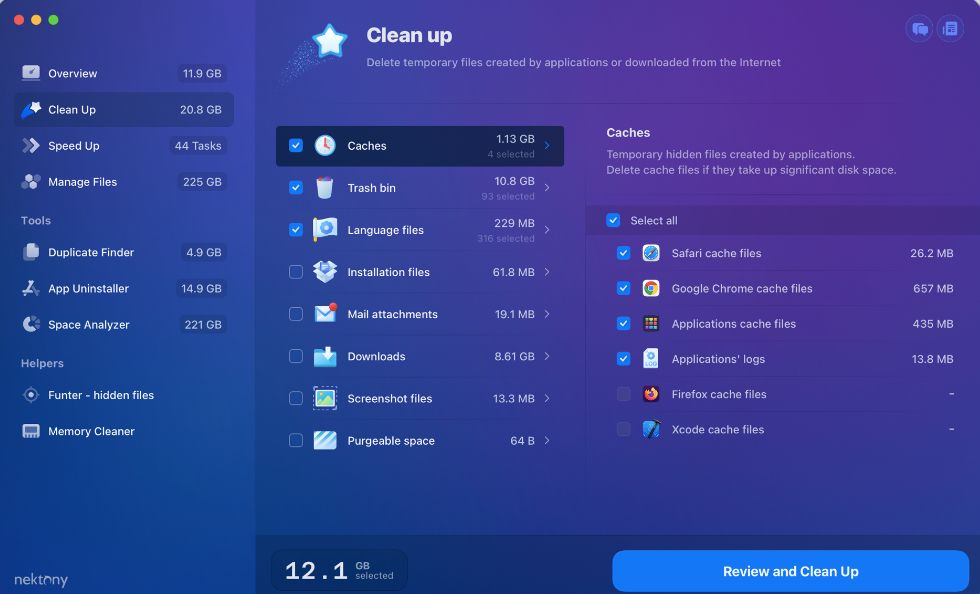 Clean up Mac is another of the important features which can help you remove the unwanted clutter from the Mac. You can remove the cache files, installation files, language files and downloaded files. It can also detect and remove the Trash files from the different applications.
MacCleaner Pro can easily detect all the mail attachments on your Mac and then let you manage them. It can also remove unused screenshot files by detecting them quickly.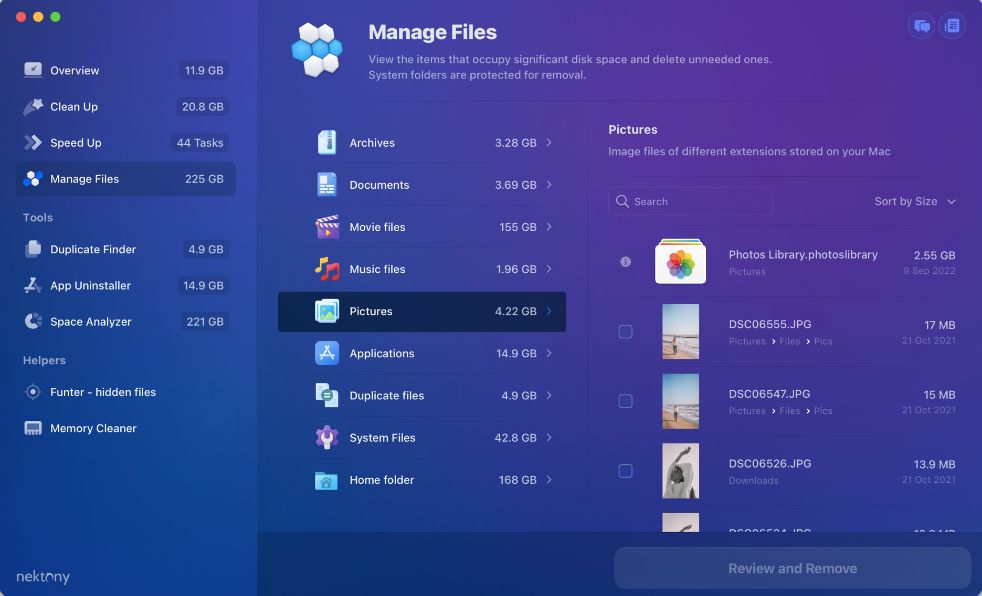 To manage files on mac you get to enjoy the feature on this MacCleaner Pro. It can clear the Archives, Unwanted documents, pictures, duplicate files, Large Movie files all in one place. As they are often neglected but take on the most disk space.
The applications which are hogging too much space can be quickly uninstalled using MacCleaner Pro. It will also delete the unnecessary system files and organise the Home folder.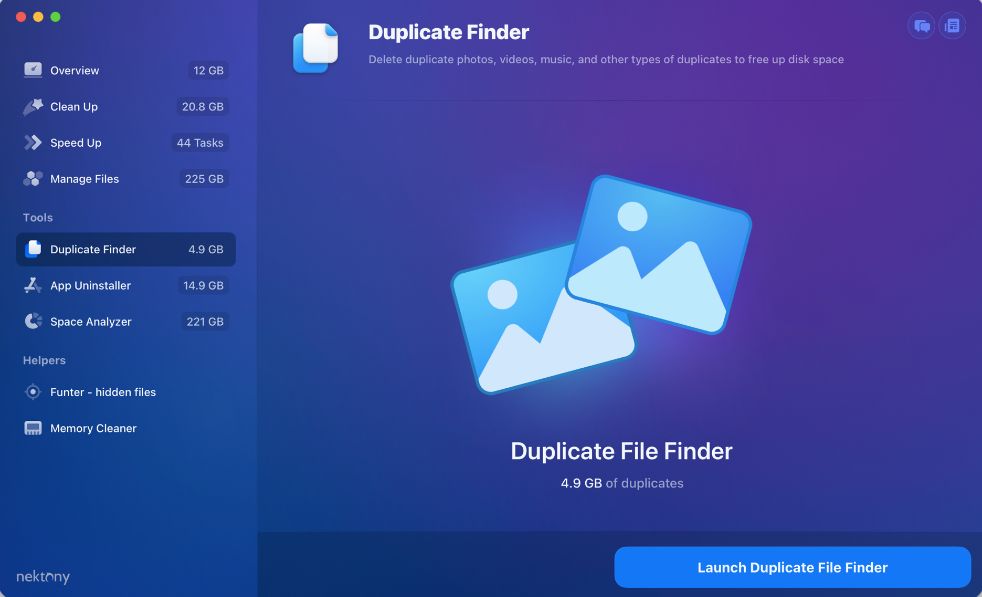 Duplicate file finder in MacCleaner Pro can easily scan and detect the duplicate files and folders. It will find the similar looking photos in the Photos Library and help you organise the folders. You can also merge the similar folders and save disk space and manage them quickly.
To get rid of the unwanted and old applications, use the App Cleaner & Uninstaller tool in MacCleaner Pro. This will show you the list of all of the applications present on Mac and help you uninstall them completely by clearing the remaining files as well. It will also let you reset the application to put them in the default state to begin fresh.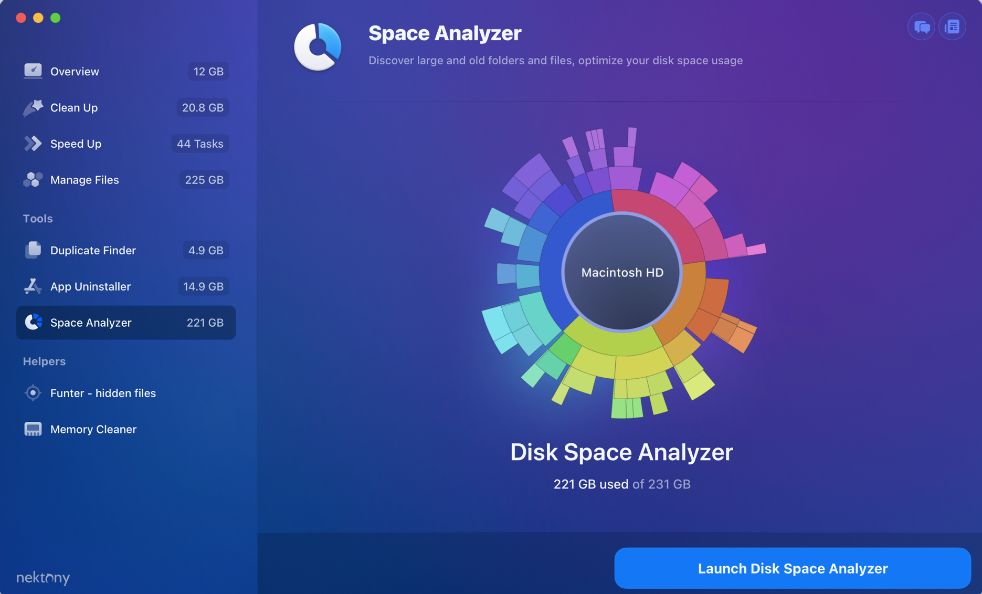 To find out about the Disk content you can rely on the Space Analyzer in MacCleaner Pro. It can easily show you the storage in the disk with a graphical representation. It will help you understand where the biggest files and folders are and then operate as per requirements.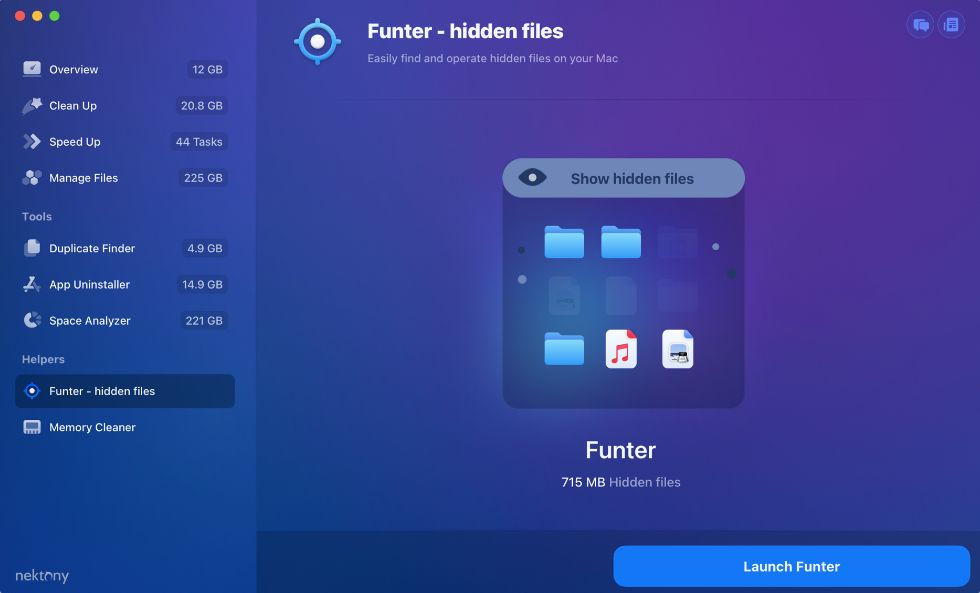 MacCleaner Pro has a surprise element with this tool called Funter. It can easily work on the hidden applications on your Mac. You can hide/show files using one click and then search then copy, move or remove the hidden files and folders.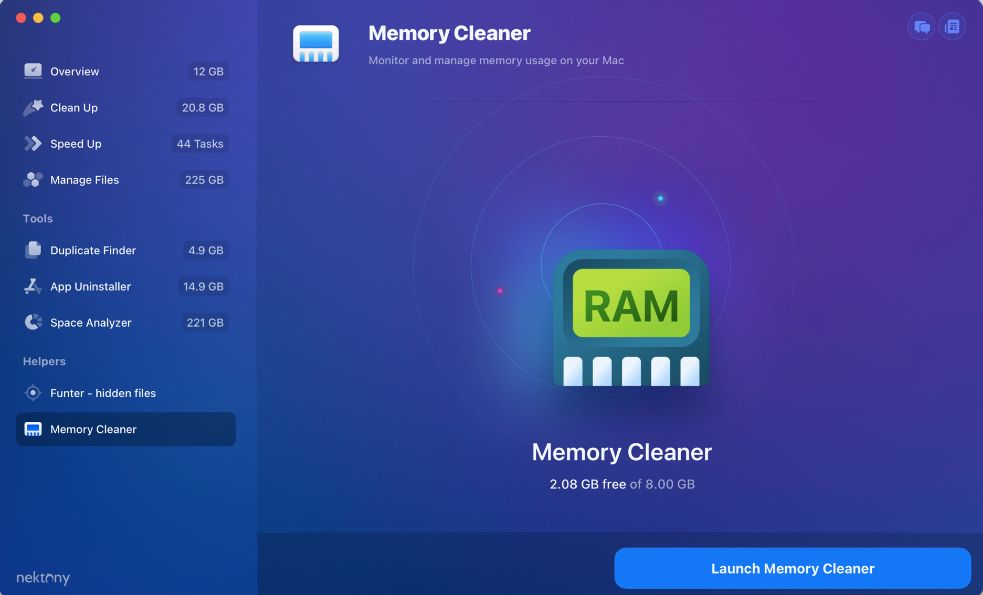 MacCleaner Pro comes with yet another tool called Memory Cleaner. This one helps in cleaning up the unwanted clutter from the memory. It can monitor the memory usage and then find out the application which is consuming the most memory.
You can also set the limits for the RAM cleanup for running an automatic task once it reaches this limit. 
How to Use MacCleaner Pro?
MacCleaner Pro review will be incomplete without explaining its functionality. Therefore, in this section we have covered how to use MacCleaner Pro.
Step 1: Download MacCleaner Pro on your Mac.
Step 2: Run the file and finish the installation.
Step 3: Launch the application and then MacCleaner Pro will run a scan to analyse the current status of your Mac machine.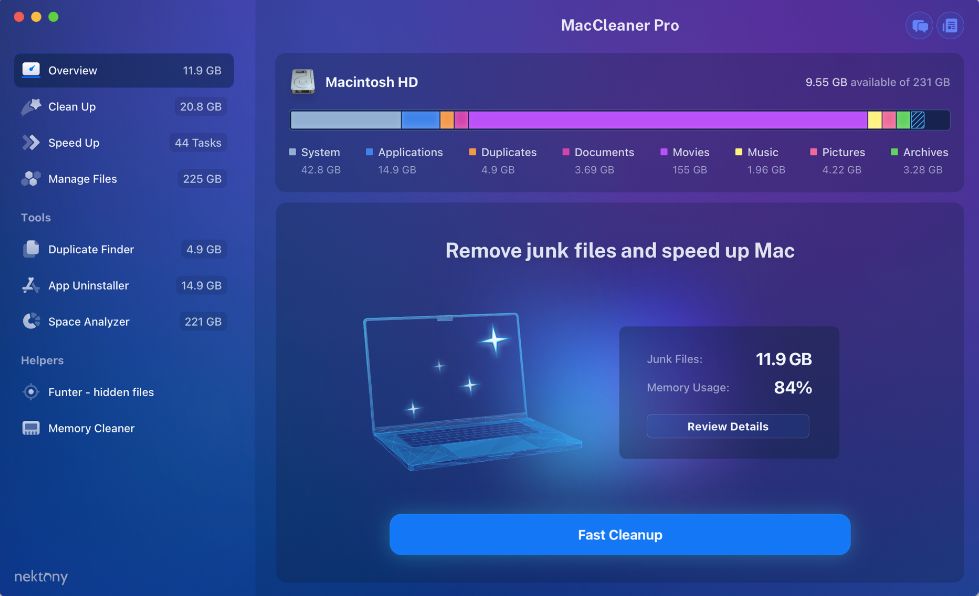 Step 4: Now, you can see the details under the different sections named as – Performance, Junk Files and User Files. 
Click on Speed Up to boost the performance of your Mac.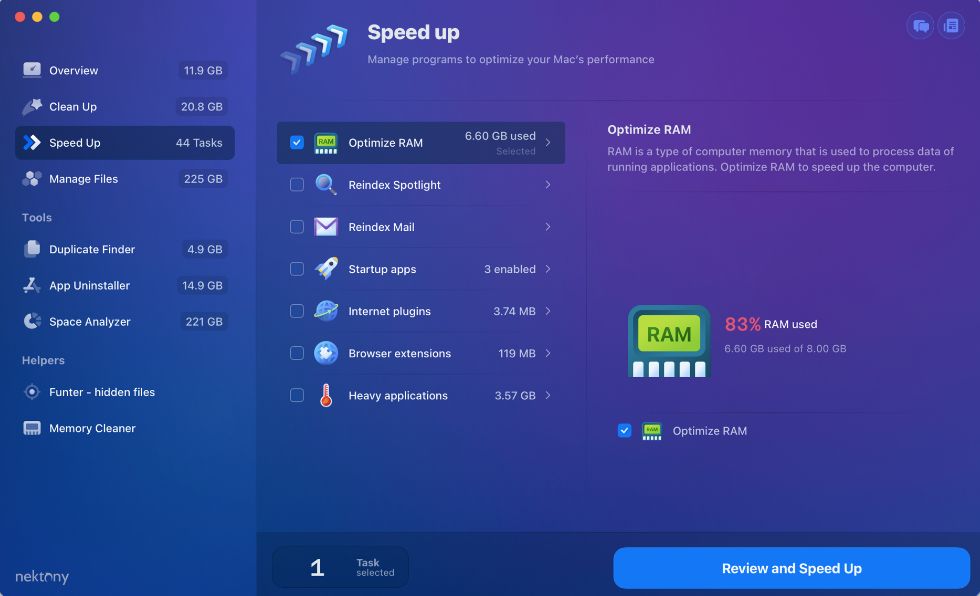 Step 5: Here you can see more options such as Free up RAM, Disable startup apps, Reindex Spotlight and Reindex Mail.
Click on each one to fix the issues separately such as click on Free up RAM you will get the option to clear space in memory.
Step 6: Mark the sections to fix the issues with your Mac and then click on Speed Up button in the right corner.
Step 7: Move onto the next section on MacCleaner Pro – Clean up Mac.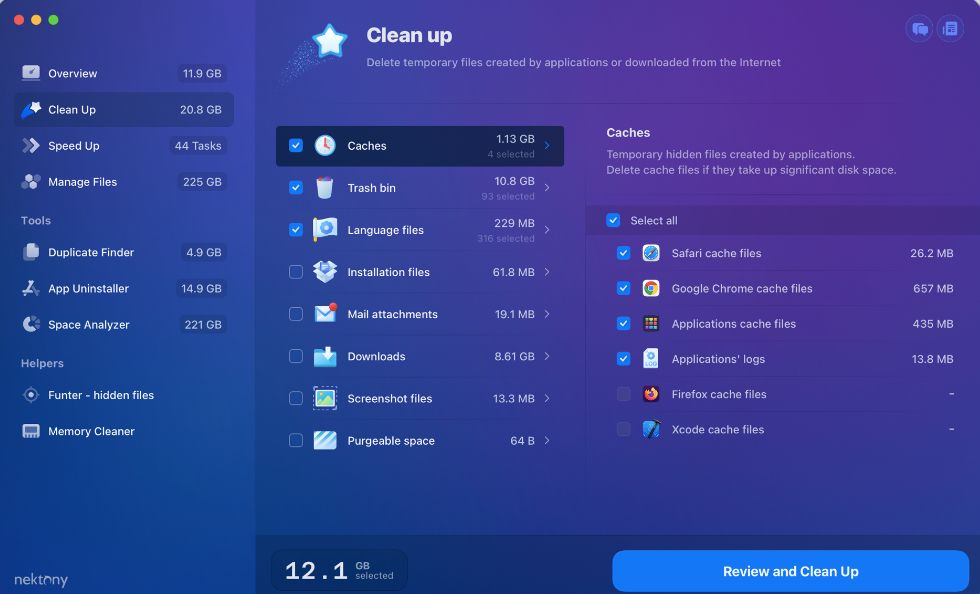 Here, you will see the Fast cleanup options divided among – Caches, Installation files, Language files and Downloads. Click on each one of them to remove the clutter.
Step 7: Similar to the above step, mark the junk file categories and then click on Remove button.
Step 8: Last section, will help you Manage files, click on it from the Menu.
Step 9: Go through the several unwanted, redundant, duplicate and large files and remove them one by one.
Additionally you can use the PRO Tools to perform certain actions which are specific tasks – Find duplicate files, Uninstall applications, Analyze disk usage.
Pricing
MacCleaner Pro can be purchased for 1 Mac at $44.95 for a lifetime licence. It is also available in two more plans which includes 2 Macs care for $59.95 and Family Pack which can include 5 Macs for $112.95 as a fair deal.
Pros & Cons –
| | |
| --- | --- |
| Pros  | Cons |
| Cleans junk files | No security features |
| Removes duplicates | Does not assure online privacy |
| Reindex Mail and internet plugins | |
| Reindex Spotlight | |
| Disk Space Analyzer | |
| Speeds up Mac | |
Is Nektony MacCleaner Pro worth it?
Yes, Nektony's MacCleaner Pro is a fantastic application with great user reviews. It sums up the ease of access along with a diverse combination package for maintaining Mac's performance.
It includes the cleaning, securing, reindexing and tools for finding duplicates, cleaning memory, disk analysing and more for optimal performance and improved speed.
Frequently Asked Questions –
Q1. Is MacCleaner Pro any good?
Yes, MacCleaner Pro is very good and it might surprise you with the number of functions it can perform. It comes with a large number of tools to clear the junk and unwanted files and boost the performance of your Mac. 
Q2. Is MacCleaner legit?
Yes, MacCleaner is a legit Mac cleaning and optimising application from Nektony. So, if you are wondering – is MacCleaner Pro safe for Mac? Yes, it is safe to use software. 
Q3. Which is the best cleaner for Mac?
There are many cleaning applications available for Mac and MacCleaner Pro is one of them. Among others you can check out MacBooster 8, CleanMyMac X and CCleaner for Mac.
Q4. How much does MacCleaner Pro cost?
MacCleaner Pro costs $44.95 for a yearly subscription plan. You can also download and use MacCleaner for free in the trial version with the limited functionality. 
Final Words
We are sure you got the answer for – Is Mac Cleaner Pro worth it. It is definitely one of the very good Mac optimisers with the ability to clean up various kinds of junk and speed up Mac. With this MacCleaner Pro review we hope to clear your doubts on what are the specifications and features of MacCleaner Pro. Go for it!
Also Read