A third-party Mac optimisation tool helps you keep your Mac fresh and clean just like when you first got it. MacKeeper is one such third-party Mac optimisation tool which helps with security, cleaning and performance optimisation. But all is not glory with MacKeeper, considering it has its own limitations, specifically with its free version.
The paid version comes in at handsome and the useful convenient features provided lacks in comparison to other third-party Mac cleaning software available. Thus, we have curated a list of top MacKeeper Alternatives for your Mac to consider and select the one suiting your preferences. 
What is MacKeeper
MacKeeper is an all-in-one tool for Mac optimisation, security, cleaning and privacy utility which offers features to clean junk, remove viruses, uninstall apps, clear duplicates and many more to improve Mac performance. 
You can improve your Mac's performance and identify threats with a single scan click and optimise, clean, protect etc when the scan is over. It offers a simple and easy to use interface along with an easy access menu bar dashboard to display real-time vital status of your Mac. 
Also Read – MacKeeper Review
6 Best Mackeeper Alternatives for Mac
Similar to the MacKeeper functionality below are the best alternatives you can choose to help clean, optimise and protect your Mac –
1. CleanMyMac X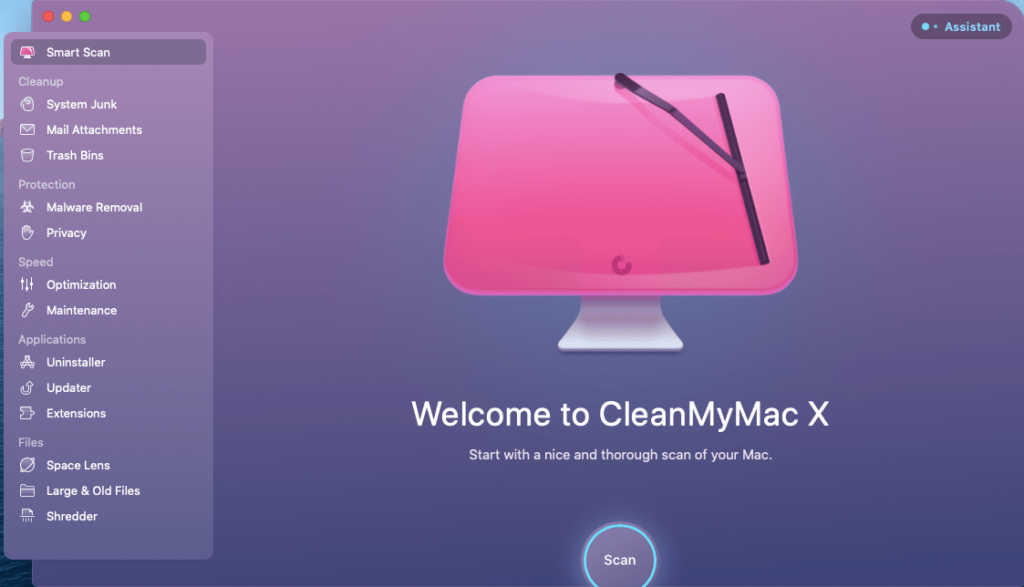 Just like MacKeeper, CleanMyMac X is also a complete package of tools to optimise the performance of Mac, that makes it the best MacKeeper Alternative for you to consider.
You can easily run an auto smart scan to identify all the possible aspects of improvement on your Mac. Along with a yearly subscription plan, you can also purchase a one time licence also. 
Features – 
A Complete Mac Optimising Tool. 

Clean and Easy to use interface. 

Abundance of optimising tools. 

Smart Auto Scan for all factors. 
2. MacBooster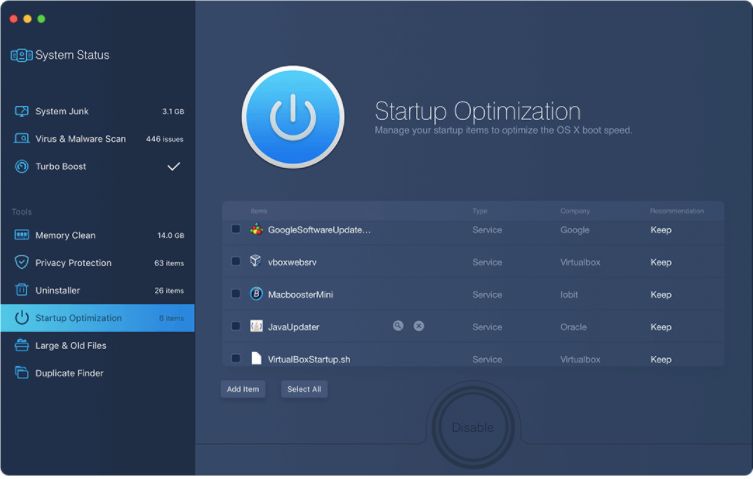 MacBooster is another whole Mac optimisation and cleanup utility. You can easily choose from System Junk cleaner, Turbo Boost performance, Memory cleaning, virus protection and many more features to improve your Mac performance just like the new one. 
Features – 
Comprehensive Mac optimisation tools. 

Offers Turbo Boost performance. 

Extensive features list. 

Simple and easy to use interface. 
3. Nektony MacCleaner Pro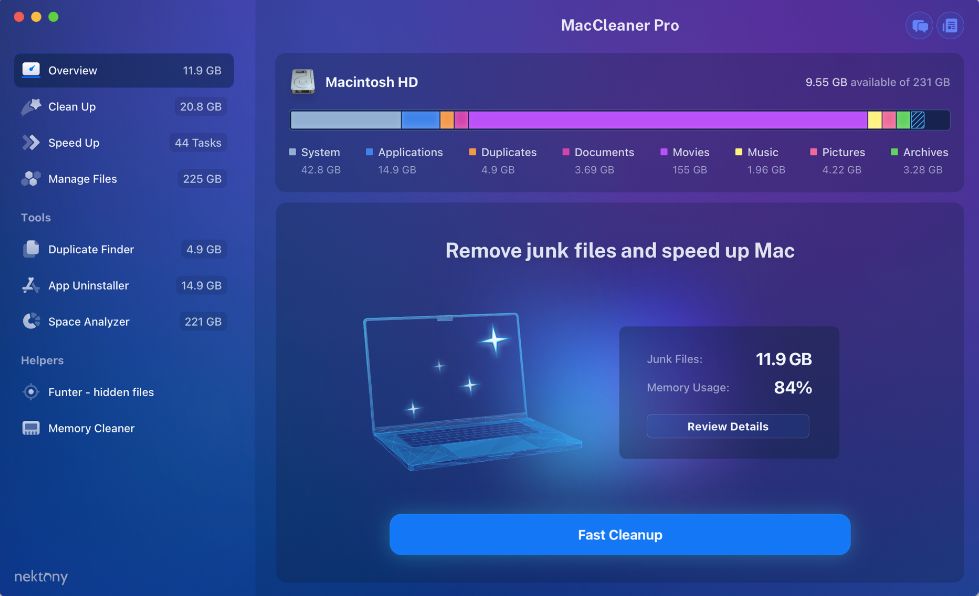 Nektony MacCleaner Pro is another one stop Mac cleaning solution which makes it an excellent MacKeeper Alternative. It offers multiple cleaning and performance optimization tools to keep your Mac at its best status.
User interface is highly intuitive and simple to navigate around. You can easily select either to cleanup or speedup your Mac for performance boost. 
Features – 
Most reliable and efficient professional Mac tool. 

All in one Mac optimisation software. 

Simple and intuitive user interface. 

Single click functionality. 
4. PowerMyMac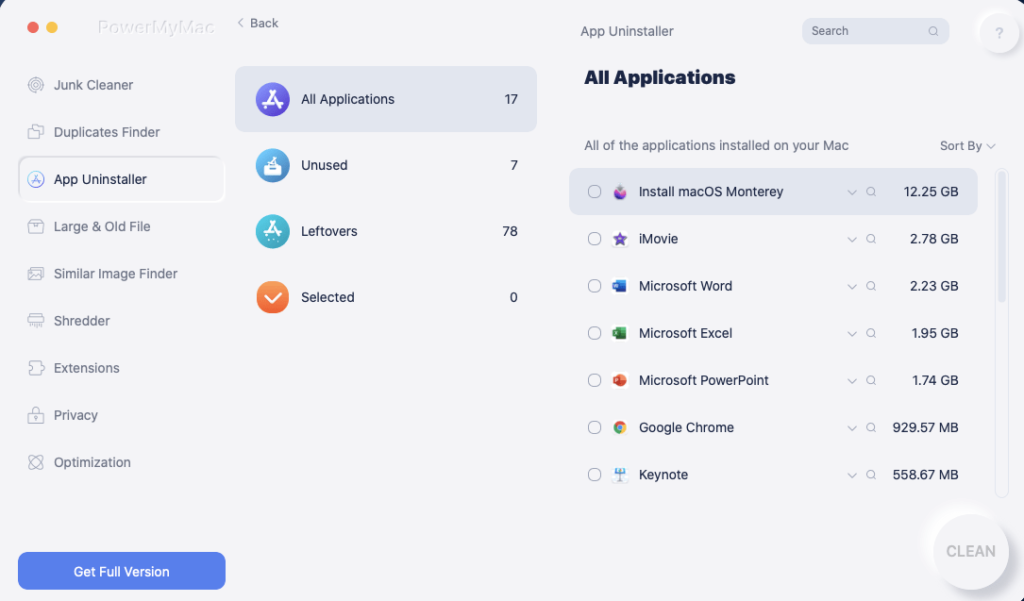 PowerMyMac is another cleaning tool for mac which lets you remove junk, duplicate and clear cache files along with other performance improvement tools to keep your Mac at its best.
Due to its comprehensive features list to help keep your Mac performing consistently at its best makes it a great MacKeeper Alternative to consider. 
Features – 
Efficient Mac optimise and clean up utility. 

Comprehensive features list. 

Clean and user friendly interface. 

Single click functionality. 
Also Read – PowerMyMac Review
5. CCleaner for Mac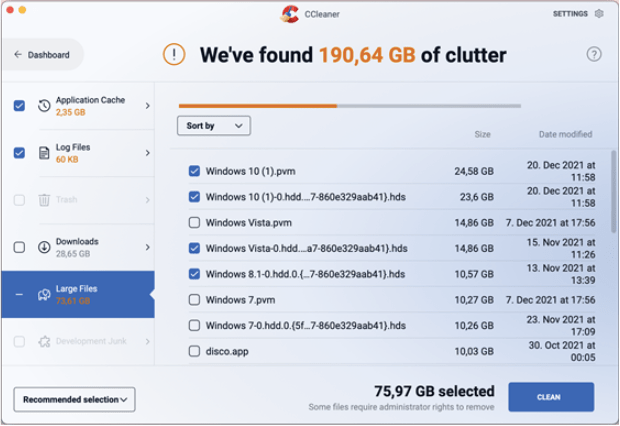 CCleaner is another great choice for the free MacKeeper Alternative for its ability to clean and optimise your Mac easily with just a single click. You can clean redundant junk files, find duplicates, uninstall apps and clean browsers for privacy concerns.
Its user interface is very simple and easy to use. Its free version is more than enough to optimise your Mac for performance and also offers a highly affordable price to upgrade. 
Features – 
Free Mac Cleaner and Optimiser. 

Simple and easy interface. 

Automatically clears browser data. 

Affordable upgrade prices. 
Also Read – CCleaner for Mac Review
6. AVG TuneUp for Mac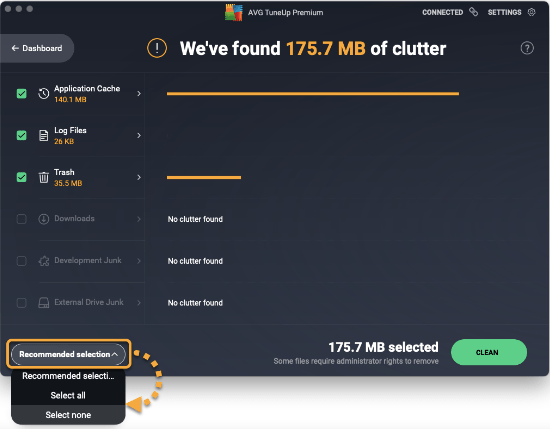 Lastly on the list is AVG TuneUp for Mac, which supports many useful tools to optimise and clean up your Mac for performance improvement.
It offers the best security features to help keep your Mac safe like cleaning browsers automatically for privacy concerns. You can schedule automatic cleaning or optimising functions on your Mac. 
Features – 
Fully automatic Mac cleaner and optimiser. 

Excellent safety features for security. 

Straightforward and simple user interface. 

Exhaustive features list. 
Also Read – AVG TuneUp For Mac Review
Frequently asked questions –
Q1. Is there a free alternative to MacKeeper?
There are free Mac cleaning applications but we recommend you go for the most trusted. The free alternatives to MacKeeper can be listed as CCleaner for Mac and CleanMyMac X which comes with free trial version.
Q2. Does Apple recommend MacKeeper?
Mackeeper is approved and Notarized by Apple for safe installation and use on your Mac. It is a highly reliable and reputed utility to help keep your Mac perform at optimum. 
Q3. Which is better: CleanMyMac or MacKeeper?
Both Cleanmymac and mackeeper are extremely versatile and efficient tools to help keep your Mac secure and at its best performance. But Cleanmymac offers much more advanced useful features at an affordable price to aid in more convenience. 
Q4. Does Apple own MacKeeper?
No, Apple does not own Mackeeper, it is a third party software. MacKeeper is developed by Clario Tech DMCC and it works as a Mac cleaning software to remove junk, uninstall applications and more.
Q5. Is MacKeeper worth downloading?
If you are looking for an excellent all in one utility to help you keep a Mac clean, safe and healthy then it is worth downloading Mackeeper. 
Conclusion On Mackeeper Alternatives 
These are the MacKeeper alternatives which are easily available with a similar set of features to clean your Mac. If you have been looking for free MacKeeper alternatives go with the CleanMyMac which will help you clean a certain amount of junk for no cost. However, most products come with free trials, you must purchase to get the most of them. 
Also Read