Keeping your Mac in an ideal working condition takes a lot of effort and in-depth knowledge of navigation across the right tools hidden in Mac Or you can simply get third-party software to clean Mac and save it from malware threats. MacKeeper is among the best utilities to keep your Mac in the best of its conditions and perform efficiently. Let's find out more about this awesome Mac cleaning utility in this MacKeeper review blog.
What is MacKeeper?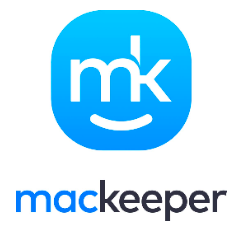 MacKeeper is an all-in-one mac cleaning tool. It provides a total of 11 tools combining security, cleaning, performance and privacy for the Mac in a single application. MacKeeper helps to remove malware and adware, clean your disk space, block ads and stop ID theft and help speed up your Mac by constantly monitoring your Mac.
So, basically it provides all the essential tools to maintain and secure your Mac blended in a single app. It allows you to schedule a regular scan for your Mac to automatically find out the anomalies and junk to keep it in a healthy state.
MacKeeper cost is $71.40 for one Mac. However at the current offer you can avail the 12 month plan at $50.70 only. It is notarized by Apple but can not be found on the Mac App Store. 
MacKeeper Detailed Unbiased Review
Technical Specifications –
| | |
| --- | --- |
| Vendor | Clario Tech DMCC.  |
| Current Version | 5.8.6 |
| Compatibility | macOS 10.11 or later |
| Download link | Click here |
| Free Trial | Yes |
| Price | $71.40 |
| File Size | 1 MB |
| Technical support | Via email, live chat and phone |
Features –
To answer 'Is MacKeeper worth it' following are the key features of MacKeeper. It has an extensive list of features to help your Mac with respect to security, cleaning, performance and privacy categories.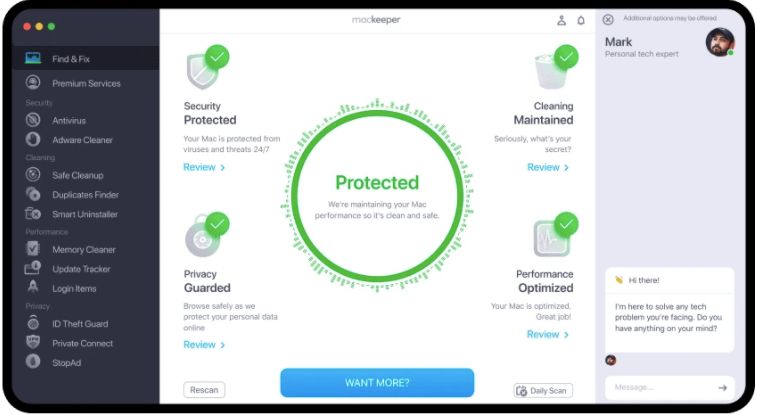 One app for all your needs to keep Mac clean, safe and secure.

Security tools : Antivirus and Adware Cleaner –  Protects from malware and adware in real-time.
Cleaning tools : Safe Cleanup, Duplicate Finder and Smart Uninstaller – Removes junk, trash and duplicate files along with unwanted apps.
Performance tools : Memory Cleaner, Update Tracker and Login Items – Cleans up memory, updates due apps and manages login items to speed up your Mac.
Privacy tools : ID Theft Guard, VPN Private Connect and StopAd – Protects from online theft, secure private online connections and blocks online ads & trackers.
Find & Fix feature – Performs complete Mac scan with just one Click and fixes reported issues.
Daily Automatic scan – Can be set up to scan your Mac every 24 hours to notify anything critical. 
Only Initial Setup – Need to enable real-time virus protection, ad blocker and password breach monitor only once when you run MacKeeper for the first-time.
In-app expert chat – Supports 24/7 in-app expert tech support to deal with all sorts of issues on your Mac.

Latest macOS versions are supported, including MacKeeper app for older macOS versions.
How to use MacKeeper ?
Step 1 : Download and Install – 
You can download MacKeeper from its official website and install it on your Mac easily. 
Step 2 : Launch and run scan – 
Once the app is launched, go to 'Find & Fix' and click on Start Full Scan Button. The Find & Fix feature of MacKeeper app will run scans on your Mac to check for Security, Cleaning, Performance and Privacy aspects.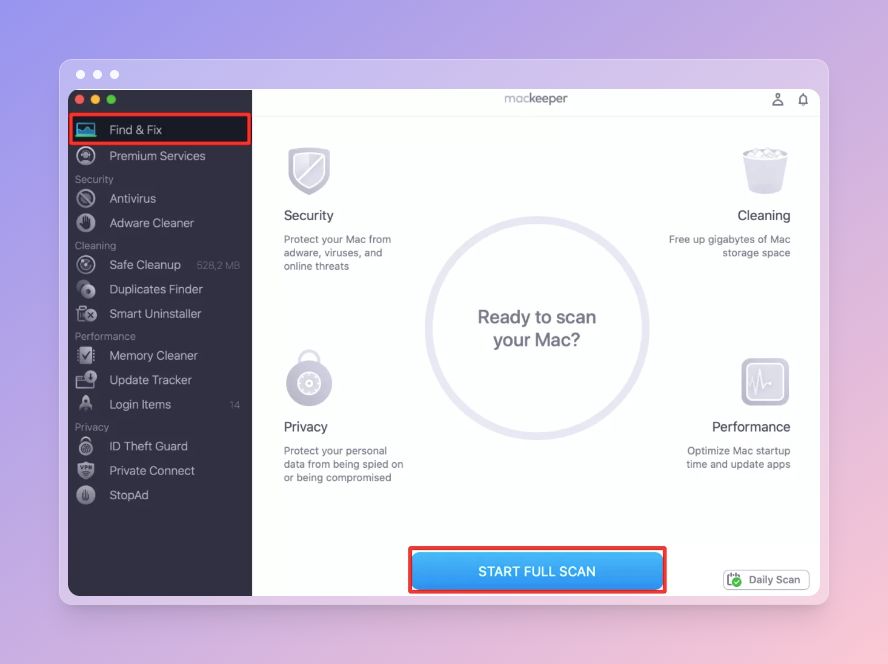 After the scan is completed, the result is displayed with major aspects. MacKeeper personal tech assistant will show the status messages on the right pane.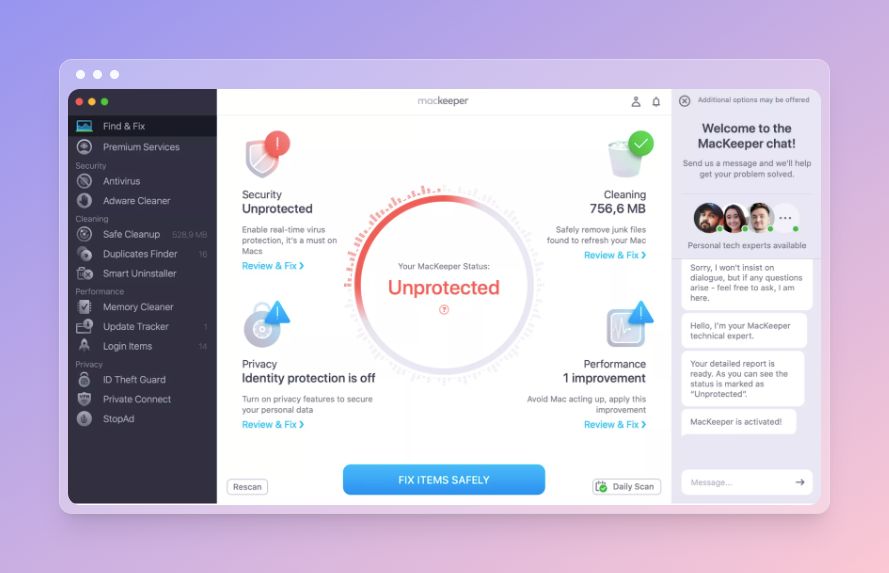 You can choose to check each section individually or you can just Click on the 'Fix Items Safely' button at the bottom to let MacKeeper take care of all for you.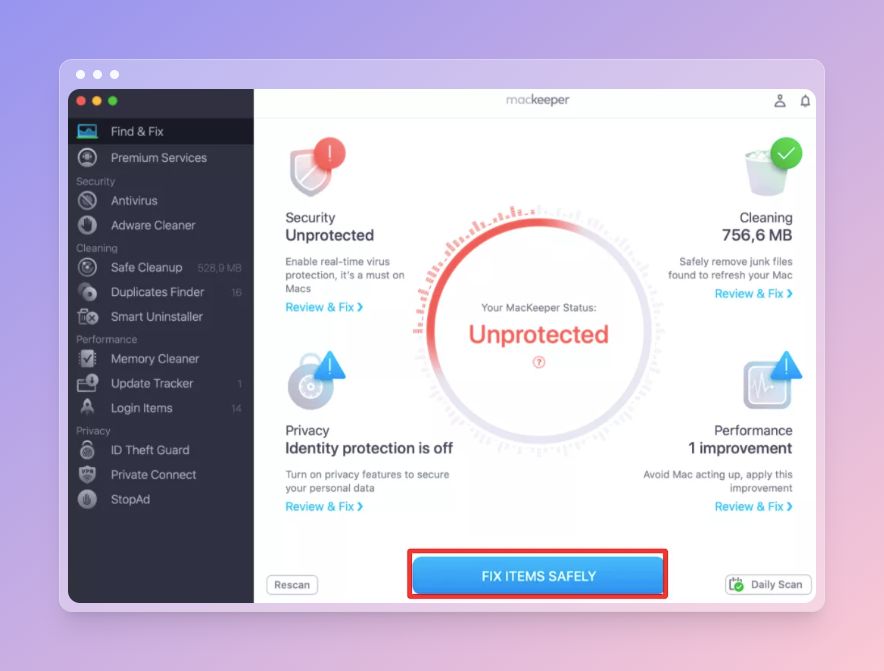 If a pop-up window, with a review, click on 'Continue' button to proceed fixing the items.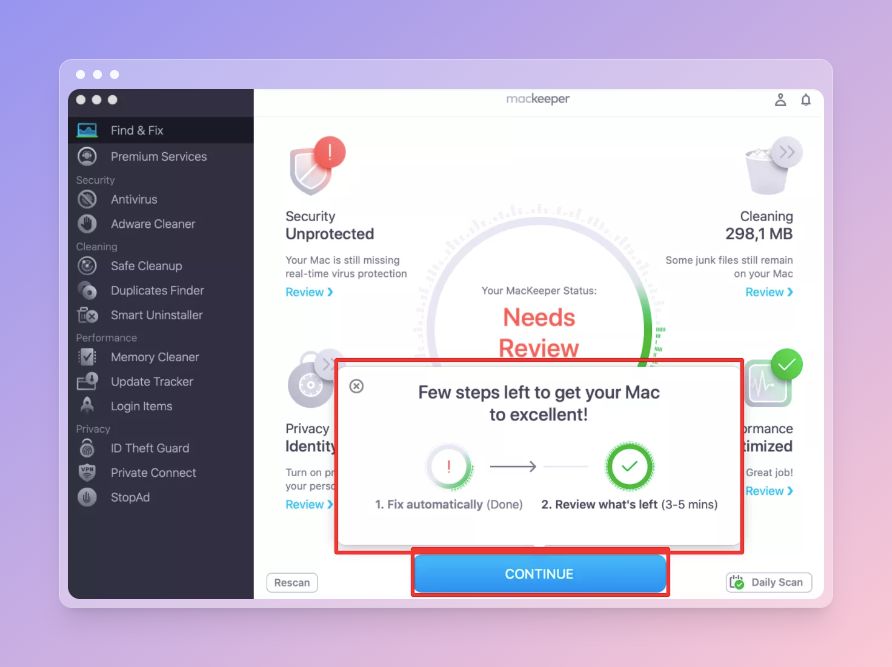 On the next screen, you will find the issues which are required to be resolved. If it is to be Empty Trash, you can click on the button shown on the screen to free up storage space..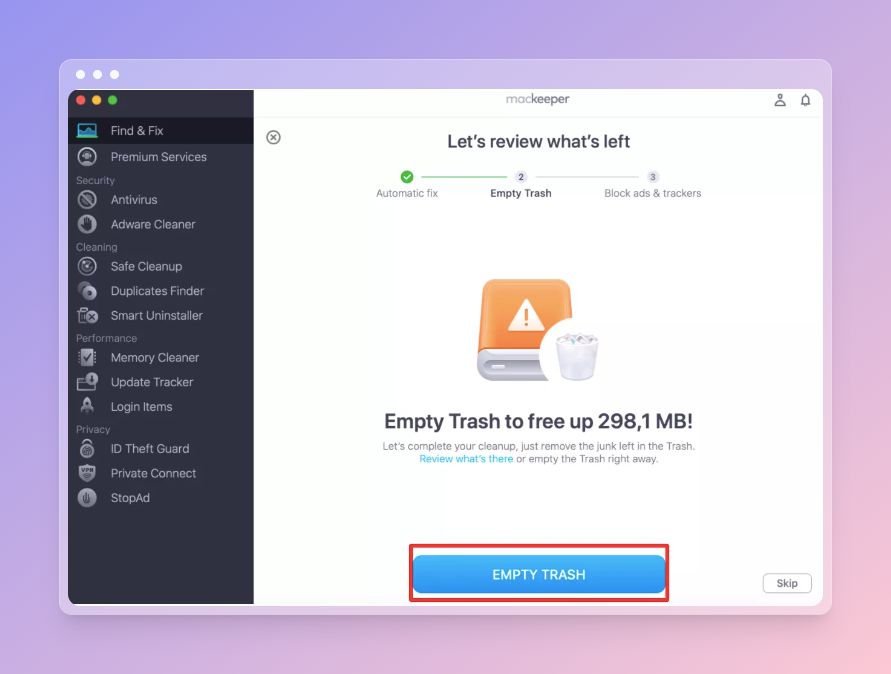 Once the issues are resolved completely, 'Fix Completed' message is displayed on the main screen.
Step 3 : Review items displayed unprotected – 
Sometimes, even after running 'Find & Fix', you need to run individual scans manually. Click on the 'Review' button given under each of the four aspects.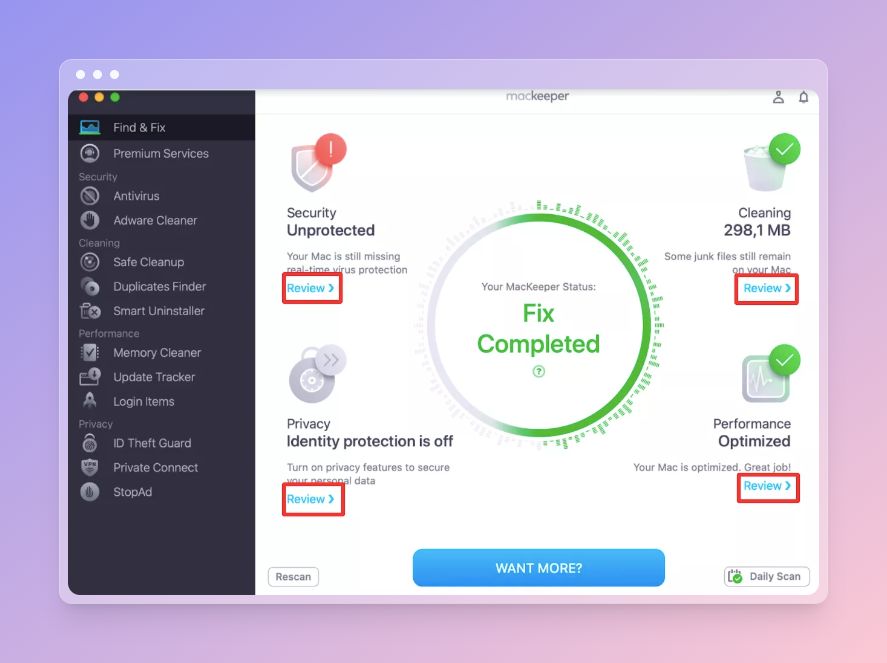 The specific issues would be displayed for you to read and understand on the left panel. To fix the same issue after going through the description Click on 'Review & Fix'.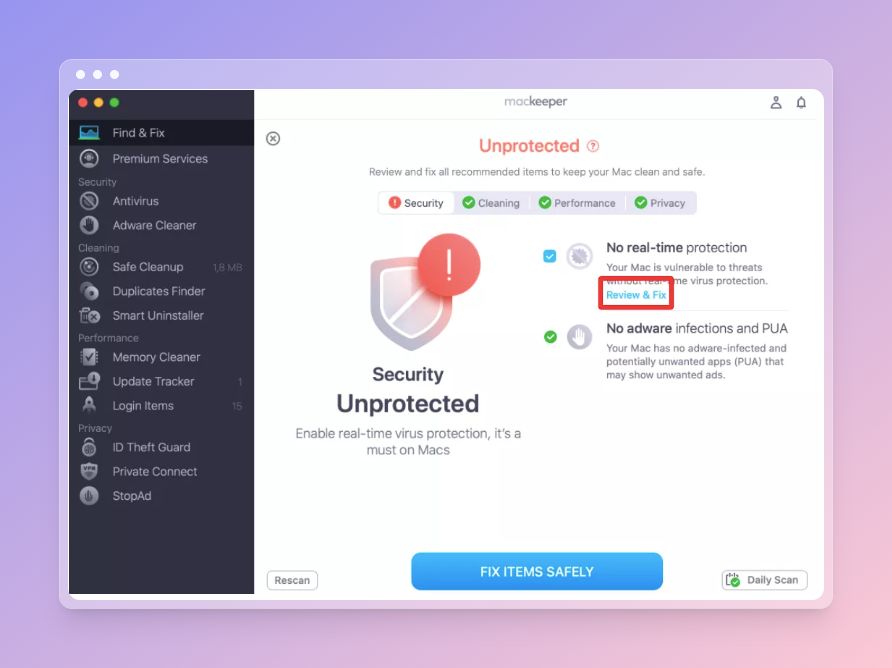 Then it will be redirected to another aspect to troubleshoot the particular issue. For example, here we are directed to the Antivirus tab and enabling the toggle switch will provide more protection than the Mac.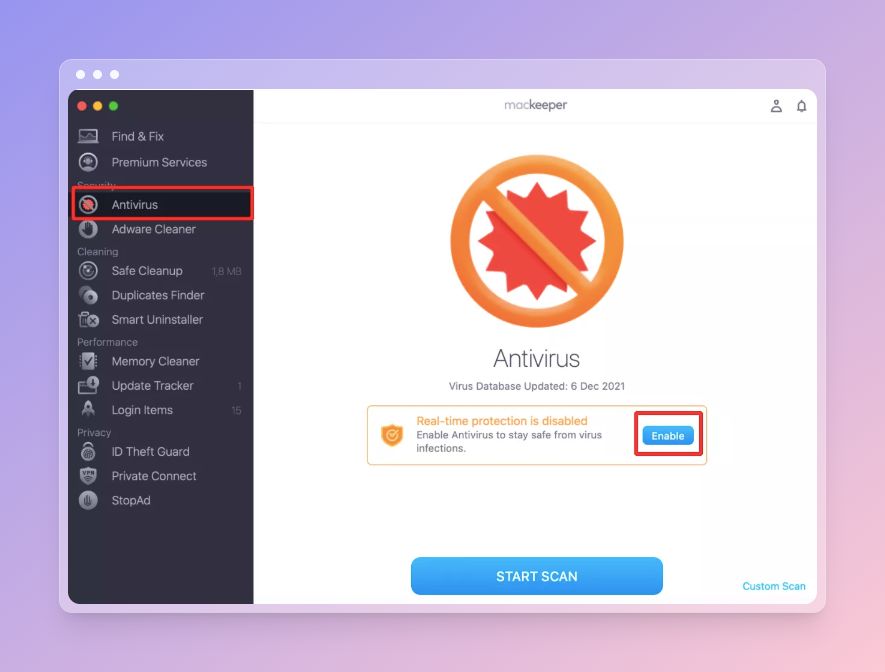 To fix the shown issues in the particula MacKeeper aspects, just follow through the given instruction to resolve the issue.
Step 4 : Set up daily scan – 
Click on the 'Daily Scan' under the Find & fix tab, it will provide you the option to set up a scan of your Mac every 24 hours. Follow the instructions from the Manage Daily Scan option.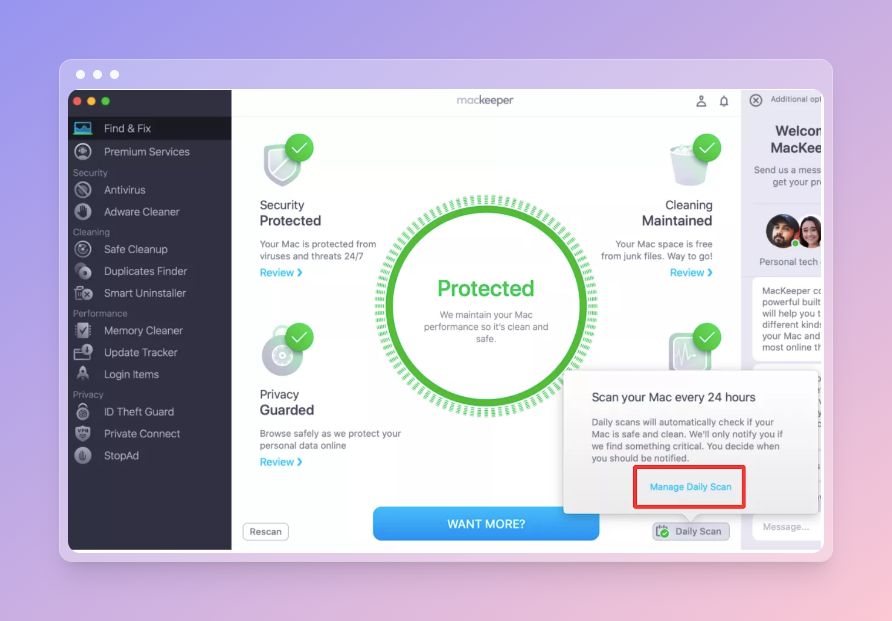 Step 5 : Want More button – 
For advanced cleaning and security features, click on 'Want More?' button shown after you have completely protected your Mac.
It will direct you to many other options for exploring much in-depth Mac fixing aspects. Select the one among the 4 options presented to you depending on your preferences. 
MacKeeper Pros & Cons –
| | |
| --- | --- |
| Pros  | Cons |
| All-in-One utility to cleaning and safety  | Limited features for free version. |
| Provides 11 security, cleaning, performance and privacy tools. | VPN and other monitor tool not available for free version |
| Complete solution of Mac with just one click | |
| Access all tools from a simple dashboard in the menu bar.  | |
| Cleaning features : Safe Cleanup, Duplicate Finder, Smart Uninstaller | |
| Performance tools: Memory Cleaner, Update Tracker, Login Items manager | |
| Privacy & Security tools: Antivirus, Adware Cleaner, VPN Private Connect, StopAd and more | |
| Real time personal assistance to help maintain Mac. | |
| Supports all macOS versions. | |
| All Apple devices are supported. | |
| Technical support via email, live chat | |
Frequently Asked Questions –
Q1. Is MacKeeper approved by Apple?
Yes, MacKeeper has been notarized by Apple, stating it meets all latest security requirements for macOS. It is also certified by AppEsteem and Achieved ISO 27001 certifications.  
Q2. Is it worth paying for MacKeeper?
For the extensive feature list it provides to clean Mac and ensure safety, it is worth the price paid. 
Q3. Should I use MacKeeper to clean my Mac?
Yes, you can use MacKeeper to clean all the unwanted junk and trash from your Mac. It improves performance and security of your Mac with multiple build-in tools.
Q4. Does MacKeeper still exist?
Yes, MacKeeper software is available to download and use on Mac. MacKeeper was updated to its latest version 5.8.6 in April 2022. 
Q5. Is MacKeeper free?
Yes MacKeeper can be downloaded for free, but this version comes with limited features and usage. To answer – Is MacKeeper safe for Mac? You can find out by downloading the free version on your Mac.
Conclusion On Mackeeper Review
Providing you with multiple essential utilities to secure you from viruses and accumulation of junk on Mac, MacKeeper can be trusted as a good product. With this MacKeeper review, we are hoping to shed some light on its usage, features and pricing model.
Although it might seem expensive, it does an excellent job of cleaning Mac and enhancing its security. You can try out the free version to run it on your Mac to see if it's the one for you or not.
Also Read