If you are an organisation or an individual who would like to get details on its network bandwidth? Well, without a dedicated tool to monitor the network activities, you will not get much information. Therefore, we suggest getting one of the best tools to help you get accurate results. Check out the list of network monitoring software for Mac curated by us to help you make the decision.
How Do I Monitor Network Traffic On A Mac
Now, if you want to know how to monitor network traffic on a Mac, this is the right spot. You can get the necessary information on the network activities with the help of a tool. Despite the inbuilt utility on Mac, the Activity Monitor, you can also take help from other third party applications. 
Why to Use Network Monitoring Software On Mac
Apple provides the inbuilt Activity Monitor with the capabilities to monitor networks on Mac. It can find how many packets have been sent and received along with the speed of the transfer. It can also tell you about the total amount of data moved and in what time.
But, the Mac network monitor works a little bit more and gives you more insight on the network activities. Advanced network activities such as bandwidth management to help you keep a close eye on it. So, let's take a look at all of the Macintosh network monitor apps. 
Top 10 Mac Network Monitoring Software
1. Activity Monitor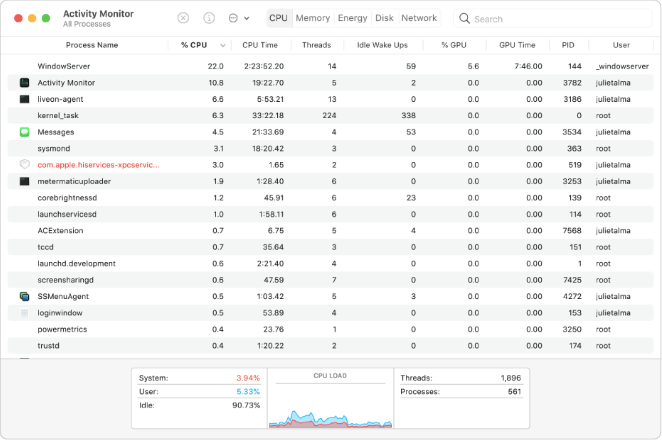 Activity Monitor is not just a network monitoring software for Mac, it can perform over all resources of the Mac. This is a good inbuilt tool for all of the Mac users to find out information on all the resources used. It considers the versatile options provided to monitor all aspects. Activity Monitor provides different ways to monitor and get help in managing applications, networks, and many other aspects.
Features – 
All in one solution for Mac optimization.

Comprehensive network data analysis.

CPU, Memory, disk, network and energy usage.

Freeware and supports all versions. 
2. Radio Silence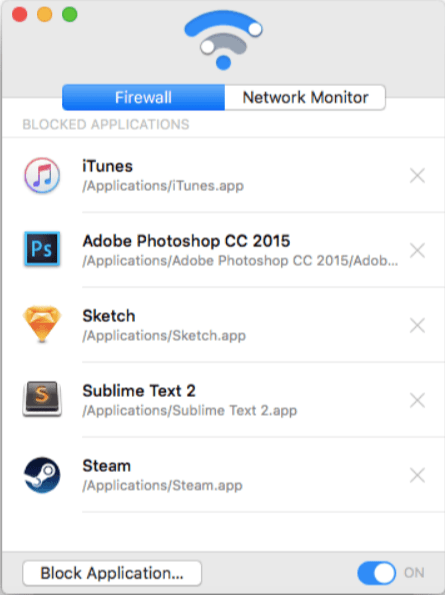 Radio Silence is probably the easiest and simplest network monitoring software for Mac available. It's easy to navigate and the simple user interface is an advantage for novice users along with extensive statistics displayed.
This Macintosh network monitoring software protects privacy, monitors apps and conserves bandwidth and data charges.
Features 
Very easy and simple user interface.

Blocks all unwanted apps and network connections.

Comprehensive network stats displayed.

Protect your privacy online.
3. Little Snitch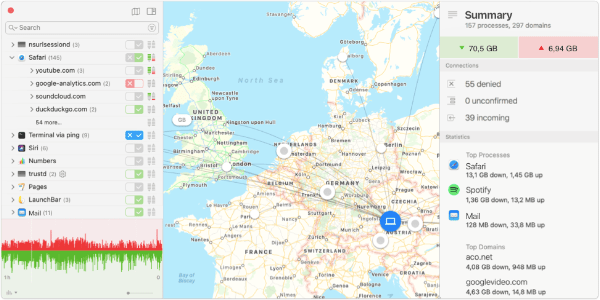 Little Snitch is another of the best network monitoring software for mac. You can get to know about the Mac's network activity in different perspectives. With the list of apps using it individually and the servers available and used by it.
The connection across the world and along with the one hour data traffic history report. Find the data volumes and bandwidth information with the geographic and code signature check.
Features – 
Get a real-time traffic diagram.

Connections grouped hierarchically by domain.

Statistics on the processes and servers.

Detailed connection details. 
4. iStatistica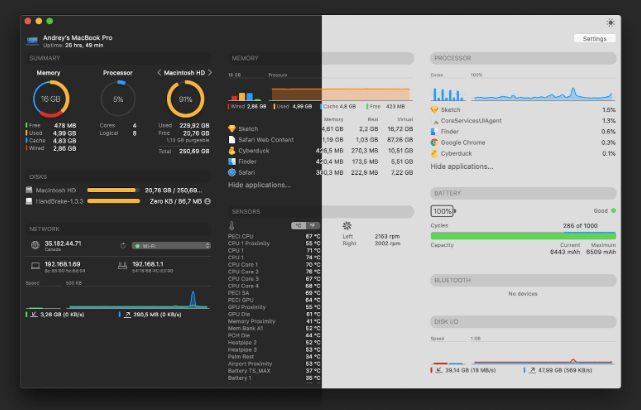 iStatistica is a real time system monitoring application which provides comprehensive statistics about networks on Mac.
Its customizable user interface is very beautiful and extremely intuitive to operate with extensive graphical and numerical statistics displayed for the overall Mac system. Supports dropdown one click overview of Mac stats on Menu Bar for easy and quick asses.  
Features 
Complete Mac system monitoring application.

Shows extensive network statistics. 

Beautiful intuitive user interface. 

Supports remote access information. 
5. iPulse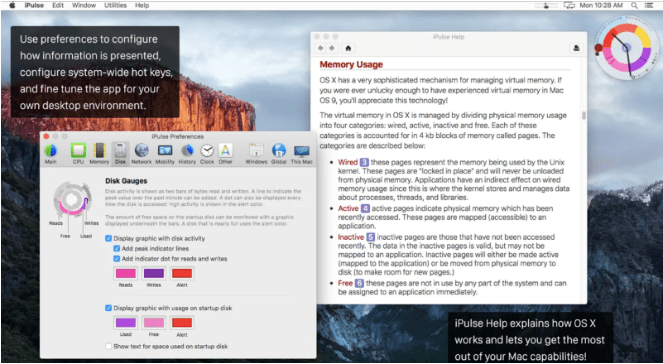 iPulse is a sophisticated network monitoring app designed for Mac users. This powerful utility provides real-time insights into your system's performance, allowing you to track vital statistics, such as CPU usage, memory usage, and network activity.
With a sleek and customizable interface, iPulse offers a comprehensive overview of your Mac's health and performance, making it a valuable tool for both casual users and professionals. Keep your Mac running smoothly by staying informed with iPulse's detailed monitoring capabilities.
Features – 
Designed to use system resources efficiently.

Scales network bandwidth and other activities. 

Comes with 10 built in presets.

Graphical displays for menu bar and dock.
6. iStat Menus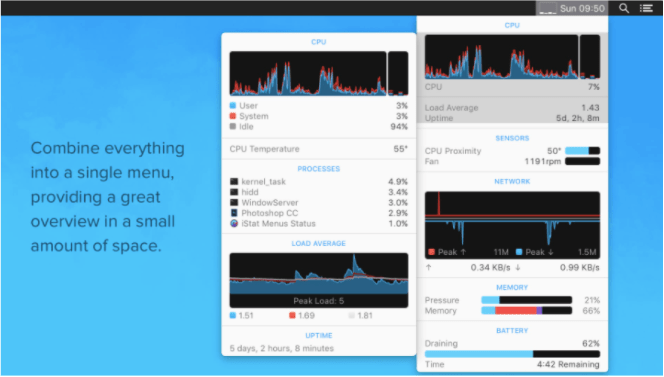 iStat Menus is a network monitoring software for Mac with loads of other features. It can be your overall system monitor if you wish as it comes with CPU, memory, battery and other monitoring tools.
Get to know about the bandwidth usage in real time. The connection of the network along with the private and public IP addresses. Most importantly, you will get a report on the bandwidth usage for each app separately.
Features – 
Get the history graphs for the Network.

Internet connectivity indicator. 

Detailed connection info.

Get individual bandwidth breakdown for apps.
7. Monity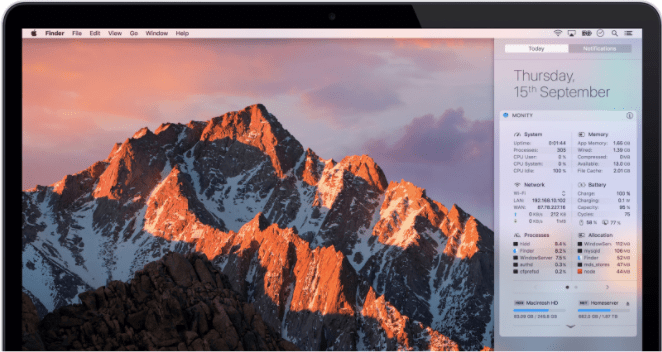 Monity is another of the useful applications to help you monitor the network activities on your Mac. It can easily show you the information on the Network with the real time incoming and outgoing traffic.
You can find out the internal LAN as well as external WAN IP addresses using it and also copy them for your use. Find out about all the networks and show the active connection on your Mac.
Features 
Real-time network traffic report.

Quick view of current LAN/WAN.

Copy IP addresses on clipboard.

Additional Mac monitoring tools.
8. MenuMeters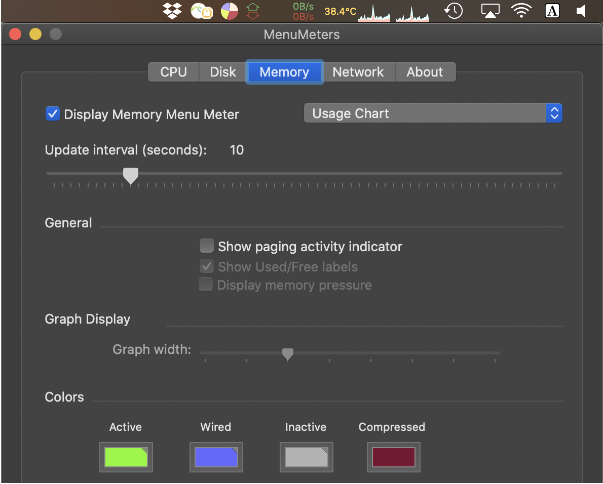 MenuMeters is an open source system monitoring application with the feature to deduce the network activities. It runs on your device and monitors the various aspects of your network. Keeping you informed on the internet connection speed and data usage.
This application can be used as a basic form of network information for the usage for bytes per second etc.
Features 
Open source project for Mac.

Get a graphical display.

Several scaling calculations.

Also monitors CPU, memory and disk.
9. PeakHour 4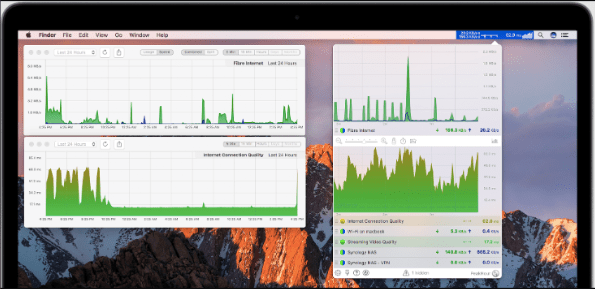 PeakHour is a dedicated Mac network monitoring software with a beautiful interface. It can check for the performance of the network along with the quality and usage of it on your device. Tracking the usage on your Mac using PeakHour with the constant email alerts and maintains the connection quality. 
Features 
Check for the internet, WiFi, NAs, servers and more. 

Real-time visual view of bandwidth.

Get a speedometer for the internet.

Advanced tools for history mapping.  
10. System Monitor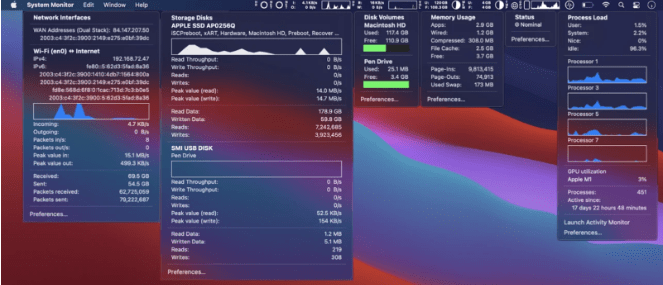 System Monitor is another excellent network monitoring software for Mac with an extensive feature list to monitor complete Mac system activities. It is an app for the menu bar of macOS, informing various system activities of Mac.
This app monitors the system continuously and provides up to date network data to be well informed of all the apps and network activities. 
Features 
Real time up to date Mac activity displayed. 

Over all system monitor mac apps.

Comprehensive menu bar drop down stats display.

Can simulate flickering activity lights of drives and network sockets.
Frequently Asked Questions
Q1. How can I monitor live traffic on my network?
To monitor the live traffic on your Network while using a Mac, you can use any of the dedicated system monitor tools. The network monitoring applications such as iStat Menus and inbuilt Activity Monitor are great for this information.
Q2. Is there a resource monitor for Mac?
Resource monitor is an application for Windows developed by Microsoft to find all information on the ongoing process and health of the resources. There are multiple applications which can be used for system monitoring Mac. You can use iStat Menus for an overall report on the Mac's CPU, network, memory and disk usage. 
Q3. What is the most popular network monitoring program?
The most popular network monitoring program for Mac would be the Activity Monitor as it's a free utility which comes with your device. Other than that you can use Radio Silence for in depth information on network activities. 
Conclusion
In conclusion, network monitoring software for Mac is an essential tool for individuals and businesses alike. It provides detailed insights into network performance, identifies issues before they escalate, and helps maintain a stable and efficient network environment.
Whether you're a small business owner, IT professional, or a home user, investing in a robust network monitoring solution ensures that your network runs smoothly, minimizing downtime and maximizing productivity.
With real-time alerts and comprehensive reporting, these tools empower you to take control of your network and keep it at its best. So, choose the right network monitoring software for your Mac and enjoy a seamless and trouble-free network experience.
Also Read