Do you want to clear space on Mac for Monterey? Apple recently released its new macOS Monterey version to their various devices. If you tried to update your device to the latest new release and were unable to do so due to an Error message displaying 'Not Enough Space to Install macOS Monterey', you should read on to find out a solution for this problem.
Why "Not Enough Space to Install macOS Monterey" Error occurs?
The "Not Enough Space to Install macOS Monterey" error occurs when the available storage space on your Mac is insufficient to accommodate the installation of the macOS Monterey update. Upgrading the operating system requires a certain amount of free space to download and install the new files. Several factors contribute to this error:
1. Insufficient Free Space: The most straightforward reason is that your Mac doesn't have enough free space to accommodate the installation files.
2. Large Files or Apps: If your Mac's storage is occupied by large files or applications, it may limit the available space for the update.
3. Temporary Files and Cache: Over time, temporary files and cache accumulate on your Mac, consuming valuable storage. These files can hinder the installation process.
4. System Integrity Protection (SIP): In some cases, System Integrity Protection, a security feature on macOS, might prevent certain modifications needed for the update.
5. Failed Previous Updates: If a previous update failed or left behind incomplete files, it can interfere with the installation of the new macOS version.
How much space does Monterey need
The installation file of macOS Monterey is about 12 GB, but ideally you will need more storage space around 4 GB to complete installation of the macOS successfully.
But according to Apple's official support website, if you are upgrading from macOS Sierra or later versions to macOS Monterey it is advised to have 26GB of storage space available. And if you are upgrading from even earlier macOS versions to macOS Monterey then 44GB of storage is required. 
How to fix "Not Enough Space to Install macOS Monterey" Error
Listed below are the best solutions for resolving Not enough Space error messages. 
Method 1: Optimise Storage space using built in utilities. 
Use the built in Optimization techniques for your Mac. follow these steps given below –
Step 1: Go to Apple Menu> About this Mac> Storage > Manage and it will show you the current storage state on your Mac.
Step 2: Go to the Recommendations and search for the Optimize Storage option. Click on it.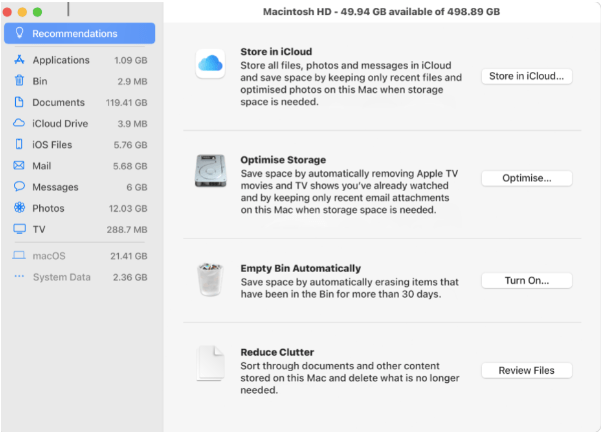 It will show you the Apple TV movies and shows which are unnecessarily stored on your Mac and taking up much storage than needed.
You can remove the ones you have already watched and also manage the email attachments which are no longer required to free up more space. This is the inbuilt method to clear up the storage space on Mac. 
Method 2: Clean unwanted files using third party software –
Get CleanMyMac as the Mac cleaning application to find and remove the unnecessary files to clear space on Mac for macOS Monterey.
Download CleanMyMac on your Mac. It is a multi-functional utility which comes with a range of tools to declutter Mac.  Run a complete scan of your Mac and review the junk files found on it and remove them with one click.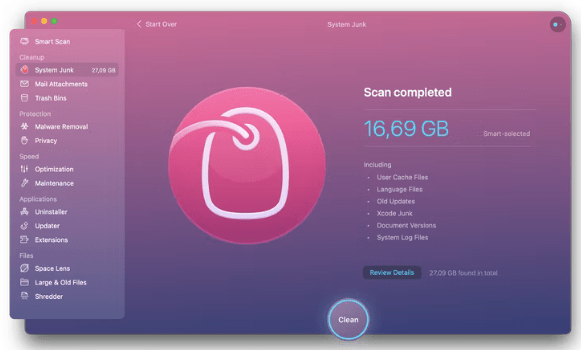 Remove Large and Old files –
It comes with a dedicated tool to search your Mac for large and old files which are no more needed. You can review the scan results and select the ones which can be remove to create more space on Mac.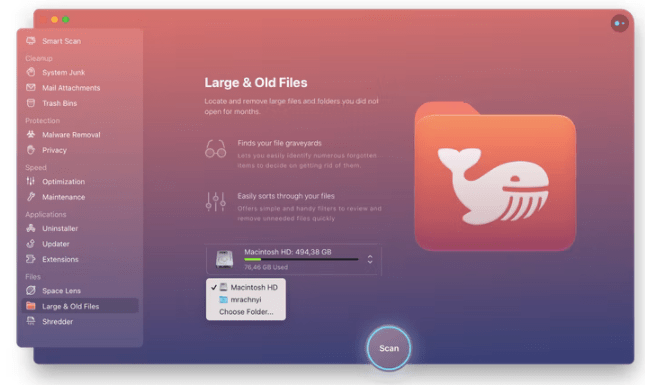 Uninstall unwanted apps –
Overtime, a number of unwanted and redundant applications make their way into your Mac. You need to uninstall them, however the manual method fails to do it sometimes. Therefore, using CleanMyMac which is one of the best app uninstaller for mac.
It removes the applications along with all of its associated files to free up a large chunk of storage space.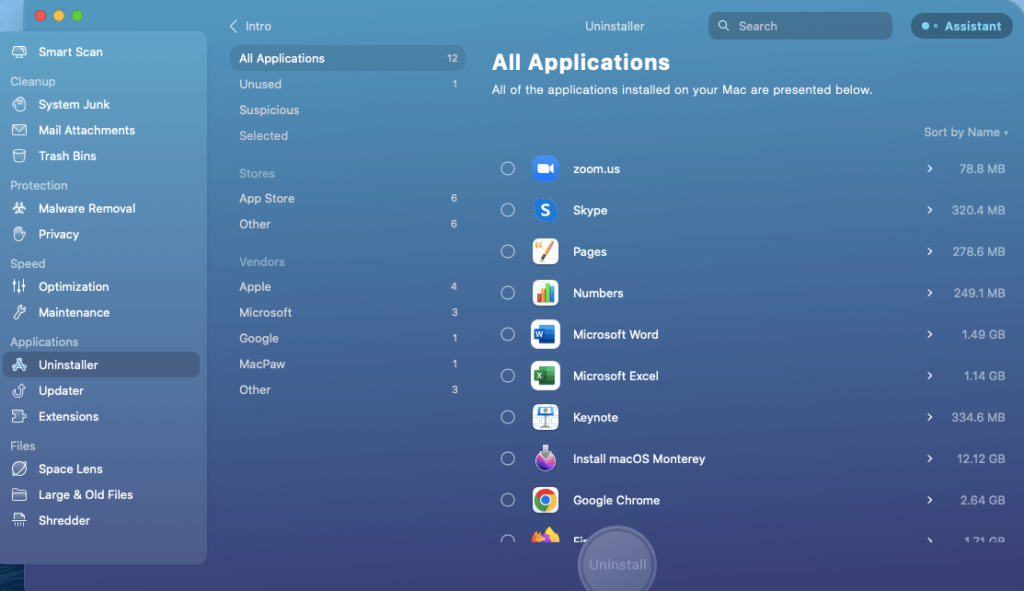 Mac will not automatically clear the Trash and your deleted files may remain in the storage unknowingly. Here using the CleanMyMac you can clear the Trash bins for system, Photos and other apps quickly.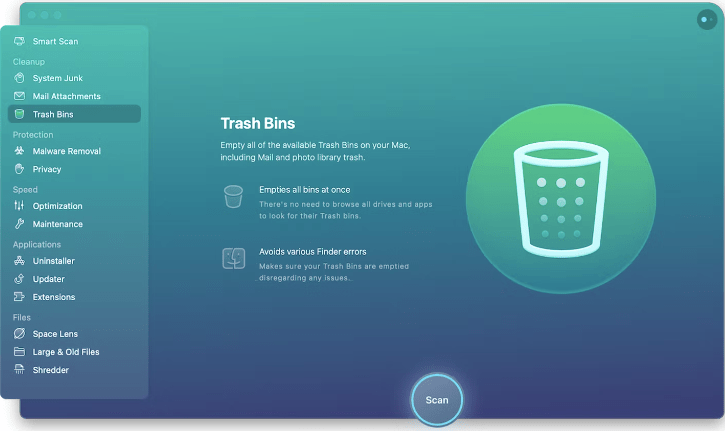 The mail attachments often accumulate in a large number of downloaded files which are neglected. But, it should be cleared to make space for a new macOS version on your device. Use the Mail Attachments feature to find all of the attachments and clear them with one click.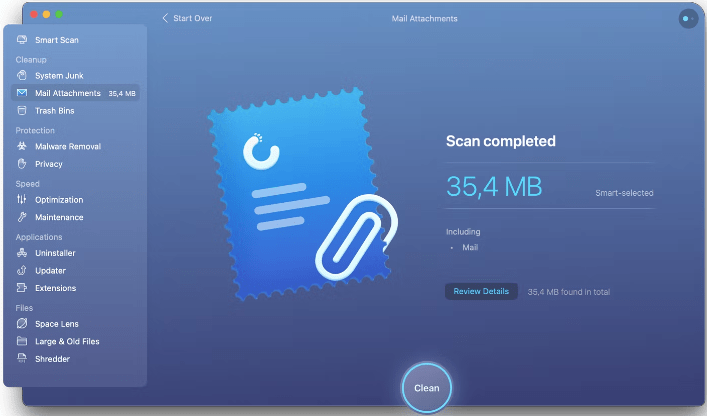 Remove outdated iOS backup – 
It's important to weed out all of the unwanted junk from your Mac in order to make space in storage space. Therefore, you can transfer your iOS data to your cloud or an external hard drive to keep it safe, But removing it from the Mac will be most recommended after that action.
Go to the iTunes Junk option and select the Cleans outdated iOS data from Mac option.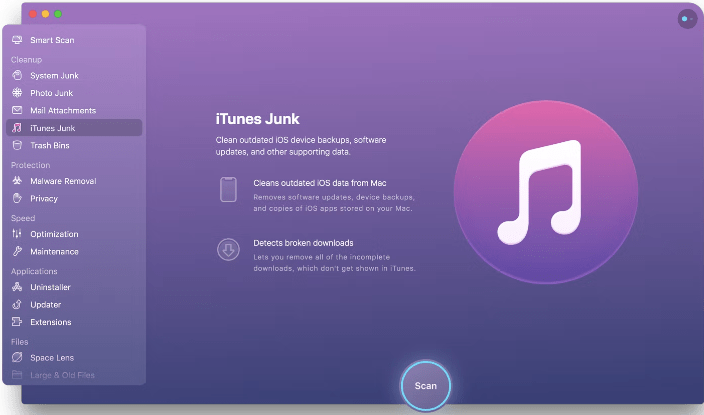 Method 3: Move some data to external storage or Cloud drive
After going through all the above methods and you still don't have enough storage space to install macOS Monterey on your System? Then as a final resolution, consider transferring a few of your not so important data to an external storage device or even better transfer it to iCloud or other cloud storages to access it over the internet.
Move the size of data enough to make space to be able install macOS Monterey successfully. 
Frequently Asked Questions –
Q1. How do I free up space on my Mac to install Monterey?
You can free up storage space on your Mac to install Monterey in various ways, such as Storage optimization, clean junk files, remove unwanted apps etc. 
Q3. How do I install OSX if I don't have enough space?
It is advised to clear up your storage space to make room for the new macOS by removing unwanted data and applications. One can also take a backup or transfer the media files which are not required on Mac immediately. 
Q4. Why does my Mac say there is not enough disk space when there is?
If there is enough space available on your Mac, but you are still getting the error, try to run a Mac cleaning utility to clear cache, junk and other storage files. 
Conclusion On Ways To Fix Not Enough Space to Install macOS Monterey Error
In conclusion, addressing the "Not Enough Space to Install macOS Monterey" error is essential for unlocking the benefits of the latest macOS update. This guide has explored various effective solutions, including freeing up disk space, optimizing storage, and addressing potential system integrity issues.
By following these steps, users can overcome space constraints and ensure a smooth and successful installation of macOS Monterey. Whether you choose to declutter your Mac, remove unnecessary files, or leverage optimization tools, taking proactive measures to create ample space on your device will pave the way for a seamless upgrade experience.
Also Read