Keeping the Mac performing at its best is a task we all dred to undertake, knowing how complicated and hidden are all the utilities to configure. Getting a third party application which does it for you is an easy way out. But considering the safe and reliable option from the vast collection of software available is another force to reckon with.
So to help you with these unavoidable choices, we have an OnyX maintenance app to optimise the Mac system for you to read and consider. Now if you ask – is Onyx safe for Mac? We can answer that with a detailed OnyX review in this article.
What is OnyX?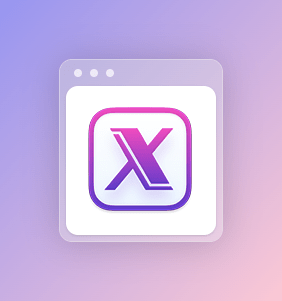 OnyX is a freeware developed by Titanium Software to facilitate various maintenance tasks on Mac to help optimise the performance. Highly reliable and secure option to consider since it is notarized by Apple for safe to install on Mac.
It provides multifunction utilities that helps in verifying and running checks on File Structure, Cleaning tasks and other various maintenance tasks easily. You can also customise various parameters with respect to appearances in Finder, Dock, Safari and also many applications. Importantly it lets you clean caches, delete and identify problematic folders and files, help fix drives and rebuild databases and indexes. 
OnyX Technical Specifications –
| | |
| --- | --- |
| Vendor | Titanium Software  |
| Current Version | 4.2.1 |
| Compatibility | macOS Monterey 12 |
| Download link | Click here |
| Free Trial | Yes |
| Price | Freeware |
| File Size | 4.5 MB |
| Technical support | Via email |
Features –
Application which is free for personal use for lifetime with no ads, no malware and no registration requirements. 

It has a simple and easy interface to help you navigate with everything laid out on top for straightforward access.

Truly multifunction utility which checks various aspects of the Mac system to verify it on a regular basis and fix the issues. 

Can run various maintenance tasks with just one click of a button such as verify and rebuild file system structures, clean all system junk files and check other maintenance  parameters. 

Although few are very technical for novice users, it is pretty effortless to understand to enable the tasks to be checked and fixed. 

Lets you run diagnostic checks on Storage drives, Network managements and other Hardware components to identify and fix the issues. 

Comprehensive Files management options to optimise drives and files on your Mac to keep them under check for problems and control. 

Highly customizable options to change various system parameters which are mostly hidden and inaccessible manually, can configure these aspects with just a few clicks. 
How to Use OnyX 
Before downloading OnyX onto your Mac systems, make sure to find out which version of the OnyX is built for each macOS.
Since OnyX is built and released for each version of macOS individually. You need to find out your System's macOS version and download that specific OnyX build version to support your macOS version.
Step 1 : Download and Install 
You can download OnyX software from its official website.

Install the same from the downloads folder looking for OnyX.dmg file and double-click on it. This will install the software onto your System. 
Step 2 : Launch and Run Maintenance checks 
Launch the OnyX app from the Applications folder by double-click on the App Icon. 

The main window of the application will be launched and various tabs are aligned at the top.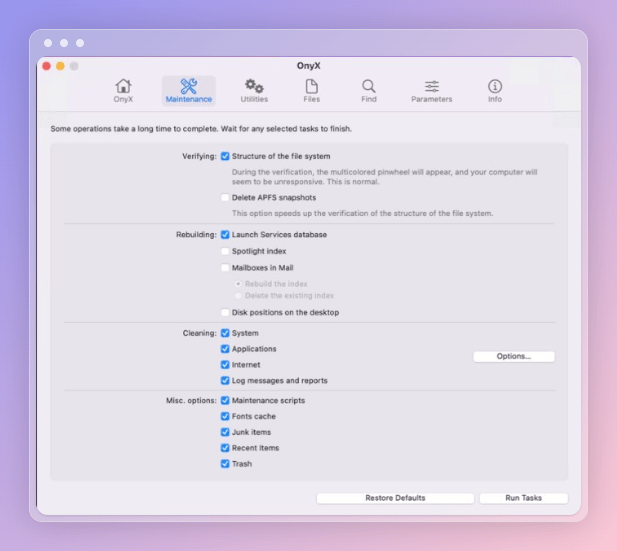 Under the Maintenance tab you can Run various Tasks to optimise your Mac such as verify the file structure, fix any issues with drives and clean all the junks files with just one single button 'Run Tasks'. This will run all the tasks enabled and optimise all the parameters efficiently. 
Step 3 : Deeper Scan and fix with Utilities and Files 
With the Utilities tab you can dive much deeper into the Mac System and verify specific aspects. Run various prominent diagnostic checks for the important part of the System such as Network , Storage and Hardware components through here and fix them accordingly.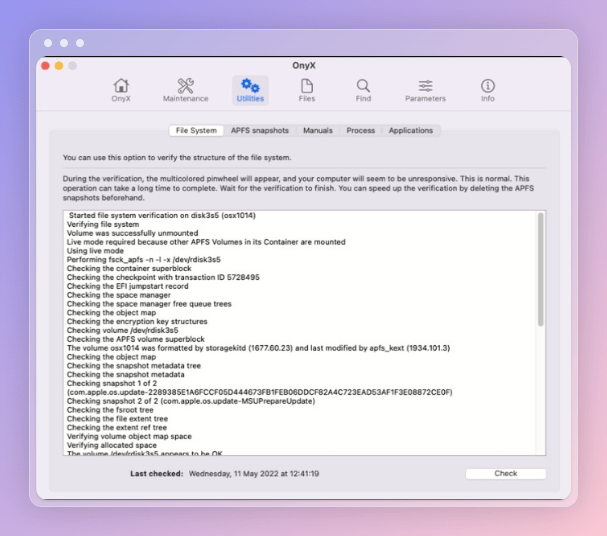 Next under the Files tab, OnyX provides an extensive list of options for disks and files management. Here you can enable or disable visibility of disks, folders or files in the Finder and also run CheckSum to assign various labels to remove double copies. You can manually clean up the system files permanently and verify system storages.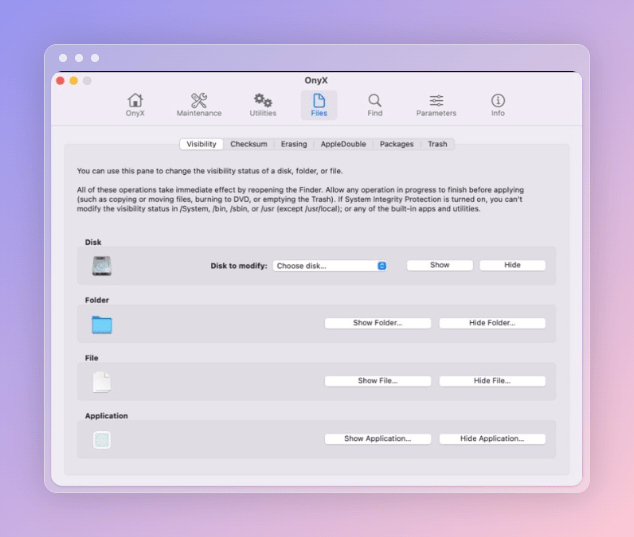 Step 4 : Customise Multi Parameters 
Under the Parameters tab you can basically customise vast parameters related to your Mac which were not easily accessible manually. It lets you fine tune all display and interface related aspects such as Finder, Dock, Login and Applications appearances etc.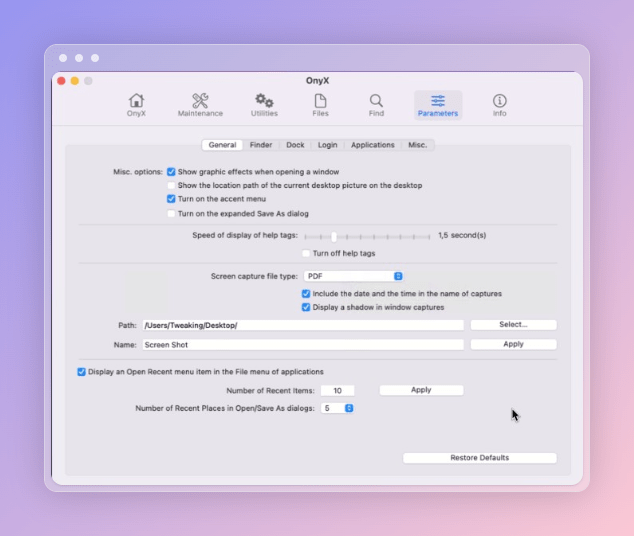 OnyX Pros & Cons –
| | |
| --- | --- |
| Pros  | Cons |
| Free Software to optimise Mac | Each OnyX version is specific for each macOS version.  |
| Simple and easy user interface. | Requires little Mac tech knowledge.  |
| Supports various maintenance tools for Mac under one button.  | Same older design interface.  |
| Can run multiple cleaning tasks such as clearing junks, delete caches etc easily. | |
| Fixes all issues related to file system and disk troubles. | |
| Comprehensive Mac preferences customisations options.  | |
| Provides scheduling automatic cleaning and maintenance.  | |
| Tech support and assistance via email. | |
Frequently Asked Questions –
Q1. Is OnyX for macOS safe?
Yes, OnyX is a safe and reliable application for Mac developed by Titanium Software and notarized by Apple. 
Q2. Is OnyX a virus?
Absolutely not, OnyX is a reliable and efficient maintenance application for Mac. It is a free Mac application which means no ads, no malware threats and no registration required. 
Q3. Does OnyX remove malware?
Among the various useful maintenance tools provided by OnyX app, it does remove various unwanted system junk files and redundant folders and files but no it doesn't detect malwares. 
Q4. How much does OnyX cost?
OnyX Application is a Freeware, which means it is absolutely free for personal use. If you appreciate the application then can donate the same though their website. 
Q5. How do I remove onyx from my Mac?
It is a straightforward procedure to remove OnyX from your Mac, just go to the Applications Folder and Move the OnyX App Icon to Trash in the dock and confirm when prompted. This will remove OnyX from your Mac. 
Q6. Who developed onyx?
OnyX was developed and maintained by Titanium Software and it is notarized by Apple to install safely on your Mac System. 
Conclusion On OnyX Review
OnyX Application might come across as a free basic Mac maintenance app, but it is much more than that which supports an extensive list of features to keep your Mac performing at its best consistently. We consider OnyX a safe and reliable Application which is highly efficient and powerful providing you a comprehensive list of options to optimise and maintain various parameters of Mac.
So to answer the question – Is OnyX worth it?. Yes, as it supports a high level customisable options which are hidden to configure manually. So, we hope you can consider getting this app on your Mac system as an easy way out for optimisation after reading this OnyX review. 
Also Read