If you are trying to find a good tool to free up storage space on a Mac, then PowerMyMac is a good option. Here we will give you all details on the pricing, features and compatibility in the PowerMyMac review. Are you worried if PowerMyMac worth it for Mac? This article will help you decide whether you want to install PowerMyMac on your Mac to optimise it. 
What is PowerMyMac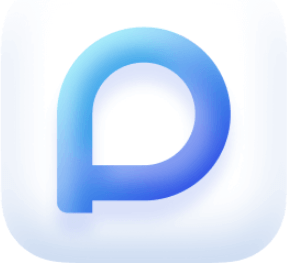 PowerMyMac is an easy to use Mac cleaning utility which can put your worries of slow performance diminish. As it provides the Mac users with the needful tools to optimise Mac, protect your privacy and boost the performance. If you wish to give your Mac a fresh start with the boot time minimised and processes running at an optimal speed, use this tool.
It can readily manage your Login items and remove the large, old, redundant files to free up disk space. Moreover, it will provide you with the much needed safety features by clearing up the browser data which risk your privacy the most. 
Latest version of PowerMyMac comes packed with multiple useful features. The additions include a Shredder, Similar Image Finder, Extensions managing and Optimization tools. It can now easily help you optimise your Mail, free up RAM, clean the application cache, system and user logs plus organise the photos.
Deleting files safely is also made possible using this all in one solution for your Mac.
PowerMyMac Detailed Review
Technical Specifications –
| | |
| --- | --- |
| Vendor | Fonedog/ iMyMac |
| Current Version | 5.1.3 |
| Compatibility | macOS 10.11 and higher |
| Download link | Click Here |
| Price | Free, $39.95 |
| File Size | 24.7 MB |
Features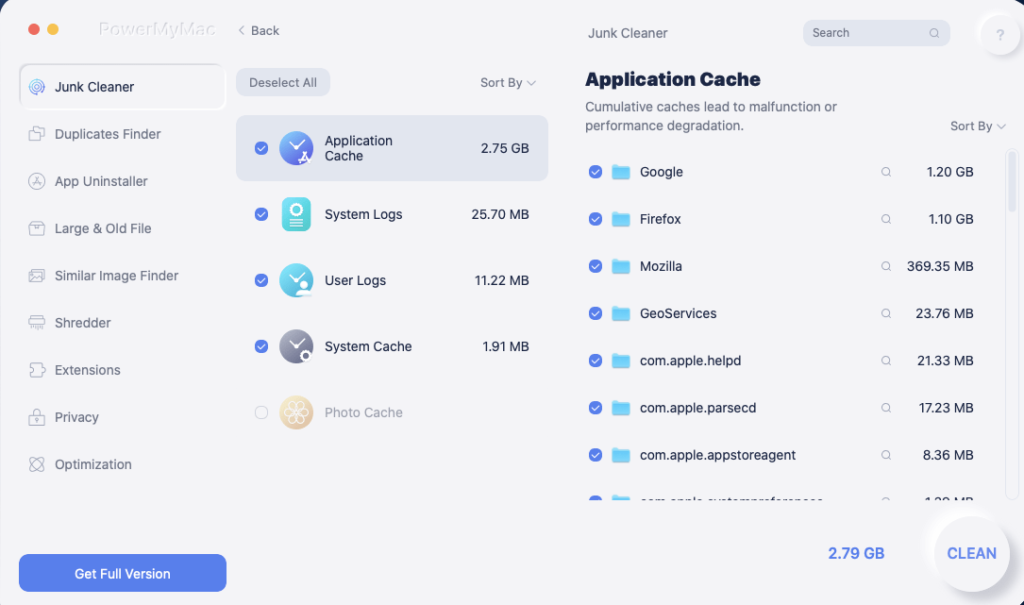 One of the main features of PowerMyMac is Junk Cleaner and it comes with multiple categories of unwanted files. You can click on them one each at a time and scan the Mac for the junk files. Once the results are displayed you can identify and select which files need to go and delete them forever.
It can clean up different kinds of junk, cache and log files. It helps in quickly increasing the capability of the processor as it does not take much time to run commands.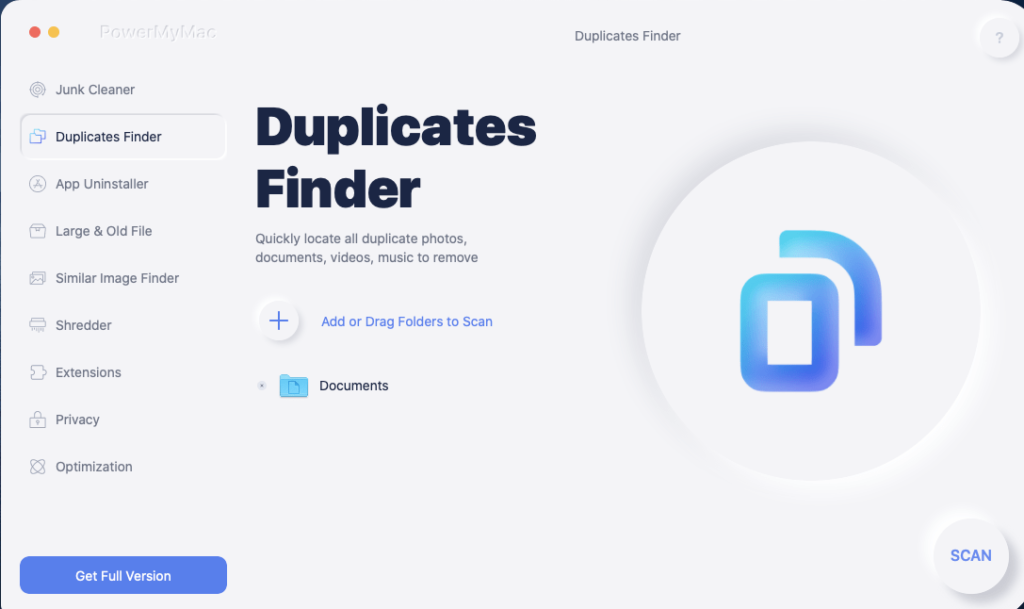 Duplicate files are a major issue in filling up the storage disk space on all devices. To clear them on Mac, you can now use the Duplicate Finder tool from PowerMyMac. It will readily scan different types of files and its duplicates once you run the Scan.
It can find duplicate photos, videos, audios and documents and you can see the results before selecting which ones to remove from Mac.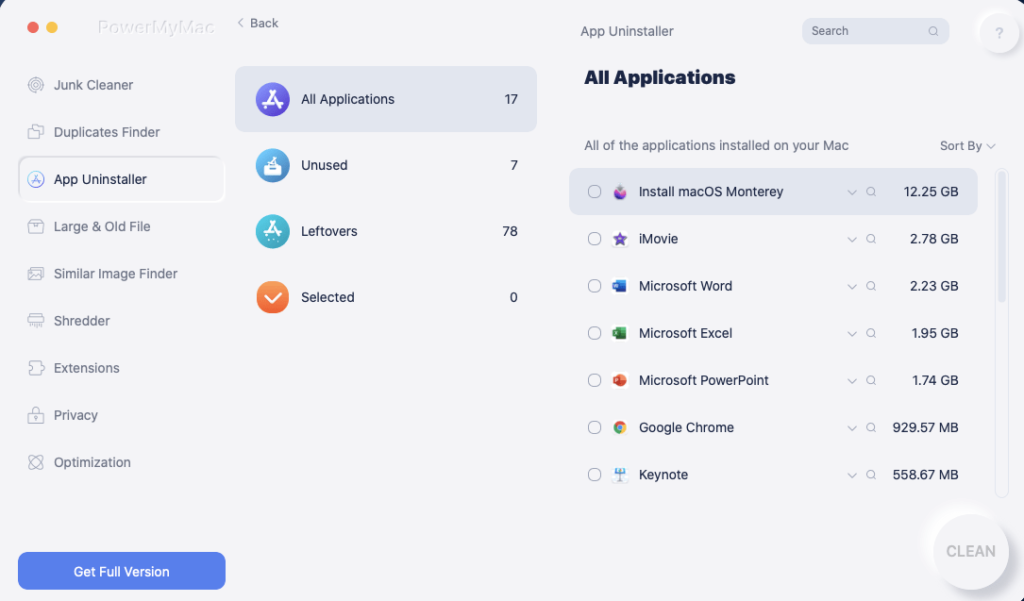 It is another of the important features of PowerMyMac as a Mac optimising application. This tool will present the users with all of the installed applications. The classification of – unused, leftovers application helps you easily detect the old applications. Thus, helping in reviewing the applications and selecting those which are unnecessary.
Marking them and deleting them by clicking on the Clean button makes it an easy task. This will save you a lot of disk space and it is not realised until you shed the weight of all the unwanted applications using this mac uninstaller.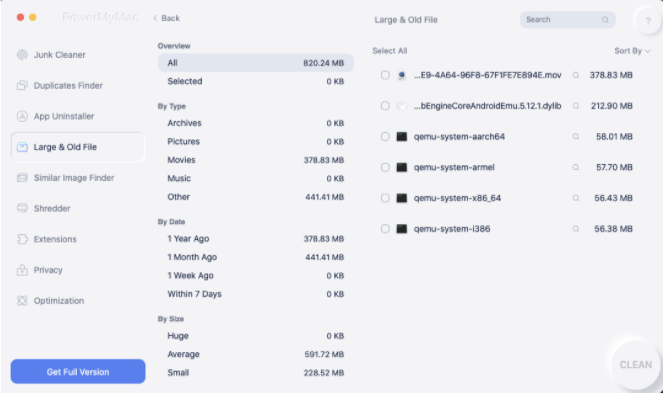 This section will cover the area of large and old files which take ample space in the disk. You can view the files under the different categories – type, date and size. This becomes a deciding factor as to which files should be removed to make space in the storage disk on your Mac. Select the files and click on Clean to free up large chunks of disk space.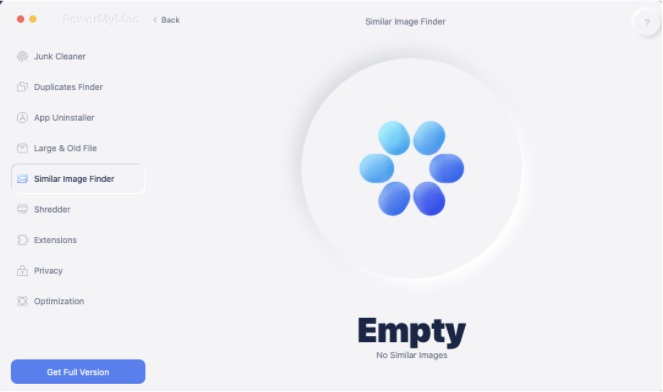 Similar images Finder is another of the tools from PowerMyMac to help you manage the photos. It can easily detect the similar looking images on your Mac. This will help you in finding the unnecessarily saved images which are taking up the storage space.
Shredder is a very important addition to the latest version of PowerMyMac. It will help you remove the private and confidential data after overwriting it. This process will make it impossible for others to retrieve the deleted files and misuse them.
You can run the File Shredder tool on PowerMyMac and then browse the files present on your Mac. Once added the files you can click on the Shred button to remove them permanently.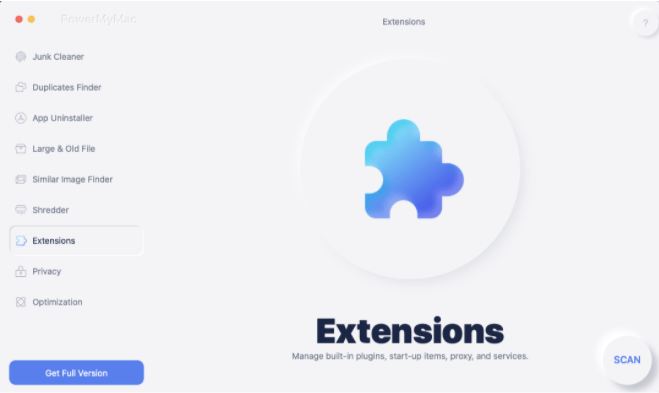 With PowerMyMac's latest version,  you can also manage the extensions. It includes the built-in plugins, startup items, proxy and other services. Go to the Extensions section and then find out the items that are making your Mac slow by hogging on the processor.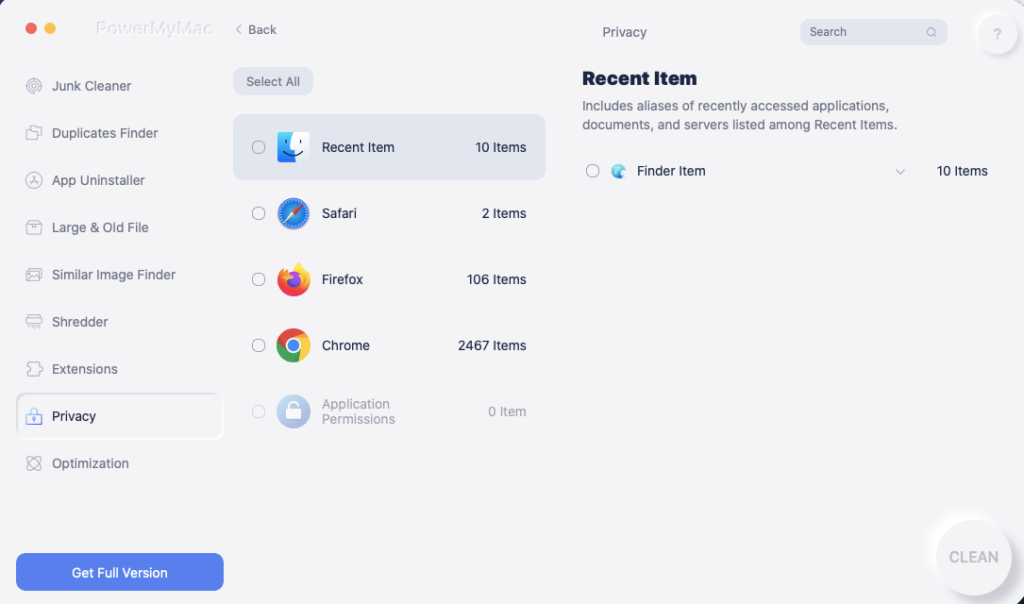 When you are using the internet, a lot of malicious activities are also taking place. If you do not wish to find yourself entangled in those, you must protect your privacy. PowerMyMac will help you by cleaning the browser history, cookies and cache files on a regular basis. The tools named Privacy on PowerMyMac remove the data from the web browsers quickly.
This way you search history can not be monitored by the online trackers. It will also clean up the recent items so if you are using a shared Mac, this will keep others from snooping on your work.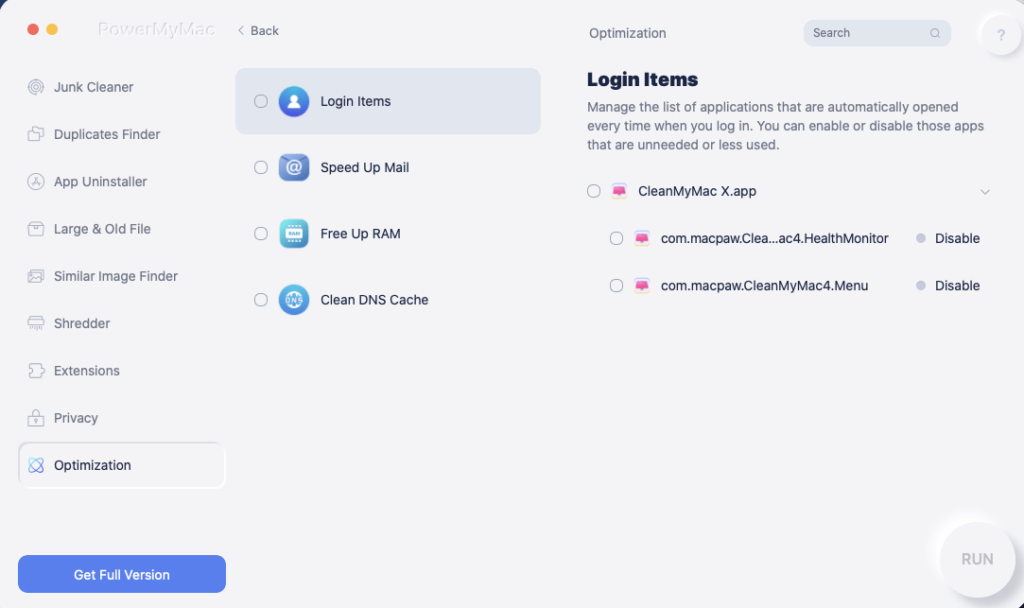 When you boot your system, if it takes you more time to start working on it due to the large number of login items, this can disrupt your workflow. To help the users with this PowerMyMac gives you the option of managing the Login Items from its Optimization tool.
It will show you all of the applications in a list which launch automatically when you boot your Mac. You can then select and disable the unwanted applications which hog on the performance of your Mac.  
PowerMyMac can fix the slow Mac issue using this tool, where you can manage the different sections on your Mac. In the above section, you learnt about managing the login items. Apart from that you can also clear the DNS cache which can boost your internet connectivity. Free up RAM will clean the memory and help in speeding the Mac overall. While Speed up Mail will help you optimise your Mail app.
How to Use PowerMyMac ?
PowerMyMac is an automatic cleaning tool which works effectively to speed up your Mac. You can use it easily by following these steps – 
Step 1: Download and install PowerMyMac on the system from the official website –
Step 2: Launch PowerMyMac and then find out the state of your Mac in the System Status.
Step 3: Now go to the left side toolbar and click on each tool to clean your Mac. PowerMyMac will run the operations to clean the unwanted junk. To clean up the junk files go to the Junk Cleaner.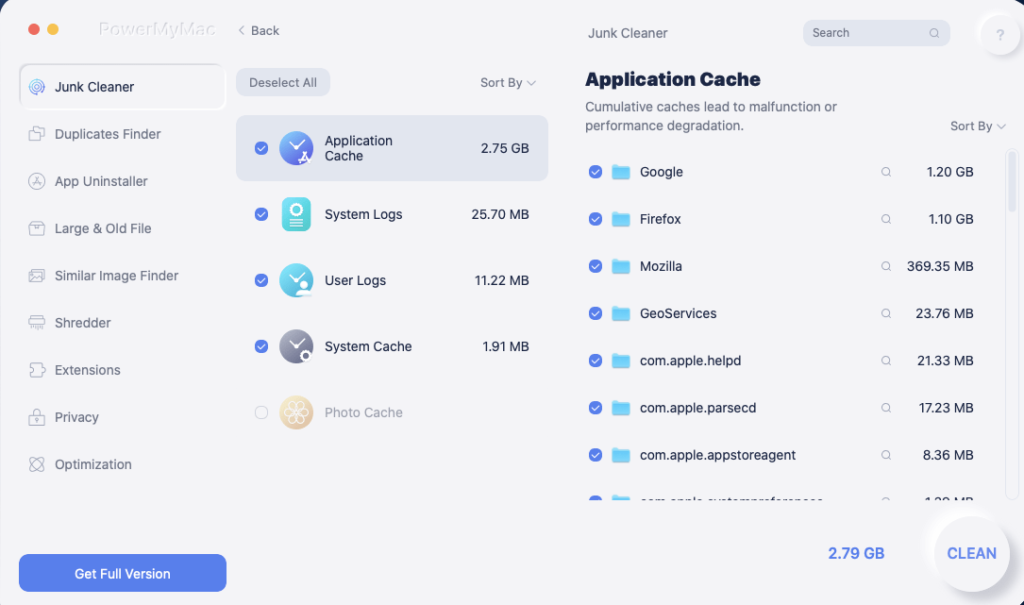 Here you will be able to see Application Cache, System Logs, User Logs, System Cache and Photo Cache. These categories will show you the different junk files under these areas. A list will appear on the right side and you can preview all of them.
Step 5: Now, select the files you wish to delete and you will see how space is occupied by them. Click on the Clean button to remove them from your Mac. 
Repeat this process for each sub-category and get rid of unwanted junk.
Step 6: PowerMyMac also gives you the cleaning tools on the toolbar to be used separately for different actions. Such as Large & old files will scan for all the large files such as movies, videos and ebooks plus the dated files.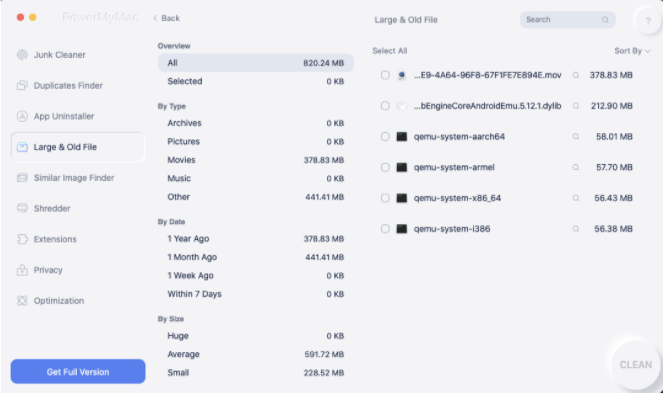 You can view the results with different classifications – By Type, By Date and By Size. This helps the user in finding the redundant and large files easily.
Click on the Clean button once you have selected all of the unwanted clutter.
You can clean up the clutter from other sections as well – App Uninstaller, Similar image finder and Duplicates Finder. Run the scan for each tool and preview the data before cleaning them.These actions will help you free up much storage space on your Mac and speed it up.
PowerMyMac Pricing 
PowerMyMac is available to be downloaded for free from its official website with its limited functionality. You can buy it's full version for best results for $39.95 for one year for one Mac, which can be availed at $29.95 at the current offer at its official website.
You can also get a Lifetime licence for one Mac at $79.95 which is also priced at $69.95 currently in the offer.
You can get a free trial version of the application for your Mac which can clean up a limited amount of junk and free the disk space. However, the full version can be purchased at $29.95 and provides you with a 30 days money back guarantee.
You also get free lifetime updates with the purchase and all of the features are available for the yearly subscription. Find out more about this Mac cleaning utility in this PowerMyMac review blog.
PowerMyMac Pros & Cons
| | |
| --- | --- |
| Pros  | Cons |
| Frees disk space | No Malware scanner |
| Cleans browser data | No disk space analyzer |
| Protects privacy | |
| Deletes duplicates | |
| Manage Logins items | |
| Boosts performance | |
| Shredder | |
| Manage Extensions | |
Frequently Asked Questions –
Q1. Is iMyMac PowerMyMac safe?
Is PowerMyMac safe for mac – Yes, it is a legit application for cleaning your Mac. You can get PowerMyMac to free up disk space by removing junk files and applications. 
Q2. Is PowerMyMac any good for Mac?
Yes, PowerMyMac can be used as the Mac Cleaner software which can also enhance its speed. Additionally it can help you protect your privacy online by clearing the web browser data.
Q3. Is PowerMyMac trustworthy?
Yes, PowerMyMac can be trusted easily as it is notarized by Apple and it is a malware free application. It is also SSL secured and keeps your privacy protected. You can also contact the support and get answers for your queries.  
Q4. What is the most trusted Mac cleaner?
Any Mac cleaning application that is notarized by Apple or available at the Mac App Store can be trusted. PowerMyMac is also notarized and can be trusted easily. 
Q5. Is PowerMyMac free for Mac?
PowerMyMac comes in a free version for its users to try it out before you can purchase it. The free version will have the limitations and you can only clean 500 MB.
Q6. Which is the best cleaner for Mac?
There are multiple Mac cleaners you can find online. These software can be rated the best from the accuracy of cleaning the junk from your Mac. MacBooster and CleanMyMac are the top cleaners for Mac.
Final Words –
If you are still wondering if PowerMyMac is worth it or not then we would suggest you go for the free version. As you will get an idea if it is well suited as the Mac Cleaning and Optimising software for your needs.
You can enjoy the trial period to understand about the functions of PowerMyMac and then go for the Full version. It helps you remove unwanted data and applications completely. The privacy protection is also an additional feature which can help the user automatically delete the browser history, cache and cookies.
This will keep ISP providers and websites from tracking your search history and personal information. 
Also Read