Are you looking for a screen recorder app for mac? You can check out this curated list of the best applications which will make it easy for you to record the screen along with the audio. These tools can be used on the basis of your usage from making simple tutorials to recording important meetings.
Whether you are a novice or a professional, both can profit from the use of these tools as they come equipped with different video editing tools. 
10 Best Screen Recorders for Mac
1. Camtasia 
Camtasia is the best screen recorder for Mac to be used for capturing screens. This is an expert when it comes to different types of screen recording on Mac for professional or educational purposes.
Comes equipped with the needed tools to record different screens, and edit videos along with the audio on Mac. You can easily share the videos on popular websites like Youtube, and Vimeo directly.
Features-
Inbuilt video editor.

Removes green screen.

Reduces background noise.
2. Snagit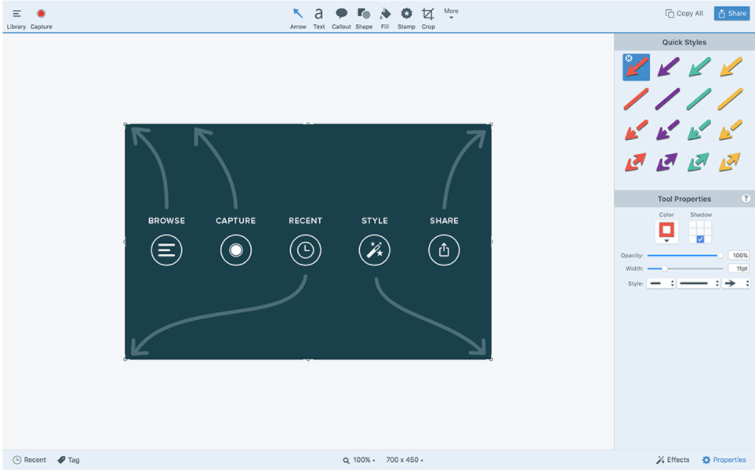 Snagit is another screen recorder with audio on Mac featuring useful tools. It can readily capture audio and video and edit it to be used on various platforms. You can add various elements, create templates, create videos using screenshots, and share them on different applications.
Features-
Convert recordings to create GIFs.

Cloud library to work cross-platform.

Allows adding annotations. 
3. ScreenFlow 
ScreenFlow by Telestream is another option to screen recorder with audio Mac tools. The Mac utility comes with the ability to create and share screen recordings. This is the best video recording app for mac to record the camera and mic simultaneously.
It comes integrated with the customizable title library, editing filters. It also lets you archive your videos on the storage.
Features-
Records two screens at a time.

Multiple video filters and effects.

Automatic background remover.
4. Movavi Screen Recorder –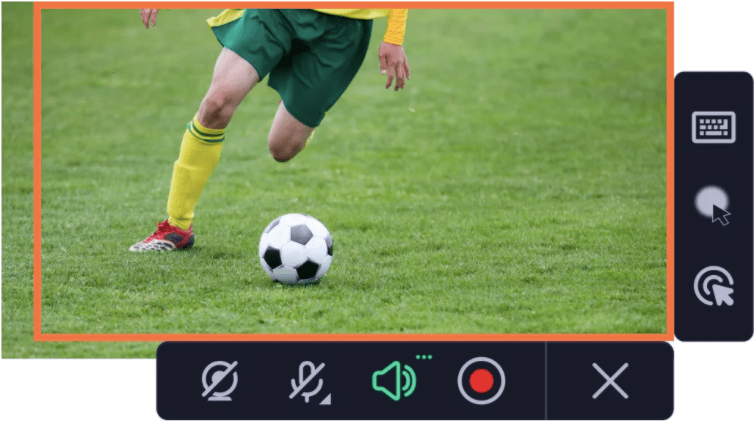 Movavi Screen Recorder is another screen recorder with audio for Mac. It can be perfectly used to grab the screen to record webinars, office VoIP meetings, streaming videos, and more. It has the capability of recording audio along with screen activities.
Use it as the free MacBook screen recorder as it will capture the audio separately for the purpose of editing. It also allows you to record your webcam simultaneously with screen recordings.
Features-
Schedule recording.

Allows screen overlay recordings.

Allows recording only audio on Mac.
5. OBS Studio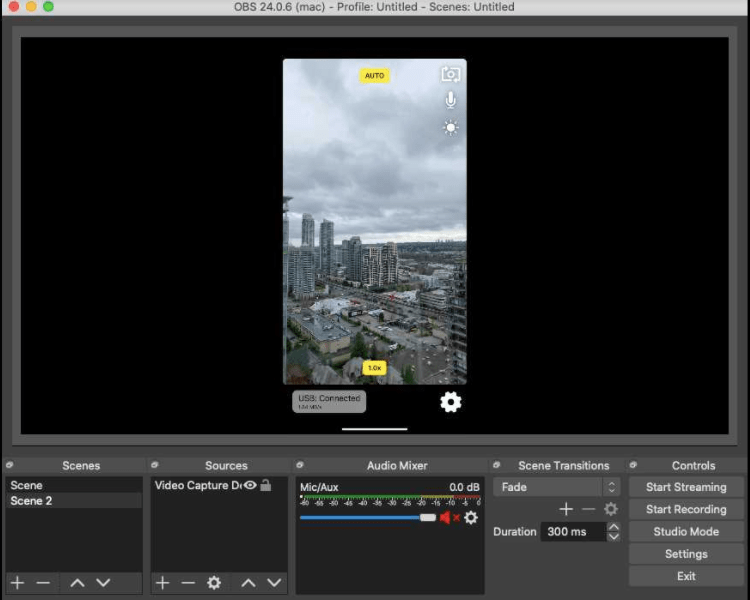 OBS Studio for Mac is one of the open-source programs to look out for video recording and live to stream. It is filled with customizable transitions for your video recordings and therefore can be used by professionals.
The tools for screen recording are used with plugins to further customize the recordings.
Features-
Integrated audio mixer.

Configure broadcasts.

Real-time video and audio capturing.
6. QuickTime Player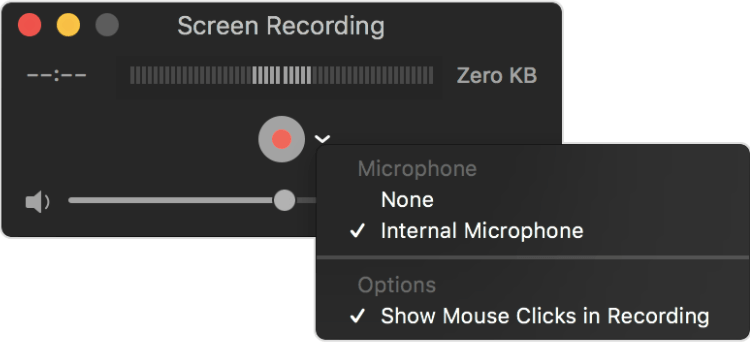 QuickTime is a free screen recorder with audio Mac tools. It is an Apple product and can be used on older and latest versions of your system.
This can easily be the best audio recorder for Mac as it captures the internal microphone. If you are looking for a simple application for the basic task of recording audio, this is for you.
Features-
Take screenshots.

Record and edit on Mac.

Works on an internal microphone.
7. EaseUS RecExperts –
EaseUS RecExperts is another best mac screen recorders. As it can be of use to home users who can record office meetings, YouTube, gameplays, audio, etc with its help.
It can also let you schedule the recordings to start automatically and stop at a given time frame. This is the audio recorder for Mac if you are looking for a separate audio recording feature.
Features-
Capture videos and save them as GIFs.

Records webcam, mic, and system audio.

Auto-stop and Auto-split.
8. Wondershare DemoCreator –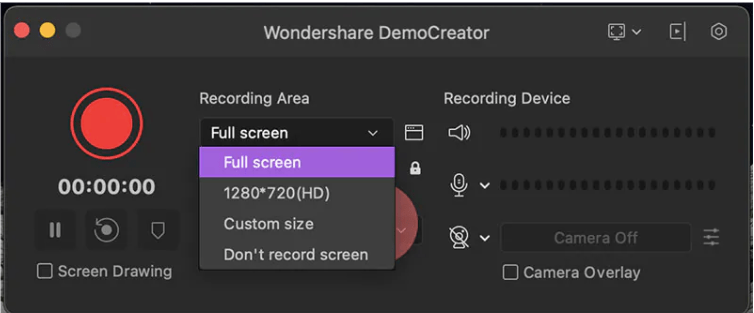 DemoCreator is a mac screen recorder tool to customize audio and video recordings. It also comes with a number of detailed tools to edit the captured videos.
You can predefine the area to be captured, video quality, and audio device used for audio recordings.
Features-
Video editing tools.

Share online quickly.

Real-time screen drawing.
9. Screencast-o-matic –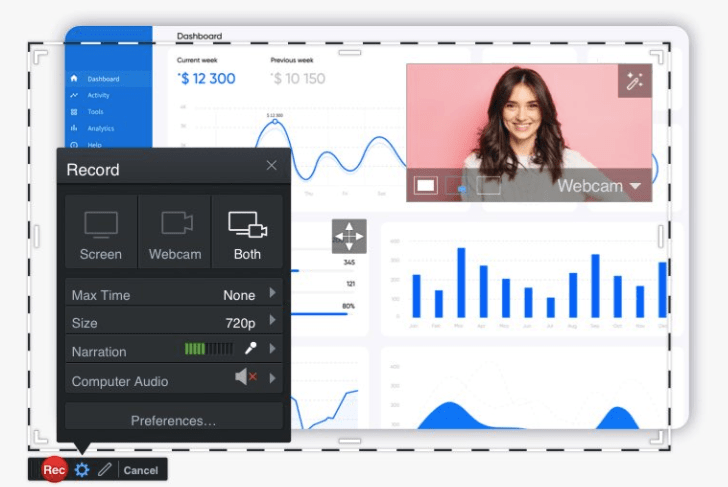 Screencast-o-matic is a free screen-capturing tool for Mac. It can be used to record the screen in various modes along with computer audio. Set the microphone to narrate along with the recording and edit it afterward in the video capture for Mac. Use the recorder drawing tools to enhance the demo videos. 
Features-
Allows you to record webcam.

Record the picture in picture mode.

Easy to save and share on YouTube. 
10. ApowerREC –
ApowerREC is the online screen recorder with audio on Mac which can be downloaded as an application. It can easily record the Mac screen along with the webcam and the audio from the system or microphone.
Use it to create instructional videos from your home without any special video editing tools as you record screens on Macintosh.
Features-
User-friendly interface.

Add annotations.

Upload on video streaming websites. 
11. Debut Video Capture and Screen Recording Software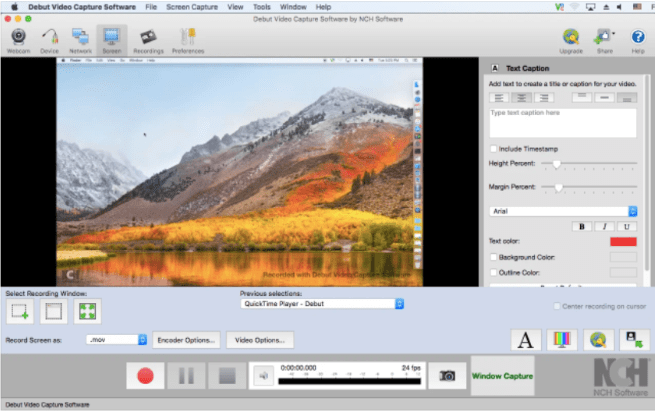 Debut Video Capture is a Mac screen recorder developed by NCH Software. You can record the screen along with the audio from the system or microphone. This tool supports various formats such as AVI, MOV, M4V, FLV, WMV, MP4, etc.
Use its camera overlay options for recording webinars and gameplays on your Mac.
Features 
Pulls single-frame images from screen recording.

Captures network IP camera, Webcam, and more.

Adjustable settings for recording.
Comparison Table of Top 10 Screen recording apps for Mac
| | | | | | | |
| --- | --- | --- | --- | --- | --- | --- |
| Product Name | Best For | Platform | Price | Free Trial | File Size | Latest Version |
| Camtasia | Best for the professional use of screen recording | macOS 10.14 or later | $214.71 | Yes | 557 MB | 2021.0.11 |
| Snagit | Customizable options for screen recordings | macOS 10.14 or later | $62.99 | Yes | 230 MB | 2022.0.3 |
| ScreenFlow | Records audio for iPhone and other devices | macOS 10.15.0 or later | $79 | Yes | 93.8 MB | 10.0.5 |
| Movavi Screen Recorder | Records audio from separate sources | macOS 10.13 or later | $29.99 | Yes | 76.1 MB | 22.2.0 |
| OBS Studio | Screen recording editing options | macOS 10.13 or later | $0 | Yes | 145.31 MB | 27.2.4 |
| QuickTime Player | Inbuilt Screen recording tool | macOS  10.5 or later | $0 | Yes | 68.85 MB | 7.7.0 |
| EaseUS RecExperts | Record Picture in picture videos | macOS 10.13 or later | $49.95 | Yes | 44.5 MB | 2.8.2 |
| Wondershare DemoCreator | Video editing &  production level app | macOS  10.11 or later | $45 | Yes | 441.95 MB | 11.2.5 |
| Screencast-o-matic | Simple to use budget-friendly tool | macOS 10.11 or later | $28 | Yes | 38.73 MB | 2.0 |
| ApowerREC | Free screen recording lightweight application | Mac OS X 10.10 or later | $0 | Yes | 12.6 MB | 1.3.8.1 |
Frequently Asked Questions
Q1. How do you screen record on a Mac with sound?
Using the screen recorder with an audio Mac application, you can easily record the screen with the system and microphone sounds. Checkout the list of the best screen recordings for the 
Q2. Does screen recording record sound on Mac?
Yes, screen recording can record sound on Mac using the correct tool. Before choosing the screen recording tool see if it is also capable of recording audio for Mac.  
Q3. How do I record my screen with audio?
If you are looking forward to recording the internal audio along with the screen on Mac, you need a video/audio recorder. Applications such as Snagit, Camtasia, and Movavi Screen Recorder are capable of performing this task.
Q4. How do I record my screen with internal audio?
You can use the screen recorder with audio on Mac to capture the internal audio. The system sound is required to capture the streaming videos/audio and other screen activities. Use QuickTime as the free audio recording software for Mac. Or go for Camtasia for the more professional approach to editing tools and effects. 
Conclusion
So, be it recording the live streaming or a VoIP call, creating videos for your gameplay where you are required to record both video and audio. Use these screen recorders with audio for Mac and share them with others. In the end, it depends on the choice of the user to select the best screen recording software for Mac which can carefully record video and audio.  
Also Read