Are you looking forward to downloading Snagit on your Mac ? But is Snagit worth it or not as a screen capturing tool? Read all of the information on this screen grabbing software with its features, pricing, pros & cons and more in this Snagit review blog.
We would also emphasise working on this tool for Mac which can be used for multiple purposes. Be it taking screenshots on Mac, recording an entire or specific region on screen, editing the recorded footage with its built in tools. But, let's begin with a basic introduction to Snagit.
What is Snagit For Mac?
Snagit is a very powerful and simple screen capture and recording application for Mac. It lets you capture your screen, camera and also record screen in high quality along with providing an excellent editor to preview, add more context, edit capture image or video and later share across multiple platforms. Snagit also supports multiplatforms and you can share and edit captured files between cross platforms.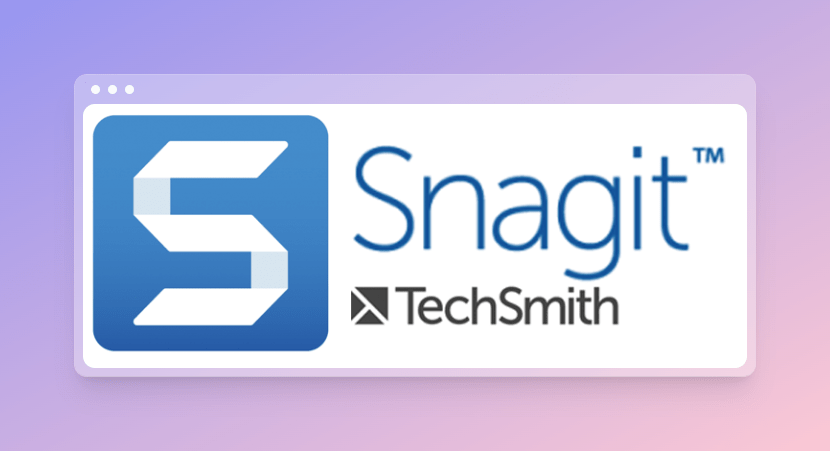 The latest Snagit version supports an all-in-one capture screen solution, where you can screen capture as image, record screen and panoramic capture for scrolling screen. You can also edit the capture screen to share information visually in order to communicate efficiently.
It provides a fully featured 15 days trial version to analyse the product before acquiring one time licence of the product. It is available for your Mac at the price of $62.99 for a single licence.
Features 
Excellent All-in-One Solution –

You can capture your entire desktop, a specific region, a window or you can capture a scrolling screen using this new feature.
Captures Scrolling screen –

Using Panoramic Scrolling Capture feature you can capture a full page, scrolling screenshot, or anything vertical and horizontal scrolls can be captured. 
Screen, Camera and Audio Recorder –

It lets you quickly record screen or your self working through steps along with audio as well. 
Can Grab Text from Capture –

This feature lets you extract the text from a screen capture or file and edit it on another document. Easily copy information without typing all the text.
All Cloud Storage Supported –

You can easily share the captures over your favourite cloud provider and later can find, open and edit the same from multiple divides.

Edit Video Clips –

With Snagit editor you can easily edit or trim all the screen recordings and convert the same presentation ready to share information visually.

Can Animate Capture into GIFs –

It provides a default and custom options to create GIF from capture short recordings and quickly share across website, doc or chat.

Annotate Screen Captures

– Add professionalism to your screen grabs by annotating with provided markup tools or create custom of your own.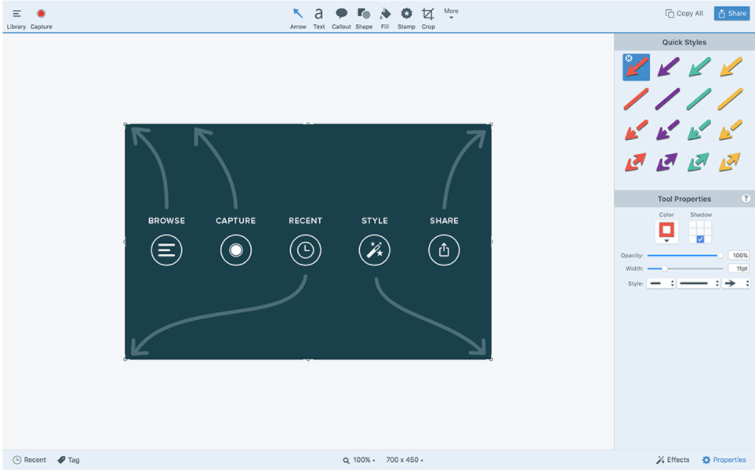 Use Smart Move to Edit –

You can automatically make items in your screen captures movable by rearranging buttons, deleting texts or editing other objects in your capture.

Replace Texts from Screen Capture –

With auto recognition of texts from screen capture, you can quickly edit the texts by changing words, font, colors and text sizes. 

Provides pre-made Templates –

You can create superb visual documentation, tutorials and study materials from the given template layouts. 
Can create video clips from screen captures –

It supports you to draw and talk over a series of screen captures to create quick video clips or GIFs. 
Multiple Share Anywhere option –

You can share your screen capture via Slack, Teams, Dropbox, Google Drive, PowerPoint, Word, email and many more.
Snagit Technical Specifications 
| | |
| --- | --- |
| Vendor | TechSmith Corporation |
| Current Version | 2022.1.2 |
| Compatibility | macOS 10.12 or Above |
| Download link | Click Here |
| Free Trial | Yes |
| Price | $62.99 |
| File Size | 232.70 MB |
| Technical support | Via email, live chat and phone |
How To Use Snagit For Mac
Easy steps to follow for using Snagit on your Mac –
Step 1: Download Snagit from its official website after registering for the product.
Step 2: After installation, set up the screen you want to capture. Click the Snagit icon in the menu bar.
Step 3: In the Capture window, Select the 'All-in-one' tab on the side bar and Click the 'Capture' button on right or press Control+Shift+C on your Mac.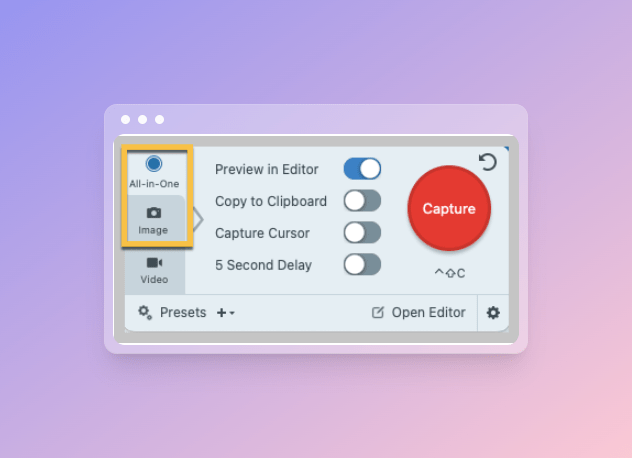 Step 4: Then orange crosshairs appear on the screen, now click and drag the lines to select the area to capture.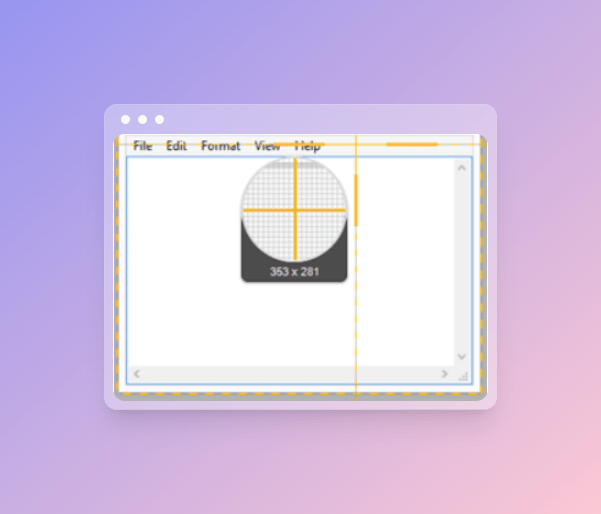 Step 5: The All-in-One toolbar is displayed. Select the desired option from 'Image Capture' to capture an image, 'Video Capture' to capture a video and then from record options click Record button and  'Panoramic Capture' to capture a scrolling area. 
Step 6: After Capture is completed, the capture content opens in the Snagit Editor, you can preview, edit and share the content from here.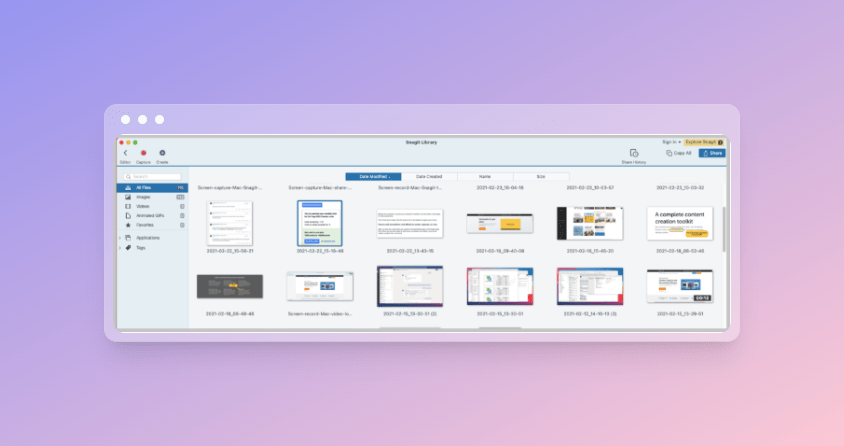 You can also try out other options to record screen and later edit it using the multiple templates and options such as creating GIFs.
Snagit Pros & Cons
| | |
| --- | --- |
| Pros  | Cons |
| All-in-one snipping tool for mac | Limited 15 days trial period |
| Comprehensive feature list | LIttle pricey for each upgrade |
| Cross platform file format supported | Less final editing options |
| Custom screen capture options | Can't extract texts from images |
| Cloud storage integration  | |
| Excellent sharing option | |
| Multi-screen recording feature | |
| Good third party integration | |
| Great technical support | |
Frequently Asked Questions –
Q1. Is Snagit worth the money?
Yes absolutely, for the extensive features list snagit provides as a complete solution for all screen capture needs it is worth the price paid. You can also get full technical support for the paid version with free upgrade to the next version provided. 
Q2. What is better than Snagit?
Although Snagit is a very powerful screen capture application from the same vendor, Camtasia which offers much better features and user interface for great experience. 
Q4. Is Snagit 2023 free?
Snagit 2023 comes with a full featured 15 days free trial period, to continue usage you need to purchase a one time licence from their website. 
Q5. Is Snagit a one time purchase?
Snagit offers a one time licence purchase of $62.99 from their official website with first year maintenance. You can also do a free upgrade to the next version, plus all major and minor updates in between. With complete phone, chat and email support provided.
Conclusion On Snagit review
In conclusion, Snagit stands out as a comprehensive and user-friendly solution for all things screen capture and image editing. With its intuitive interface, diverse feature set, and seamless integration of screenshot and screen recording capabilities, Snagit proves itself as a versatile tool for professionals and content creators alike.
Its ease of use, coupled with advanced editing functionalities, makes it a go-to choice for those looking to enhance their visual communication efforts. Whether you're creating tutorials, documentation, or simply sharing information visually, Snagit's robust performance and efficiency make it a valuable asset in the realm of screen capture software.
Also Read