Task management apps are important, especially if you don't want to miss deadlines or leave many tasks unattended. The right task management apps for Mac devices ensure you get the proper sorting and planning required to complete all objectives within a specified timeframe. 
Selecting efficient task manager devices could be challenging without correct information. Countless task management software for macOS users exists, and it's easy to pick a wrong or inefficient option if there's no guidance.
That's why this article presents the 7 best task management apps for Mac devices below. You'll get vital details about these apps, their major features, and other essential information from this post.
7 Best Task Management Apps for Mac
1. OneNote
OneNote is one of the best task management apps for Mac. The OneNote app offers anytime data accessibility so users can see their pending tasks across devices with ease.
Microsoft OneNote also offers users sticker placement options as quick reminders and several tools to create, add, and insert notes comfortably. The app also allows users to create different sharing options and manage tasks with multiple deadlines. 
Major OneNote Features
Task(s) creator and manager

Documents adder (include PPT slides, pictures, PDF documents, etc. to your notes)

Text extractor from images 
2. Evernote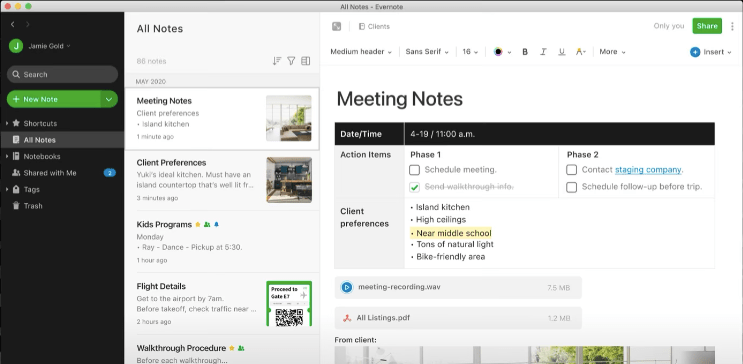 Evernote is one of the oldest, most-efficient task management software for Mac and other operating systems. The app allows users to take notes, schedule activities, and do much more. It also acts as an effective reminder for users who need to save stuff now to watch or study later. 
Major Evernote Features
Reminders posting 

Multiple events tracker

Syncing across multiple devices (for paid users only)
3. nTask
nTask works on Mac devices and is one of the most eye-catching task management apps. It offers a sleek, simple interface that allows users to manage tasks from one place without hassle. The app provides features that equip users with tools to schedule meetings, collaborate with teams, share files, and do much more. 
nTask also has a Gantt chart-sharing tool to provide teams with enough information required for planning. Its state-of-the-art dashboard also ensures users can see all new and pending tasks with ease. 
Major nTask Features
One-tap checklist creator to manage projects of different sizes

Supports collaboration to allow users to schedule meetings, share files, and do much more remotely

Offers Slack integration for teams
4. Todoist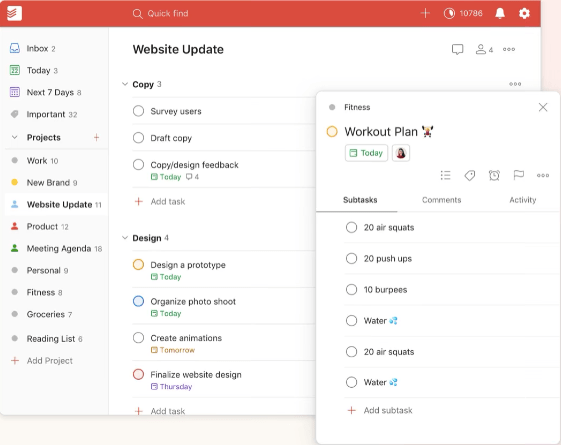 Todoist is another best task management app for Mac users, as it offers several features macOS devices require to handle jobs with ease. The app offers cross-platform syncing that allows Mac users to see their dashboards, manage tasks, and do more from other devices.
This application also provides a due date feature that allows users to place reminders on any task they want. All Todoist users also have access to multiple plugins and integrations so they can work on tasks across apps without stress. 
Major Todoist Features
Syncs your tasks from Mac to Android and devices running on other operating systems

Priority rating so users never miss tasks in order of importance

Integration options with Slack, Google Calendar, and other apps
5. Structured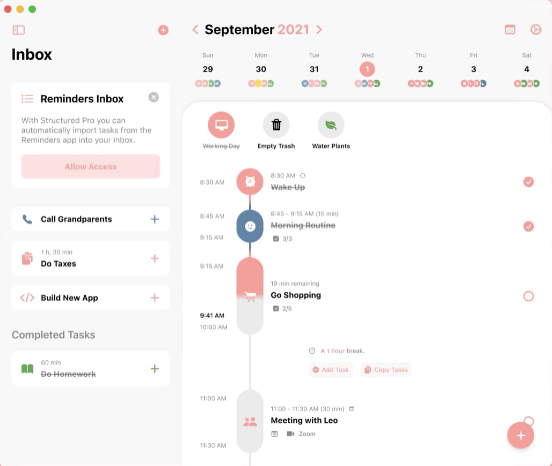 The Structured app provides users tools to capture and import calendar events, achieve cloud syncing, and get prompts about close deadlines. With this app, users can set recurring tasks and never miss a routine activity even on tight schedules. 
Major Structured Features
Dedicated inbox to allow users to manage tasks and see approaching deadlines

Supports notes and sub-notes to allow users to see and complete challenging tasks on time

500+ customization options to provide users with enough tools to easily manage reminders, calendar events, and more
6. Manage It
Manage It is another online task management app for Mac and other operating systems. The app offers users multiple tools to plan tasks, track the progress of events, collaborate, create reports, and do so much more. 
It is one of the most versatile task management applications, but users need to pay $15 per month to use its features. 
Major Manage It Features
An all-in-one client app requires no plugins or special installation to function

Supports Microsoft Office, Google Drive, Gmail, and other app integrations

Equips users with tools to create plans, expense sheets, reports, task lists, timesheets, and much more
7. 2Do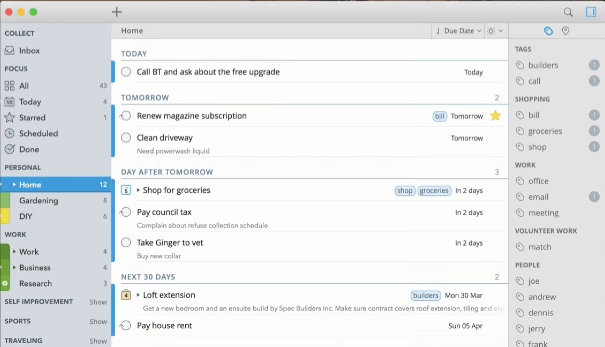 2Do offers several handy functions to feature as one of the best task management apps for Mac. It has a signature widget that provides users with enough options to check tasks with ease. The app also provides multiple syncing options and integrates with Yahoo Calendar, iCloud, Dropbox, and other essential tools for greater efficiency to complete tasks.
Major 2Do Features
Allows users to add sub-lists to main projects and checklists

Supports the addition of new tasks with a shortcut

Priority notifications about the nearest deadlines
Also Read