Is TG Pro worth it for being your Mac system diagnostics? If you are not able to make up your mind yet to get it as your system diagnostics tool, this might help. Read the TG Pro review blog to find out the features, pricing, pros & cons about it.
What is TG Pro for Mac?
Is TG Pro safe for Mac? Yes, TG Pro is relatively safe for Mac to monitor temperature, fan control and system diagnostics easily. It is compatible with all Mac devices with both Intel and M1 chips and supports macOS 10.11 or later versions. Priced at $11.80, you can get this diagnostics tool for your Mac and keep an eye on any overall temperature check for the hardware and maintain the battery as well.
TG Pro is a great application to keep the temperature check, fan controls on the CPU, GPU, Hard Drive, Battery, Logic Board, Palm Rest, Wireless, Thunderbolt etc. It is made to help the users with its intuitive and very diverse functionality to keep you posted on secure service control for your Mac.
TG Pro Review 2022 – The Detailed Review
Technical Specifications 
| | |
| --- | --- |
| Vendor | Tunabelly Software Inc. |
| Current Version | 2.69 |
| Compatibility | macOS 10.11 or later |
| Download link | Click here |
| Free Trial | Yes |
| Price | $11.80 |
| File Size | 12.1 MB |
| Technical support | Via email, twitter |
Features –
All in one temperature monitoring, fan control and diagnostics for your Mac. 

Supports latest versions of macOS and legacy also. 

Compatible with both Intel and M1 based devices. 

Shows temperature and status of CPU, GPU, Logic board, battery and Hard Disk etc. 

Displays system diagnostics with defective hardware. 

You can monitor and control fan speeds with the Auto Boost rules feature. 

Sends Notifications through Mac's Notification center, email and CSV log files. 

Utilized minimum system resources and working in the background unobtrusively. 
How to Use TG Pro ?
Step 1 : Download and Install – 
Download the latest TG Pro version from its official website here. After download is completed, double click on 'TG Pro 2.69.dmg' file from downloads folder.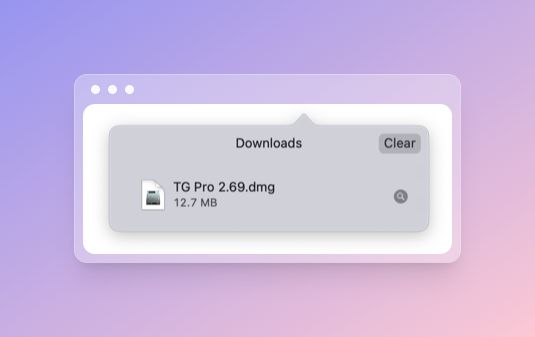 After the disk image is mounted, in the window displayed click and drag the TG Pro icon to the Application folder 
Now you can either open TG Pro from Applications folder or go to open launchpad, search for 'TG Pro' and click on its icon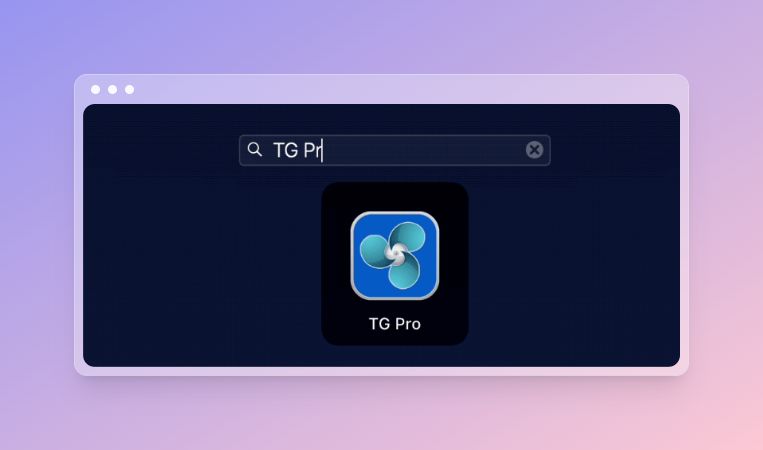 Later it will prompt for permission to open the app, select the Open button when prompted.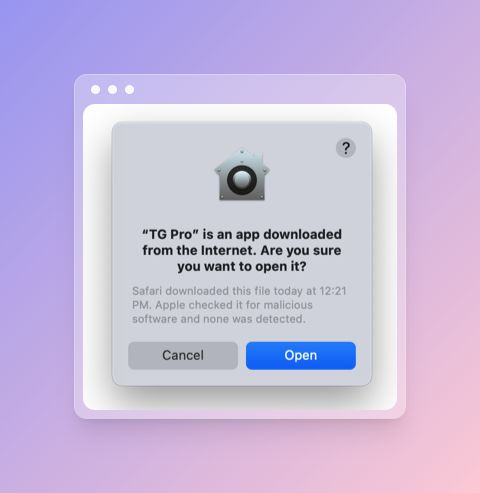 For time opening TG Pro app, it will ask whether to continue as Trial or Activate with license or Buy it options, Please select Continue Trial option to use it. 
Now the installation process is completed, and you can use the TG Pro app for 14 days for free and can Activate with a license later. 
Step 2 : System monitor of internal temperatures 
When you open the TG Pro app , the main window will appear showing temperatures, fan speeds and diagnostics information of your Mac System as shown below.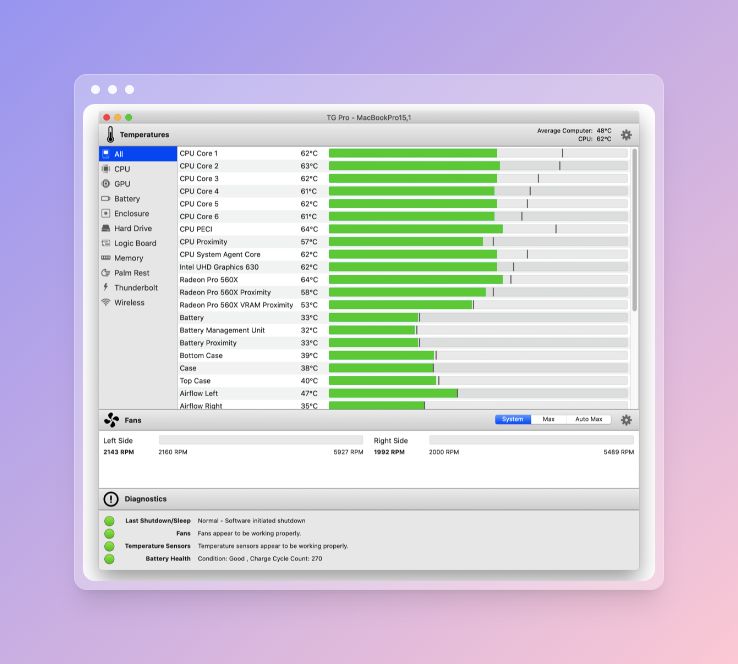 Depending on the model of your Mac a little different window might appear but for most part it will display a different list of temperature sensors and fans. 
You can quickly access the TG Pro dropdown menu always available in the top right corner of  the menu bar. Here you can control fan speed and check temperatures quickly.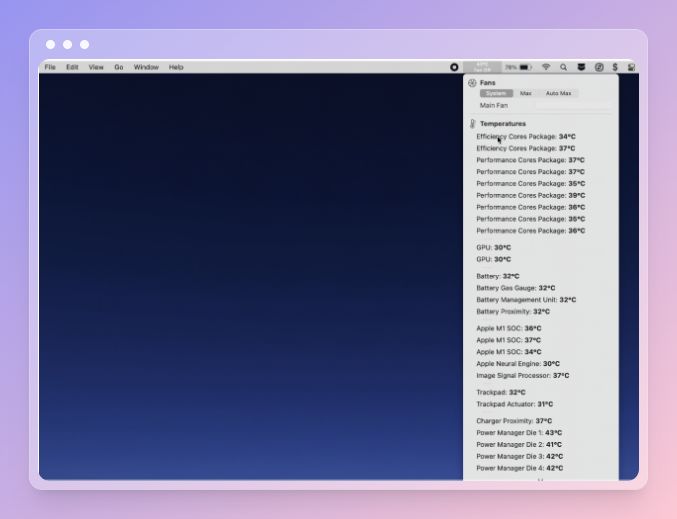 Upon selecting either of the temperatures on the dropdown menu, it will take you to the main window of the app as shown above. 
The main window will also show various temperatures in colors to provide information such as 'Green color' optimum temperature, 'Yellow color'  almost thermal limit temperature and 'Red color'  when it's over the thermal limit temperature.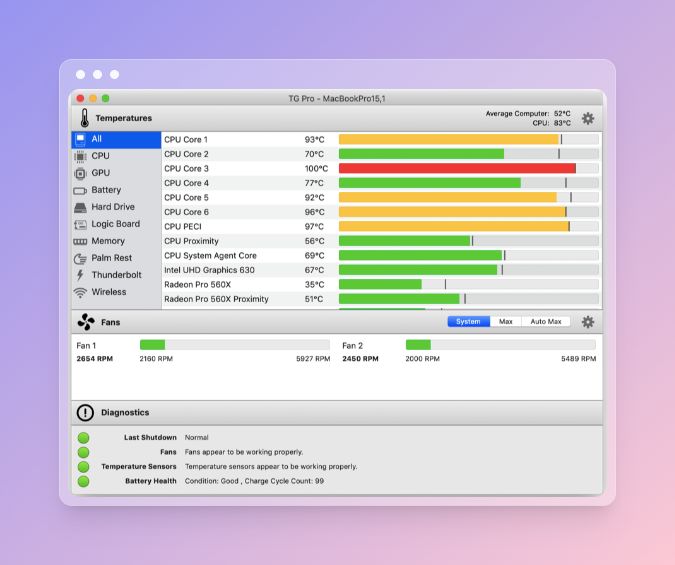 Step 3 : Various types of Sensors supported – 
All Mac systems provide various specific lists of temperature sensors to monitor the hardware components. TG Pro utilizes these sensors to keep track of the temperature they are operating at and issues occurred with them.
These different areas of sensors available for TG Pro to assess and monitor like CPU, GPU, Battery, Hard disks, LCD Screen, Memory, Motherboard, PCI/PCIe, Thunderbolt , Wireless etc. 
Step 4 : Monitor and Control Fan Speeds – 
One of the main features of TG Pro is the ability to monitor and control Fan speeds of Mac System efficiently. Open up App Main Window from the Application folder or from the menu bar dropdown. You will find all the monitoring details of the Fans down after the temperature section and above Diagnostics. 
With TG Pro you can also control the Fan speeds by setting up manually. There are three default modes for fan control, depending on the Model of your Mac. 
Apple Silicon & Intel : System, Max, Auto Max

Older Mac models : System, Manual, Auto Boost
To select the fan modes, you need to open the main window or click the drop down menu bar. In System mode, the fan control is the system's responsibility and TG Pro can only monitor the speeds and show status.
In Manual mode, you will get a slider option to set fan speed manually to increase or lower the speed accordingly. 
Main Window
Drop Down Menu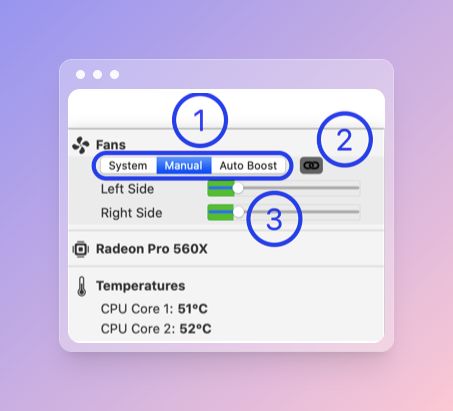 Now Auto Boost feature is an extension to the Manual mode, where you will get much more features and control over fan speeds. You can basically set rules to determine when and how the fan speed increases or decreases depending on an event.
To set rules for Auto Boost, you need to open App Preferences from the Main window or drop down menu and select the Fan tap from top.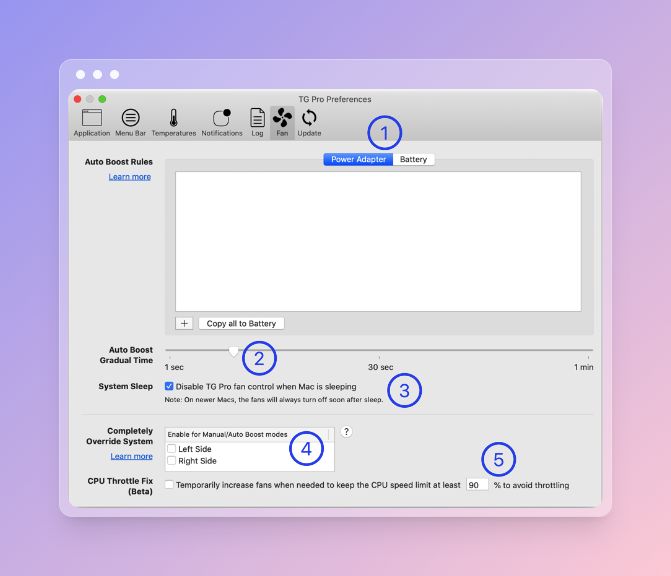 Here you can create one or set of many rules to enable Auto Boost feature each time the rule is triggered and fan speed is increased to stabilize the temperature. 
Step 5 : Detect defective hardware –
You can easily detect any defective hardware in your Mac by Opening up the App main window, at the bottom you will find the Diagnostics status of the various hardware components.
Step 6 : Notify and system log file – 
One of the great features of TG Pro is its ability to display notification through macOS Notification Center or can send you an email each time temperatures are over the set limit and also when there is an event triggered.
You can set up this feature by selecting the app Preferences window from the main window or scroll down to find it from the dropdown menu bar.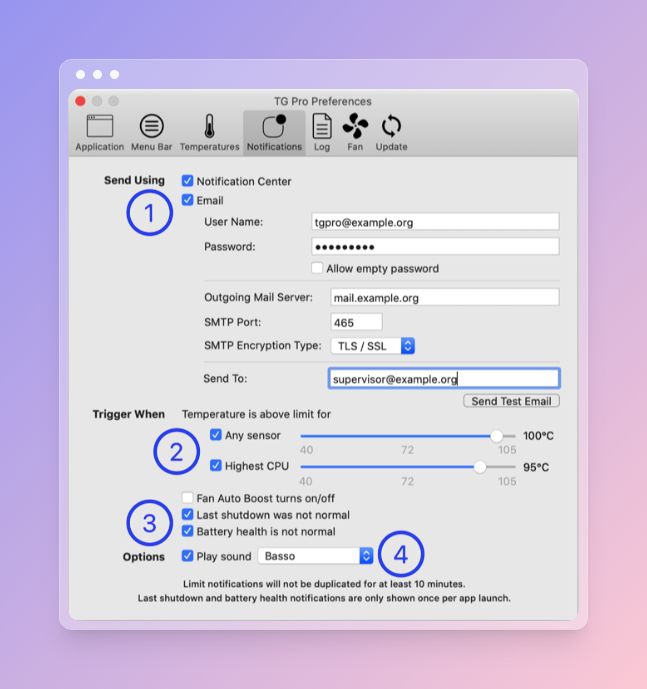 You can also save all the information of temperature, fan speed and diagnostics to a log file and extract the same in CSV file format to share and analyze later.
To setup this feature you need to open the App Preferences window again and select the Log tab from top and enable all the options you would like to log.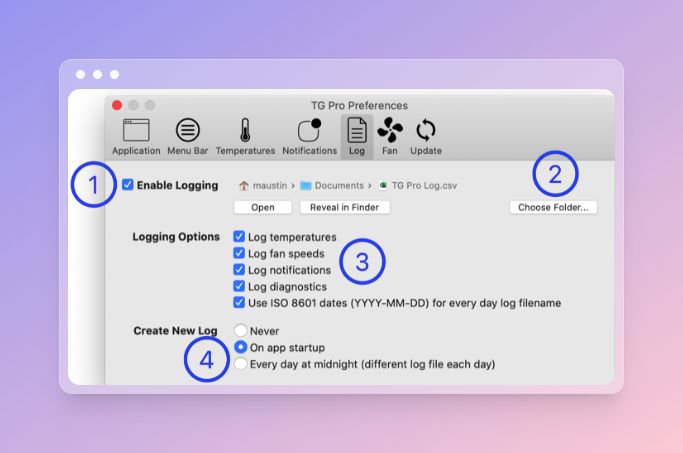 TG Pro Pros & Cons –
| | |
| --- | --- |
| Pros  | Cons |
| All in one internal components temperatures solution and diagnostics | Only 14 days free trial period. |
| Uses minimum system resources and runs in background unobtrusively.  | Little pricey compared to other system monitor apps |
| Quick menu bar access for system concise information | |
| Automatic fan control by Auto Boost Rules | |
| Customizable  for light and dark mode | |
| Notifications via macOS notification center, emails or CSV log file | |
| All macOS versions supported | |
| Supports both intel and M1 devices | |
| Technical support via email and online | |
Frequently Asked Questions –
Q1. Is TG Pro Safe for Mac?
Yes, TG Pro is a well known and trusted application to monitor your device.
Q2. Will updating to Monterey slow down my Mac?
Since it's required to have a new system installed, you must free up the storage space and optimize your Mac before updating to Monterey. Other system information can be found on TG Pro for before and after system diagnostics.
Q3. How can I monitor my Mac temperature for free?
You can monitor your Mac temperature for free through Mac's built-in Activity Monitor. Although it will limit your diagnostic capabilities of the System, hence you should consider getting third party software like TG Pro to enhance monitoring capabilities. 
Q4. Does Big Sur speed up your Mac?
There is no evidence that a new macOS version will speed up your Mac. If you are using an old machine, there might be no changes but moving to a newer version of macOS proves to be beneficial in multiple ways.
Q5. Is TG Pro trustworthy?
Yes, TG Pro is trustworthy to install on your Mac to monitor and control system temperature and run diagnostics. This product is notarized and approved by Apple, is available through the Mac App store also. 
Q6. Is TG Pro free for Mac?
TG Pro is available to download and try for 14 days free trial period , here after you need to purchase a one time license from their official website. With one license you can use it on 3 devices for personal use. 
Final Words On TG Pro for Mac Review 
We are sure that you are able to gain some knowledge about this system monitor application with this TG Pro review blog. It is a good application to monitor temperature, fan controls and provide details on hardware and software for your Mac. Try it for free now!
Also Read