It is commendable that Apple provides an excellent built-in backup solution for its Mac with Time Machine Utility. It offers a decent set of straightforward features letting you take backup of your Mac and restore it when you need it.
But it lacks few of the useful convenient features which make it not a comprehensive backup utility for Mac. We have curated a list of best Apple Time Machine Alternatives for Mac which would fill the gap of useful features and robust security measures.
List of 7 Best Time Machine Alternatives
1. Carbon Copy Cloner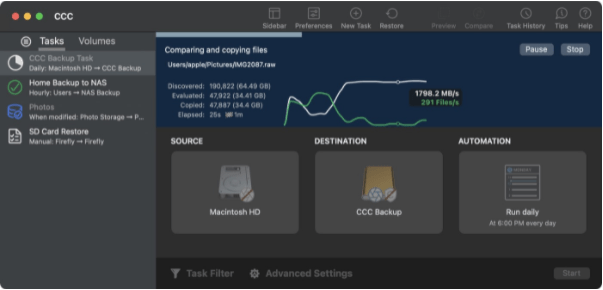 Carbon Copy Cloner is a complete backup solution for Mac, which lets you customise what you want to back and where you want to backup. You can choose a single folder or entire drive to backup to either external drive or to another system on the network.
This is quick and highly efficient backup software for Mac is an excellent alternative to Time Machine to consider. Read Carbon Copy Cloner Review.
Features –
Multiple backup drive options. 

Can create bootable backup. 

Powerful single admin console. 

Quick and effective utility. 
2. Disk Drill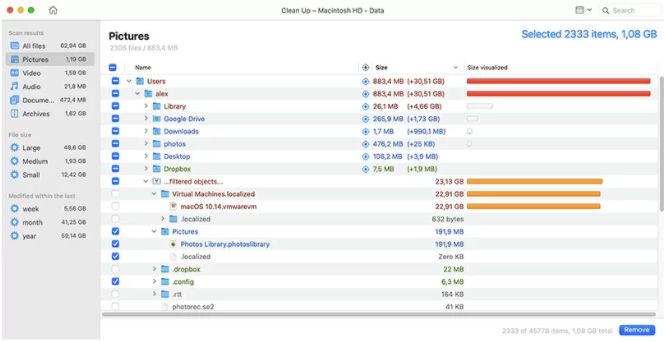 Disk Drill is a very popular data recovery utility for Mac which also supports the powerful Byte-to-byte backup feature which makes it an efficient Time Machine Alternative to consider, you can easily create backup of your Mac drive on external drive and recover the backup when you need it.
It provides a comprehensive features list for complete disk management like Data recovery, Disk health monitoring, Data protection, Clean up junk files and many more. 
Features – 
Complete disk management solution. 

Comprehensive features list. 

Superb byte-to-byte backup. 

Easy to use and simple user interface. 
Must Read Detailed Disk Drill Review
3. ChronoSync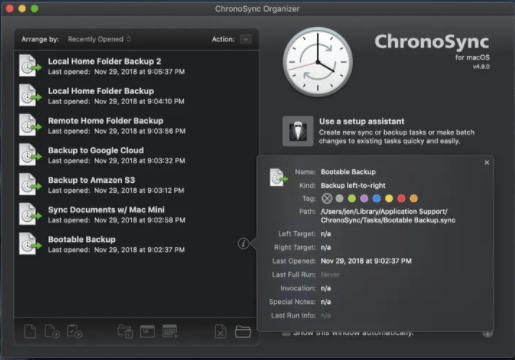 ChronoSync is another complete Data protection software for Mac. It is one the best alternatives of TIme Machine, due to its ability for file synchronisation, taking data backup and creating bootable backups. You can take backup of your Mac drive to external drive, cloud storage and another system on the network using this. 
Features – 
Supports all latest macOS versions. 

Lets you create a bootable backup. 

Can backup to multiple options. 

Can schedule sync or backup data. 
4. SuperDuper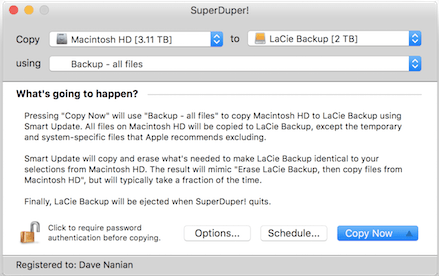 SuperDuper is another highly popular backup software for Mac which is also an incredible Time Machine alternative which incidentally can work alongside Time Machine volume.
It lets you create a fully bootable backup easily to your preferred storage option. The user interface is very friendly and simple to navigate around to create backups with single clicks. 
Features – 
Simple and user friendly interface. 

Can schedule automatic backups. 

Supports bootable backups. 

Useful Smart Wake and Smart Delete feature. 
 5. Get Backup Pro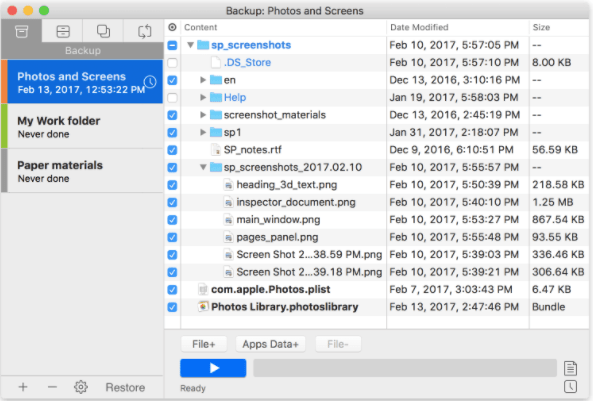 Get Backup Pro has the name suggest it is an professional advanced Mac backup utility which is evidently an excellent Time Machine Alternative with its exhaustive backup feature list.
Along with creating bootable backups, you can do backup, archive, disk cloning and file sync functionality with this tool. It lets you schedule regular automatic backups. 
Features – 
Excellent advanced back features. 

Supports disk cloning and folder sync also. 

Can schedule periodic backups. 

Intuitive and smart user interface. 
6. Carbonite 
Another great choice for Time Machine Alternative is Carbonite, It easily lets you backup documents, photos and other data in the online database.
You can easily access the backup in an online database through mobile devices when it is required on the go. The user interface is very straightforward and easy to use for taking backup or to restore files on your Mac.  
Features – 
Straightforward and easy to use interface. 

Can schedule regular backups. 

Robust security features for safety. 

Can access from mobile. 
 7. Acronis Cyber Protect Home Office for Mac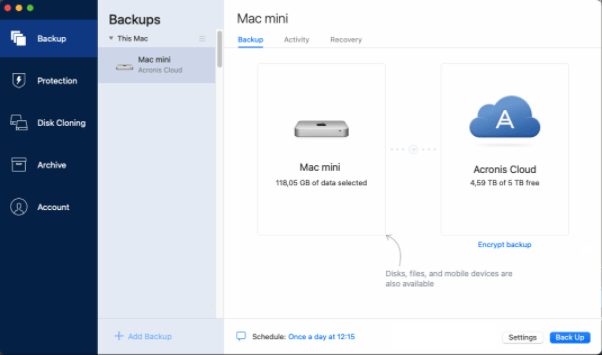 Looking for more than just a backup software then do consider Acronis Cyber Protect Home Office for Mac, which is an All-in-one backup solution with features for Protection, Disk Cloning, Archive and many more.
This alternative to Time Machine offers so much more than just taking backups and creating bootable backups. You can also schedule automatic backups along with support for backup to external drive, cloud storage or another system on network. 
Features – 
All-in-one professional backup solution. 

Can schedule automatic backups. 

Multiple backup store options. 

Extensive features list. 
Reasons to Consider Time Machine Alternatives –
Time Machine is a highly reliable and effective backup software provided by Apple to take backup of your Mac drive in a simple and easy way.
You need not have to replace Time Machine with an alternative third-party backup software for that extra useful comprehensive features, instead consider getting an excellent backup software which would compliment working alongside Time Machine.
Below are a few important features you should look for in a third-party backup tool for Mac which Time Machine lacks. 
Less Customisation selection –

Choosing what you want to take backup like a single folder or partition of drive or sometimes an entire drive is crucial, Time Machine lags in this customization feature. You can either deselect a folder or system files from back in Time Machine. 
Zero Incremental backup –

Each time you connect an external drive, Time Machine automatically starts to overwrite the backup with the latest data. It lacks indexing the disk and backing up intelligently through incremental backup features to make sure not to duplicate files. 
Lacks Offsite backup –

Time Machine offers taking backups in local or external drive and another system on the network but no Cloud Storage or USB storage option. It is very important to be able to create Cloud backups to stay completely safe. 
No disk cloning –

Taking backup is all well and good, but sometimes it is also important to create disk cloning to have an exact replica of your Mac drive.
Doesn't offer Bootable backup –

Unfortunately Time Machine doesn't not offers to create a bootable backup. When it is impossible to recover and boot from a corrupt Mac, only a bootable back can help you boot your system instantly. 
Frequently Asked Questions –
Q1. What can I use instead of the Time Machine?
Although Time Machine is a great backup tool provided by Apple, it does seem to lack a few useful convenient features. Thus you should consider Carbon Copy Cloner software instead of Time Machine for its extensive features. 
Q2. Can you back up a Mac without Time Machine?
Fortunately yes, you can use many available third-party backup softwares to backup your Mac easily without Time Machine. Go through the above list to select the alternative to Time Machine for you. 
Q3. How do I backup my Mac apps?
You can easily take backup of your Mac apps using Time Machine, the built-in backup utility provided by Apple to backup your Mac drive data, music, photos, and documents including apps on your Mac. Just as an added measure, also consider getting a third-party backup tool to help you back your Mac drive along with your apps. 
Conclusion
In conclusion, Apple Time Machine is an excellent backup solution for Mac users, offering simplicity and ease of use. However, there are viable alternatives available for those seeking more control, customization, and additional features in their backup process.
Options like Carbon Copy Cloner, SuperDuper, and ChronoSync provide a range of advanced features and flexibility that cater to different user needs. Whether you prioritize a bootable backup, incremental backups, or fine-grained control over your data, these alternatives offer more than what Time Machine provides. Ultimately, the choice between Time Machine and its alternatives depends on your specific backup requirements and preferences.
Also Read