Do you love to stay in voice chat with your gaming community while playing games? Are you a budding artist who needs to modulate your voice to sound like a different character? Whatever your reason maybe, the voice changer for Mac is a utility you can take help from.
They are the software which can easily get you the easy way out to create the voice overs for your videos, podcasts, and advertisements. It can also be used for chatting online where you are not interested in revealing your actual voice. 
With our curated list of voice changer applications you can complete this task in a flash.  
6 Best Voice Changer Applications For Mac
1. Voxal Voice Changer Software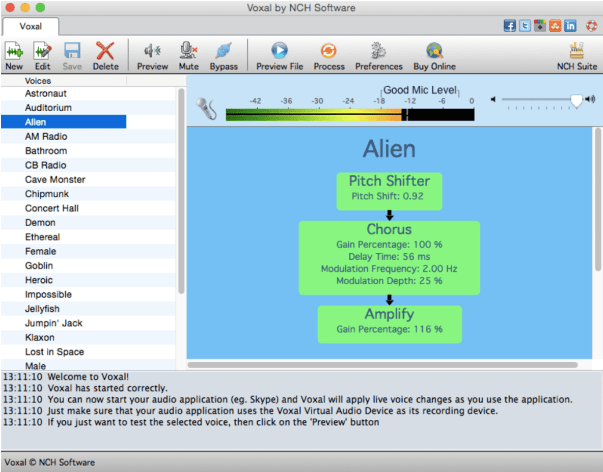 Top of our list for Voice changer for Mac we have Voxal Voice Changer Software for its huge list of features and high reliability. With this software you can modify, change and disguise voices for any app or game for creativity. Provides a huge list of custom voices in the library for anonymity over radio or internet. It is very easy to modify voice effects in real time and also enhance pre recorded sound files. 
This voice changer for Mac comes with the vocal effects library which includes the Robot, girl, boy etc. It can be used effectively with the games as the customization is available in the real-time chats. This voice changer for Zoom calls can be considered if you wish to keep your anonymity. Also use this voice changer for Mac to apply these effects to the existing files. 
Features
Comprehensive vocal effect library. 

Highly customizable with settings and effects. 

Works with real time and recorded files alike.

Can utilise this to add background noise. 
2. MorphVox Voice Changer Pro
MorphVox Pro Voice changer is among the best voice changer for mac available. This provides exceptional voice changing quality with superior voice learning technology, background cancellation and sound quality. It works amazingly while changing your voice online and in game also with recorded sound files. Use it to change voice from Man to Woman and Woman to Man, cyborg, demon etc.
This is a great voice changer application for Mac users who are looking for in-game use. It comes equipped with the free voices and background sounds with the smart algorithm to cancel noises. It is a fantastic voice changer with the optimised usage for the gamers with the characters' voices to sound more realistic.
Features 
Sleek and intuitive user interface. 

Provides a huge list of voices and sounds. 

Highly customizable provided voice and sounds. 

Superb voice changing Quality. 
3. GarageBand for Mac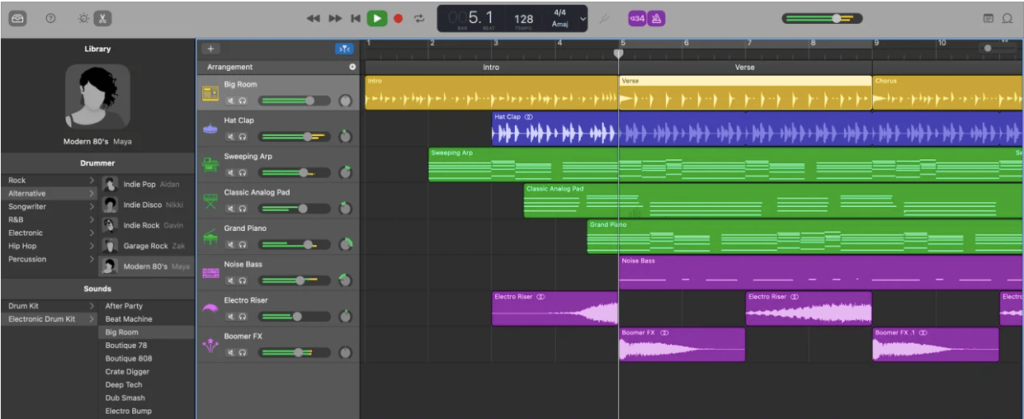 GarageBand for Mac is a professional music creation tool which is very popular among th3e professionals. The video creators, music artists, editors and others have been regularly using it on Mac. But many would not know about its feature of voice modulation. You can adjust the settings as per your choice and bring modulation to the recorded files.
This voice changer for Mac comes with tons of features that you can use to make the files sound completely different. However, you can not use the tool in real-time, but still it's very effective for the music editors. 
Features 
Professional voice changer.

Additional audio editing tools.

Voice modulation effects.

Dedicate music creation application.
4. MORPHVOX JR (FREE)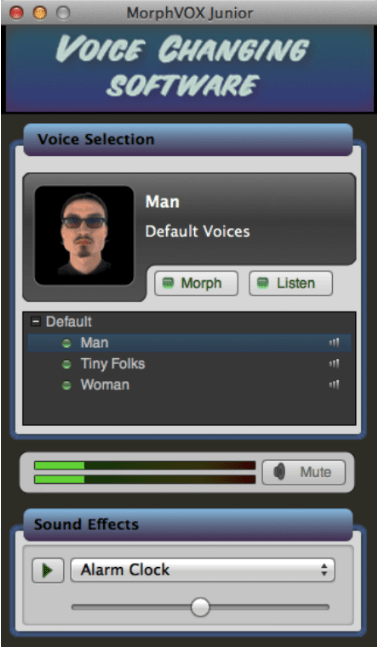 MORPHVOX JR is another voice changer software for Mac from Screaming bee's which is absolutely free with limited features. For basic usage of changing voices this software is more than enough. Although it is free, it provides very high quality voice changing capabilities.
It is highly optimised for games and other online voice needs along with superb background sound effects. Not only this, you can use it in real-time for changing voices in the VoIP calls. If you are a student and want to use the free voice changer for Mac, this is a gem. Add background sounds as well to your voice calls to prank friends.
Features 
It's absolutely free to use. 

High quality voice changer software technology. 

Utilises very low bandwidth and CPU usage. 

Comprehensive built in sound effects and voices. 
5. Audio Voice Changer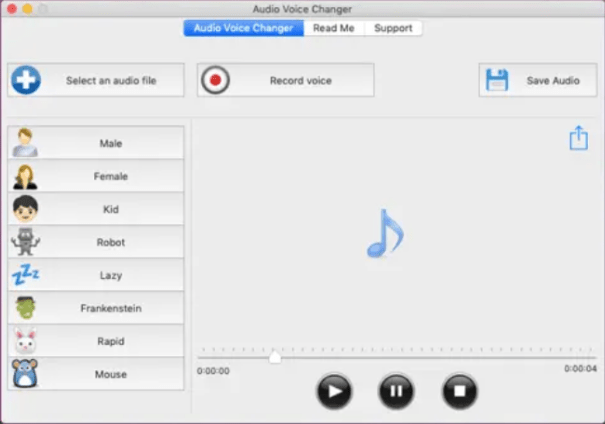 Audio Voice Changer is another best voice changer for Mac which you can get from the Mac App Store easily. This app is extremely easy to use with its simple user interface and easy navigation to change your voice.
You get many built-in voice changing options like Male, Female, Kid, Robot, Frankenstein, Mouse and many more. You also get a built in voice recorder to record your voice and later change it using the app. 
Features –
Good manual voice customisation options. 

High built-in voice option to change into. 

Supports voice recorder to use later. 

All macOS versions supported. 
6. MorphVOX Echo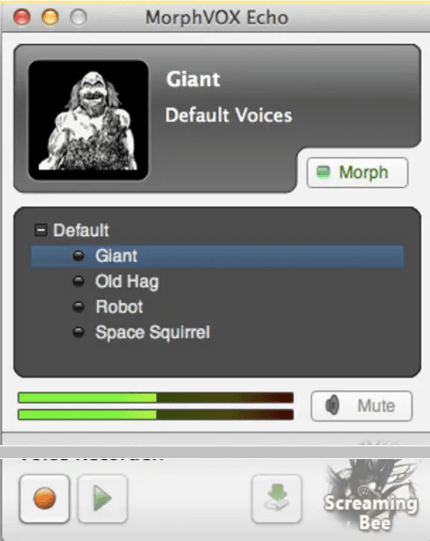 Another voice changer app for Mac from Screaming Bee is MorphVOX Echo, which is a simple and basic application to change your voice instantly.
The basic user interface is easy to use for navigating around and instantly change your voice to many provided lists like robot, old women, giant, squirrel and many more. You can also record your changed voice and use it later. 
Features – 
Simple and easy to use application. 

Provides many voice morph options. 

Supports voice recording to share later. 

Basic app does the job well. 
Comparison Table of Top 6 Voice Changer Apps for Mac
| | | | | | | |
| --- | --- | --- | --- | --- | --- | --- |
| Product Name | Best For | Platform | Price | Free Trial | File Size | Latest Version |
| Voxal Voice Changer Software | Reliable voice changer software with extensive features list. | macOS 10.5 or later | $29.99 | Yes | 2.6 MB | 7.04 |
| MorphVox Voice Changer Pro | Professional lever voice changer app with easy and intuitive interface. | macOS 10.15 or later | $39.95 | Yes | 6.1 MB | 5.0 |
| GarageBand for Mac | Music creation app which also can be used as a voice changer. | macOS 11.5 or later | $0 | Yes | 782.5 | 10.4.6 |
| Morphvox JR | Free, simple voice changer software providing high quality output. | macOS 10.6 or later | $0 | Yes | 4.6 MB | 5.0 |
| Audio Voice Changer | Fast and efficient app to change voice and record also. | macOS 10.11 or later | $4.99 | Yes | 30.3 MB | 2.6.1 |
| MorphVOX Echo | Simple and basic voice changer app which does a decent job. | macOS 10.6.6 or later | $0 | Yes | 2.7 MB | v1 |
Frequently Asked Questions 
Q1. Is there a voice changer on Mac?
No, you will not find any voice changer for Mac as an inbuilt tool on your device. However, there are voice changer applications which can be downloaded and used to change the voice on Mac. You can also use the GarageBand for Mac to change the voice modules for the existing files, but it will not work on real-time voice change.
Q2. What is the most realistic voice changer?
If you are looking for a realistic voice changer for Mac, you can go with the NCH Voxal Voice Changer software. You can show your creativity using this application as it will give you multiple audio effects. 
Q3. Does Mac Have MorphVOX?
MorphVOX is a voice changer for Macintosh which has two versions available. MorphVOX Junior is a free voice changer for Mac and MorphVox Voice Changer Pro is the paid application for professional usage 
Q4. Are voice changers free?
Yes, some of the voice changer applications can be used by Mac users for free with limited features. 
Conclusion
As we know, there are a very few applications which are available for recording your voice in difficult styles and modules. It is important to choose the one which is best suited for your usage. The purpose of recording with a voice changer application can differ from user to user. Some can be used for commercial purposes and others for personal use.
If you are looking for a voice changer which can be used casually for changing voice on Mac, go for MorphVOX Junior. Others can go for its paid counterpart MorphVOX Voice Changer Pro or Voxal Voice Changer Software. Both of these have much more features and are best for the professionals in this field.
Also Read