alWinDirStat is an application called Windows Directory Statistics and works for Windows PC. It helps you analyze the disk space and maps it out for you to manage it efficiently.
The Treeview in the explorer is where you can easily detect which files are taking up much space. But this tool, however useful, is limited to Windows PCs. So, if you are looking for a WinDirStat for Mac alternative, this article is for you.
We have curated a list of applications for Mac that can be used to analyze the disk space on your Mac. 
Is there a WinDirStat for Mac?
No, there is no WinDirStat for Mac. It is only available for Windows but you can always look for other applications like WinDirStat which will work for your Mac.
This list will help you to select one of the tools for your Mac to analyze the disk usage and further clean the unwanted clutter and free up storage.
Top 8 WinDirStat for Mac Alternatives
1. Disk Drill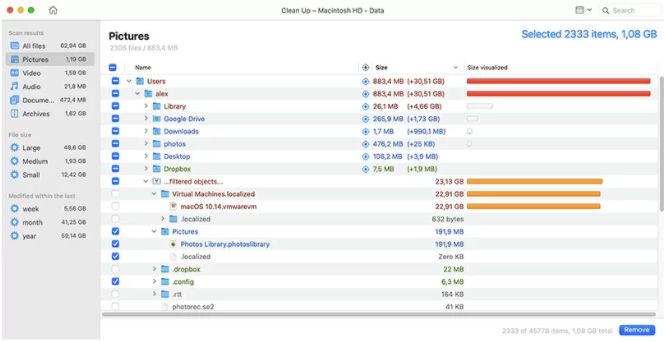 Disk Drill is more than just a disk space analyzer, it also provides more utilities in this amazing application and works as a complete solution for Mac. This Windirstat for Mac alternative application helps visualize disk storage drives, identify large files, and option to delete or move them so that they can recover storage space.
Once the scan drive is selected it displays a visual map with the largest files first, then narrows down to specific files or folders using the target to delete option or move it.
Features –
Comprehensive list of all file formats supported. 

Supports all storage internal, external, and cloud.

Complete disk management application.
2. Disk Inventory X
Just like WinDirStat for Windows, Disk Inventory X is a Windirstat for Mac alternative. It provides an extremely intuitive user interface along with powerful graphical usage stats representation. This utility displays the sizes of files and folders in a beautiful graphical way called treemaps.
One of the great aspects of this application is that it provides comprehensive details of selected files such as format, type, size, owner, folder location, default app for file, etc. With this, it's very easy to identify large files, and folders and also which formats use large amounts of disk space on your Mac. 
Features –
It's open source and free for use.

Displays all large folders and files. 

Shows extensive details of the selected folder.
3. GrandPerspective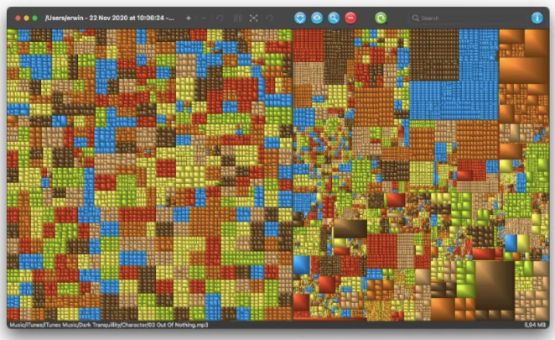 GrandPerspective is another free software like WinDirStat for Mac, like others, this utility also graphically shows the disk usage for file systems. It displays which files and folders take up the large space, it helps you manage the disk efficiently.
Since it's an open-source application to analyze disk space usage on Mac makes it absolutely free to use. It also has a very simple-to-understand user interface, all features are visible right in the toolbar to use.
Features 
Very fast and efficient tool to analyze disk space.

Highly customizable themes. 

Lets users analyze both local and external disks.
4. DaisyDisk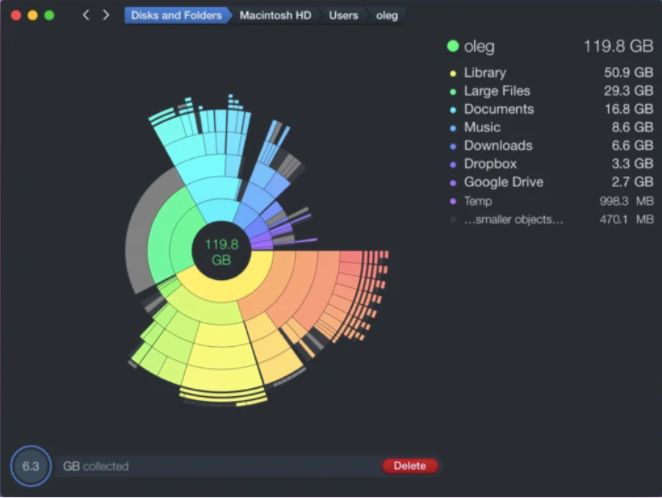 DaisyDisk is one more application like WinDirStat for Mac, that can efficiently display files and folders on a drive in a simple way that helps in identifying and deleting large files from Mac.
This app provides a beautifully designed user interface and presents files and folders through an intuitive graphical chart. The selected file or folder will show more details and options to delete by drag and drop or by just clicking a button.
Features –
Easy to find large files and folders to remove.

Supports local and external storage disks.

Provides drag and drop delete actions.
5. Disk Space Analyzer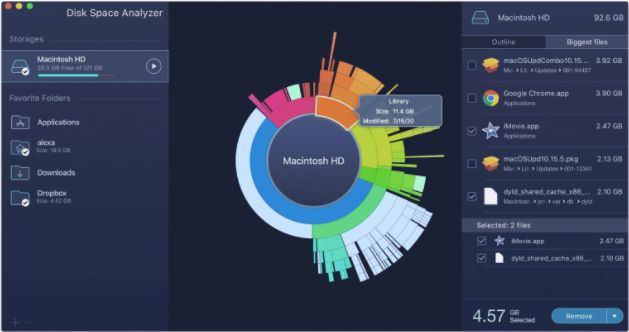 Further down the list we have Disk Space Analyzer as a WinDirStat alternative for Mac, which is a powerful space storage visual analyzer that displays all disk usage, finds large files and helps free up disk space.
With this users can analyze all internal, external, and cloud storage disk space on their Mac. All the relevant data is shown in visualization as a sunburst diagram which makes it easy to understand. As a Mac user, you can quickly identify what is taking up the largest space on the disk.
Features
Display all cloud, internal and external disk space.

Easy space management of storage. 

Comprehensive visual interface.
6. OmniDiskSweeper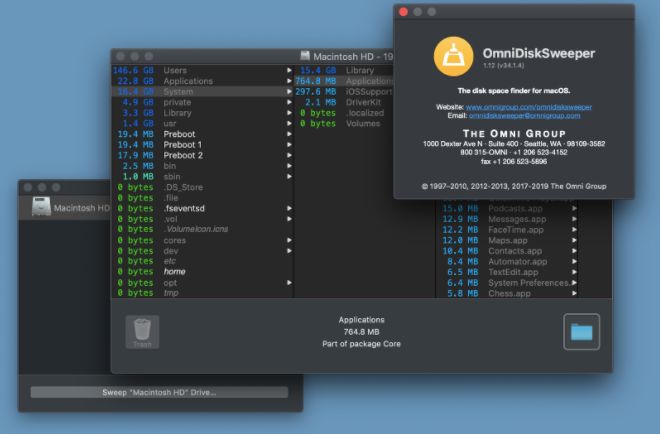 OmniDiskSweeper is also another app like WinDisStat, with its fast and easy way to monitor and delete large file storage. The user interface of this app is extremely friendly and simple which makes it comfortable for all novice users.
With this application, you can find large files or folders on the drive, delete them if needed, and recover disk storage space. OmniDiskSweeper is a very reliable app for Mac to analyze and retrieve disk space with the ability to show all hidden files.
Features
Displays all hidden files.

Option to scan individual disks and folders.

Easy storage management with a permanent delete option.
7. DiskWave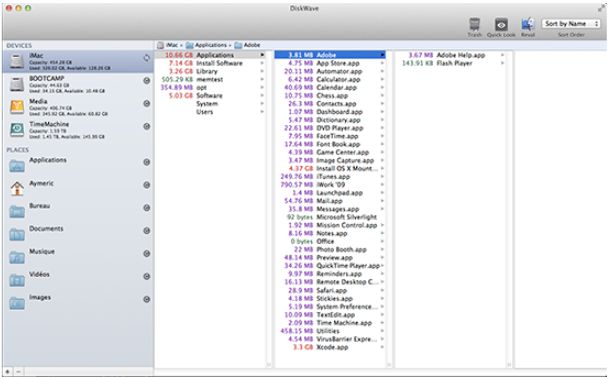 Last on the list of WinDirStat alternatives for Mac, we have DiskWave. Which is a free utility to help recover large spaces of Mac disk by determining where large storage space is consumed by which files and folders.
This application identifies all the useless directories under all folders and subfolders. It will then store the result in memory, which in turn allows for faster navigation to delete them. 
Features –
It's absolutely free to use.

Very easy and simple user interface. 

Suffice for most use cases. 
8. SquirrelDisk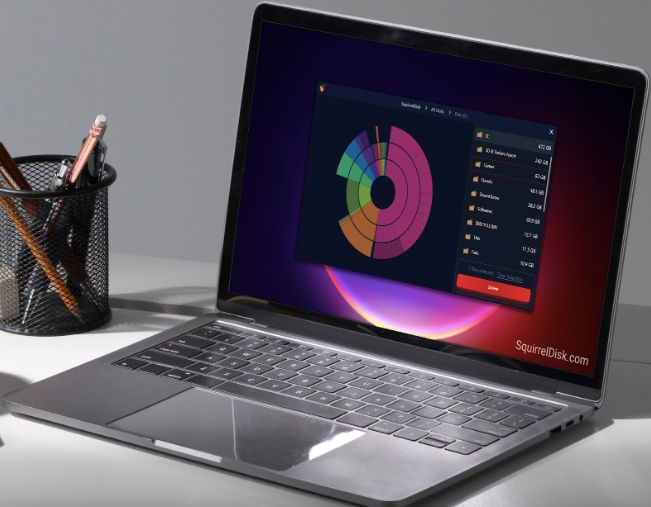 SquirrelDisk is another excellent disk space analyzer for Mac, for its beautiful, easy, and simple user interface. It performs all the disk analyzing with the click of one button and displays all the relevant information in intuitive easy-to-read representations.
Can perform scans on both internal and external drives of type both SSD and HDD. Better yet it automatically detects any attached drives in real-time.
Features 
Super easy and simple user interface.

Auto detects hard drives in real-time.

Scans both internal and external drives.
Top 8 Programs like WinDirStat
| | | | | | | |
| --- | --- | --- | --- | --- | --- | --- |
| Product Name | Best For | Platform | Price | Free Trial | File Size | Latest Version |
| Disk Drill | Featureful complete disk solution for Mac. | macOS 10.11.6 or later | $89 | Yes | 84.8 MB | 4.6.380 |
| Disk Inventory X | Free and versatile with highly efficient. | macOS 10.13 or later | $0 | Yes | 7.1 MB | 1.3 |
| GrandPerspective | Extremely simple user interface and is very fast. | macOS 10.9.0 or later | $2.99 | Yes | 2.9 MB | 2.6.3 |
| DaisyDisk | Beautiful, simple user interface with easy feature-rich graphical charts. | macOS 10.10 or later | $9.99 | Yes | 4.8 MB | 4.22.1 |
| Disk Space Analyzer | Easy sunburst visual interface with efficient space management. | macOS 10.10 or later | $9.99 | Yes | 10.4 MB | 3.7.1 |
| OmniDiskSweeper | Fast and easy app for novice users for disk space management. | macOS 10.14 or later | $0 | Yes | 9.3 MB | 1.13 |
| DiskWave | Free, efficient, and fast dish space analyzer. | macOS 10.6 or later | $0 | Yes | 1.1 MB | 0.4.0 |
| SquirrelDisk | Super fast and efficient disk space analyzer in real-time. | macOS 10.11 or later | $11.99 | Yes | 85.4 MB | 1.0.7 |
Frequently Asked Questions
Q1. How do I analyze disk usage on Mac?
To analyze disk usage on Mac, you can easily use the dedicated application called disk space analyzers. They will run the scan and help you find out the data distribution on the storage disk.
Q2. Where can I download WinDirStat?
You can download WinDirStat for your Windows PC from the official website. But it is not available for Mac and therefore you will need a Mac application for WinDirStat.
Q3. Is WinDirStat portable?
No, WinDirStat – the Windows disk usage application is not portable. But it is an open-source program that can be modified to be used as per your needs if you are a program developer.
Q4.  Is WinDirStat open source?
Yes, WinDirStat is an open-source program that is available for Windows PC. You can find out the disk usage statistics of your computer with its help.
Final Words
The listed applications are powerful disk usage analyzer programs that also help in cleaning redundant data. You can organize the data and free up storage space on Mac.
Disk Inventory and GrandPerspective are the most favored alternatives for WinDirStat. You can also try out the latest additions such as DaisyDisk for a better graphical representation to understand the data distribution.
Also, Read