Mac users occasionally encounter performance issues, and high WindowServer CPU usage can be a common culprit. WindowServer is a critical component responsible for managing graphical elements on your macOS system.
When it starts consuming excessive CPU resources, it can lead to sluggish performance and impact overall responsiveness. In this guide, we'll explore effective strategies to reduce WindowServer's CPU usage on your Mac, ensuring a smoother and more efficient user experience.
What is WindowServer on Mac
It is a process on Mac which is responsible for opening all the windows for an application, website or an icon. It draws the graphical elements on your screen and pulls this with the help of the CPU on your Mac. So, the more the number of windows opened can put a dent in the speed of Mac. As the WindowServer's CPU usage increases with the increase in the tabs, applications opened on Mac. 
Although, these processes are not supposed to be taking too much of resources as to be noticed by the user. Mac is meant to work on multiple applications at a time without having any performance issues. But if you are facing this issue, it is important to get to the bottom of it and lower WindowServer's CPU usage on Mac. 
The most common reasons for increased WindowServer's CPU usage are – 
Malfunctioning applications.

Multiple displays.

Older machines with modern graphics.

Cluttered Mac.
How to find WindowServer CPU usage?
If you are not sure that your Mac is also facing this issue, but suspect something similar, this is for you. To find out WindowsServer CPU usage, you need to use the built-in Activity Monitor. This is one of the most useful features of your Mac as it can easily show you what processes are taking up CPU and how much percentage of it.
WindowsServer being used will also show up in its list and you can check the CPU usage in Activity Monitor.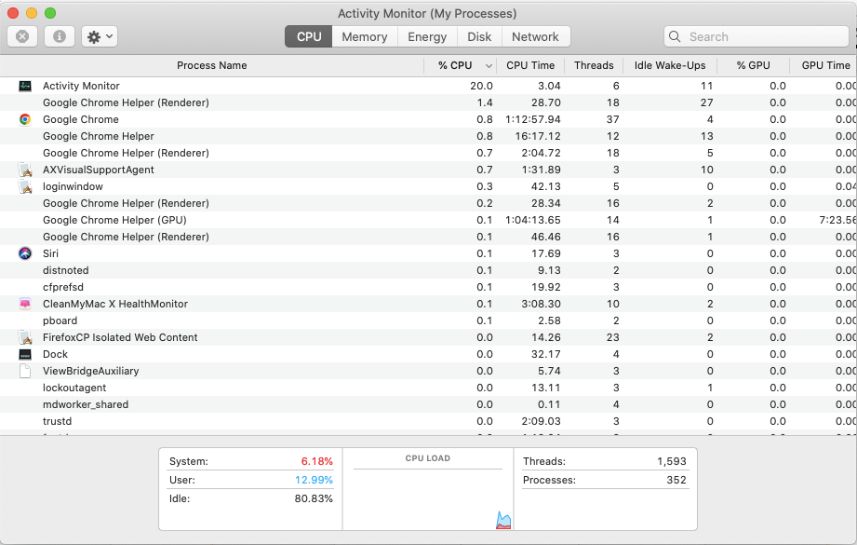 To open Activity Monitor, go to the Applications folder. Here go to the Utilities and then you can see Activity Monitor, which opens when you double tap on it. 
Here to view a CPU usage activity of the running processes on your Mac, you need to click on the CPU tab. The percentage on the System, User and Idle will appear here. You can check the WindowsServer's CPU usage on your Mac in this easy way.
How to lower WindowServer's CPU usage on Mac 
1. Close Unnecessary Windows 
If you want an optimised Mac experience, you must close the unwanted applications and windows opened on it. The Mac was designed for multi-tasking but be mindful that the applications running are not unnecessary.
Too many opened tabs on an application or browser can also be a reason for the issue with WindowServer consuming high CPU. 
2. Turn off Visual Effects 
Visual Effects take up on a lot of CPU usage on devices, but we can not close all of them. But we can reduce WindowServer's CPU usage on Mac by turning off the Transparency. As it does not affect the running applications differently.
Go to the Apple icon,
Click on the System Preferences
Go to the Accessibility option.
Here you can see the Display option on the left pane, click on it. Turn off the Transparency by selecting the Reduce Transparency option. 
3. Control the Displays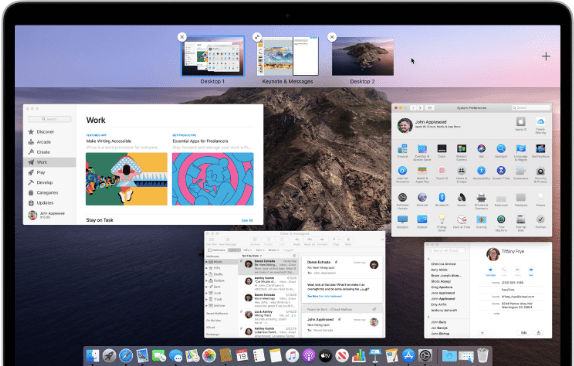 We know how the multiple display use with your Mac helps you with the workflow,  but if you are struggling with the slow speed on Mac, consider this hack. As to close all other displays used along with the Mac need to be closed. You can find it helpful instantly as it will close the additional displays and lower WindowServer's CPU usage on Mac.
To do so, you need to press F5 on your keyboard or go to Mission Control from the Dock. Close all the desktops which are not being used at the moment.
4. Update Applications
Due to the outdated applications, a large part of the CPU is consumed by the processes. Therefore, it is necessary to keep them updated to function well with your Mac. To update the application which is downloaded from the Mac App Store, go and launch the App Store to check for the updates. For other applications, launch them and check for updates or new releases on their official websites.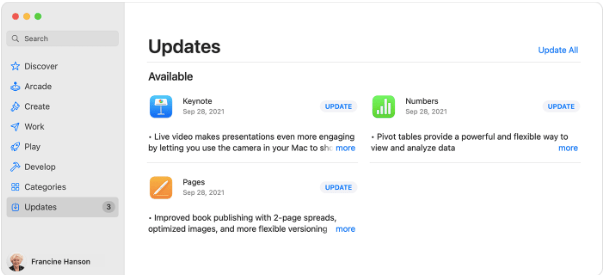 You can also download CleanMyMac app which can automatically show you and update the applications present on your Mac with its inbuilt tools. Just go to the Updater tool under the Applications section and click on the View list option.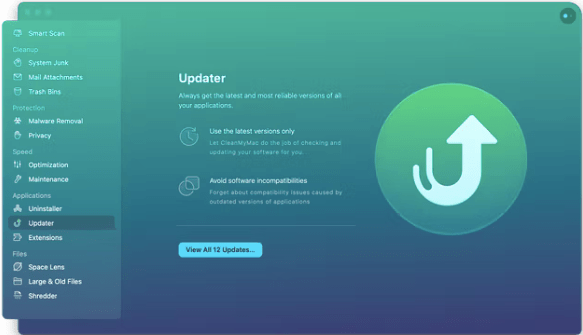 Here you will get the applications listed which have a pending update. Select them and download the updates easily.
5. Update macOS 
The OS plays a vital role in the performance of your device, so check the compatibility before updating to the latest version. Also keep your system up to date with the latest macOS.
Go to Apple Menu icon
Open System Preferences
Go to the Software Updates and see if any updates are pending.
If you see any, click on Upgrade Now or Update Now button to install it.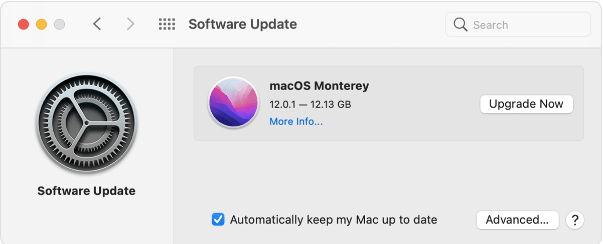 6. Restart Mac 
Sometimes, when you are running the device for longer hours, it might be heated up and need to be restarted. One it will close all the running background applications and processes, clears the cache and frees up the RAM used by the current tasks.
So, the WindowsServer high CPU usage can be fixed with just restarting the Mac. 
7. Remove malware in Safari
Safari is the most used browser on Mac for most of the users, even if not so, we advise you to check for the hidden malware in Safari using these steps. 
Step 1: Open Safari and move to the Menu.
Step 2: Go to the Preferences under the drop down Menu.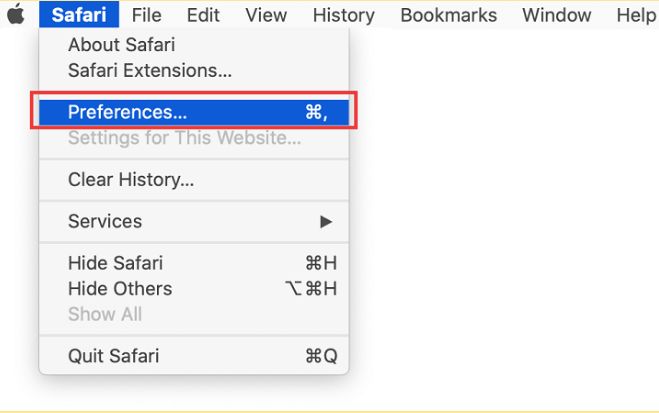 Step 3: Now as it opens the Preferences window, look for the Advanced tab and click on it.
Step 4: Here mark the Show Develop menu in the menu bar. 

Step 5: Now, go back to the Safari Menu and open the Develop menu and go to the Empty Caches option. Click it.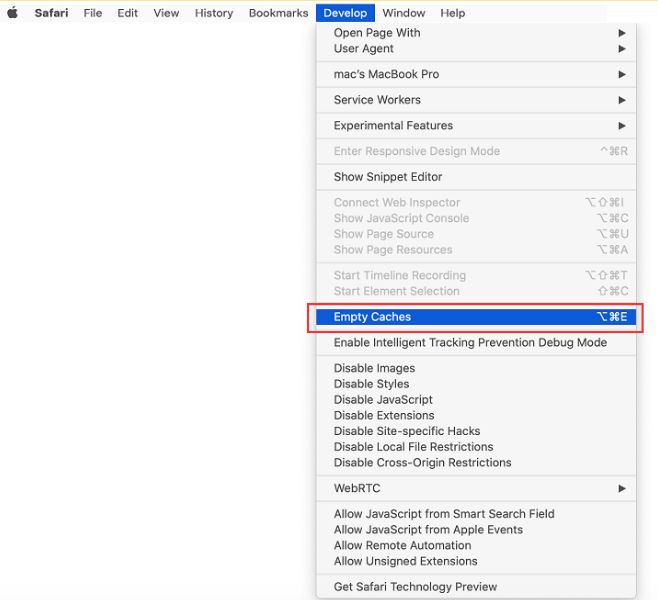 Step 6: Next, you need to go to the History and click on Clear history.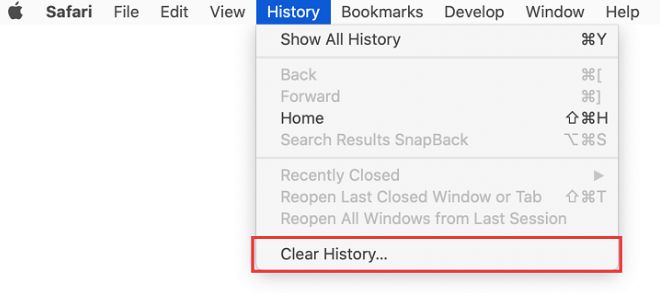 Make sure to select All history when cleaning the history from the pop up option.
Step 7: Now, go back to the Safari Preferences and click on the Privacy tab.
Step 8: Under this Privacy tab you will find the Manage Website Data option under Cookies and website data section. Click it.

Step 9: This action opens up another window which shows you any of the stored data. You need to click on the Remove all button just to be sure you are clearing out all internet activities stored in Mac.

Step 10: Now, you can restart the Safari browser and start working again.
8. Remove malware in Google Chrome
Similar to the above section, we are required to clear up Google Chrome as this is an important step. If there is a possibility of any malware present in your Mac in Chrome, you can get rid of it using these steps –
Step 1: Open Chrome on your Mac and then go to the three dot menu on the Top-Right. From here go to the Settings.
Step 2: Here you need to head to the Advanced settings and then click on the Reset Settings from its options.

Click again on Reset Settings when asked in the confirmation message.
Step 3: Restart Chrome to use it again. 
9. Remove malware in Mozilla Firefox
Firefox being another of the most popular web browsers for Mac users also can be reset using the following steps. It can help you fix any of the WindowsServer high CPU usage issues due to any hidden malicious activity. 
Step 1: Open Firefox on your Mac and then go to the Menu option on the Top-right corner. 
Step 2: Select Help from the options and then go to the Troubleshooting Information page. Another way of going there will be typing the following the address bar –
About:support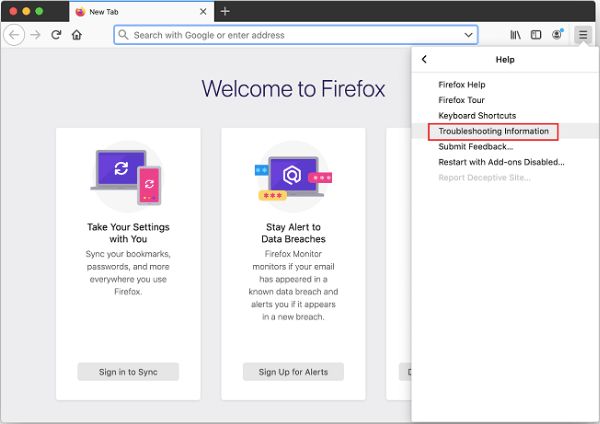 Step 3: When you open Troubleshooting Information page, you can see Refresh Firefox, click it. 
Again affirm the confirmation message box.
Step 4: Restart Firefox.
10. Use CleanMyMac to fix WindowServer Mac issue
There are several reasons why you must use a cleaning tool for your Mac. But, here we want to show you the best way to clean up any malicious elements using CleanMyMac, which is the best Mac utility. 
Step 1: Get CleanMyMac and install it on your Mac.
Step 2: Open CleanMyMac and then start the Scan with the System Junk section.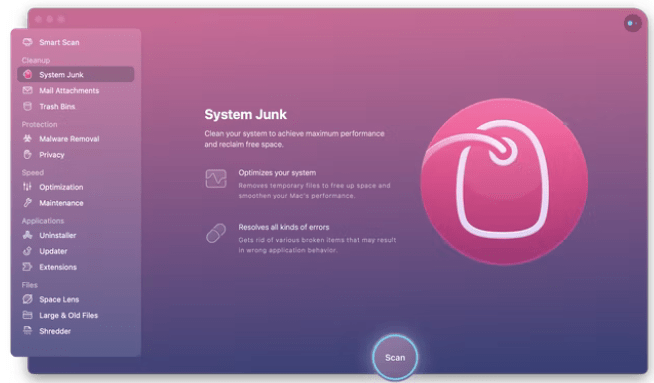 Step 3: Once the scan is completed, you can Review details and clear the unwanted cache files, language files, Xcode files, and other documents.
Step 4: Next, go to the Protection module and click on Malware Removal. You can run a scan by clicking on the Scan button in the right screen.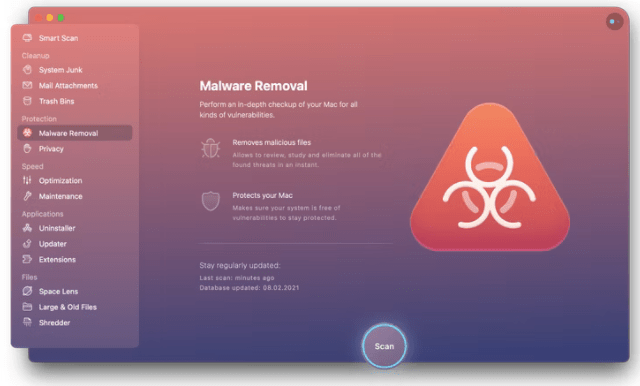 This will now scan your Mac for any malicious files or applications. You can review the results and clean up the found elements using CleanMyMac quickly. 
Since CleanmMyMac regularly updates its database for malware, it is capable of tracing any harmful files and showing the results to you. Other modules of CleanMyMac help you in keeping it junk-free and free of unwanted and malicious applications.
Frequently Asked Questions –
Q1. How do I fix WindowServer high CPU and memory usage on Mac?
To fix this issue on your Mac so that it does not hog onto the CPU and memory usage unnecessarily, you must follow the steps mentioned above. To keep systems and applications up to date, controlling the display and turning off the visual effects helps.
Q2. What is WindowServer on a Mac High CPU?
WindowServer is a process on your Mac which sorts the display of the applications etc. It will manage the graphical elements for the opened windows used by the applications. 
Q3. Can I close WindowServer Mac?
Even if you close WindowServer on Mac under the processes, it will run and will be required to open windows while using Mac. So, it's important to fix the issue and lower the WindowServer's CPU usage on Mac rather than closing it.
Q4. What happens if I quit WindowServer?
When you quit WindowServer on Activity Monitor on Mac, it is closed for the time being. But again it will run when you use applications and open other windows on Mac. 
Conclusion On How to Lower WindowServer's CPU Usage On Mac
When you are facing the issues of the high CPU and memory usage on Mac, give a hard look at the underlying issues. This guide has explored various strategies, from adjusting display settings to monitoring resource-intensive applications. By implementing these solutions, users can significantly reduce the strain on WindowServer, leading to a more responsive and efficient macOS experience.
Whether it's optimizing visual effects, updating system software, or troubleshooting specific applications, taking proactive measures empowers users to navigate the challenges associated with high WindowServer CPU usage. With these insights, Mac users can enjoy a smoother and more streamlined computing experience, ensuring that WindowServer operates efficiently without compromising overall system performance.
Also Read